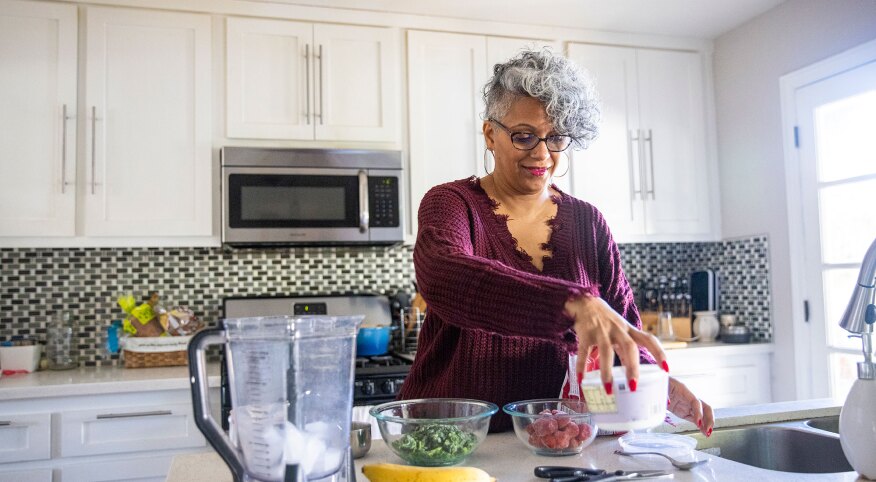 After my son left for college, I found myself casting about at mealtime, looking for the perfect dinner for one. First, I tried cooking a big meal on Sunday to freeze and eat throughout the week, but I didn't want to spend every Sunday cooking. And as the week wore on, I got pretty tired of pot roast or chicken. Then there are the one-hit wonders of solo dining: a can of soup, a bowl of cereal, even popcorn. But you can't do that every night. Whether you find yourself in a temporary situation of batching it or a long-term state of solitary dining, cooking for one can be a challenge. Here are five easy-to-make, delicious and nutritious meals for one that you won't want to share.

Baked potato

When I think back to my college days, my special treat for an inexpensive one-person meal was a baked potato. While I have matured since those days, the baked potato still holds great appeal. The classic topping of butter with salt and pepper is satisfying, but why not spice it up with whatever you have on hand? Broccoli and cheddar or bacon and chives make for a more sophisticated potato. Regarding the best ways to cook your potato, did you know the Instant Pot is a perfect potato prepper? For more great ideas, this guide from food site Kitchn has 20 creative ways to turn your baked potato into a proper meal.

Panini

You can think of paninis as sophisticated grilled sandwiches; paninis are the perfect one-person meal. The diversity is never-ending; they can be sweet or savory and pair perfectly with soup or salad. The panini makes a satisfying solo supper every time. Check out my Girlfriend article on paninis for more great one-person meals and a tasty way to use up any leftovers you may have.

Fried rice

While scouring All Recipes, one of my go-to sites for one-person meals, I discovered this pork fried rice recipe, and it has quickly become one of my all-time favorites. You can use any kind of meat or veggies on hand. I like to add a scrambled egg for some extra protein. Fried rice is always a great go-to for one-person dining; it's easy to adjust portion sizes and fun to experiment with seasonings.

Frittata

If you haven't tried making frittatas yet, you are missing out! I was introduced to them when I was working in Spain, and I have continued to keep them on my weekly rotation. This One Dish Kitchen recipe walks you through the basics. Think of it as an upgraded omelet. After cooking on the stove, a frittata is placed under the broiler to crisp up the top and cook the eggs evenly. There's no going back to your standard omelet once you have mastered the frittata. Olé!

Smoked salmon salad

Salads are easy to make with little prep or cleanup. I enjoy turning salads into full meals in the summertime. You can conveniently get the protein boost you need by adding a little smoked salmon or tuna and a hard-boiled egg. This smoked salmon pasta salad from Delicious checks all the boxes.

Save time with weekly meal prep

If you don't feel like cooking a whole meal on Sunday, you may still want to prepare a few items that you can use throughout the week. I like to fry up some bacon (great aromatherapy) for my Sunday breakfast and keep it on hand all week to use in the recipes above; bacon makes everything better! Another good staple to have on hand is rice. I use my rice cooker to make several servings and keep those available during the week for quick fried rice or side dishes; you can toss rice on a salad or soup to add more bulk. And while you are prepping, you might as well chop up those veggies to make your meals a snap to cook.

These meals are all meant to be flexible, so use what you have on hand, experiment with ingredients, and enjoy! Yum, more for me!