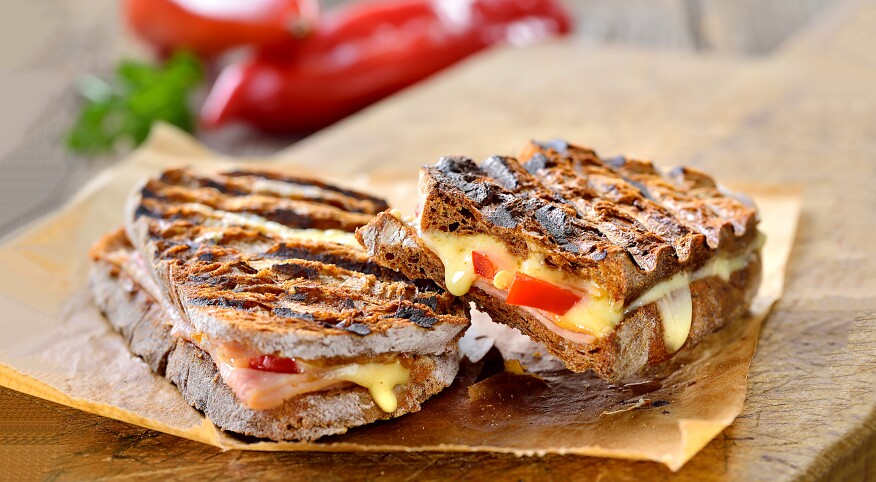 Of all the kitchen appliances I have in my cupboard, the panini maker is my most treasured. It has a fantastic ability to transform whatever I happen to have on hand into a delightful meal. At least once a week, I declare "Panini Night," and dinner is a breeze.

The word panini comes from Italian for little bread rolls. A panini is a warm, toasted sandwich, often known for its characteristic grill marks, but any grilled, hot sandwich can be christened a panini. You can use an electric panini maker to give both sides of your sandwich those signature grill marks and heat everything nicely. But you don't need a panini maker to enjoy the grilled, gooey goodness of these savory sandwiches. An easy workaround is to use a grill pan on the stove and a heavy skillet to press down on top.

The key to a good panini is the bread; I use fresh sourdough, but if that is not to your taste, you can use any hearty bread that won't fall apart under pressure. Ciabatta or baguettes will both result in scrumptious sandwiches.

Now to the fun part, the fillings! You can use just about anything to make a panini, which is why I adore them. Panini night is also a great way to use up leftovers and prevent food waste. Pull out the roast beef, chicken, bacon, grilled veggies, and even fruit, whatever you have on hand, and get ready to pile it on! Here are five of my favorite panini creations.

The Classic

The most classic toasted sandwich is the grilled cheese. This recipe from All Recipes reminds us why we love grilled cheese. Add some ham and tomato, and you've got a hearty meal. This sandwich is comfort food at its best and reminds me of my childhood, enjoying summer lunch on the porch. Pair it up with tomato soup for a first-rate feast and dine alfresco to soak up the last of summer.

Turkey or Chicken Pesto

For a taste of Italy, try this chicken pesto panini from Delish. If you have leftover chicken or turkey you are trying to dress up, this recipe is for you. The pesto adds a phenomenal flavor when paired with the mozzarella cheese. Serve it up with this Greek Salad for an authentic Mediterranean meal.

Veggie Delight

You don't need meat to make a savory sando; you can use any veggies or cheese you have on hand. This veggie panini recipe recommends adding the avocado after removing the sandwich from the grill. Add leafy greens such as arugula or romaine lettuce post-panini grill, so they maintain their crunch and won't wilt under pressure. If you want to add hearty veggies, such as peppers, zucchini, onions, or eggplant, I recommend grilling them separately before using them to craft your sandwich.

Sweet and Salty

Have fun with pairings; some of my favorite paninis have come about by combining fruit, cheese, and a slice of meat. You will be amazed by these pairings' flavors; try this recipe for ham and pear panini. For a combination that always reminds me of Paris, I merge turkey slices, thick chunks of brie, and a tart apple, served on a french baguette smothered in fig preserve. Or, for a South African twist, try bringing together bacon, cheddar, and banana. I was skeptical at first, but these magical flavor fusions balance out sweet and salty for a satisfying sandwich.

Dessert Panini

Panini doesn't have to be the main event; this recipe courtesy of Ree Drummond will satisfy your sweet tooth with a dessert panini. Strawberries are inserted between chocolate hazelnut and marshmallow spreads and sprinkled with powdered sugar. This heavenly dessert will top off any meal.

If you are intrigued but still looking for that perfect panini, here is a list from the Food Network of the top 50 panini recipes. You are sure to find the ideal panini for you. Don't be afraid to experiment; everything goes together better when heated. That said, make sure meat is cooked thoroughly before incorporating it into your grilled sandwich. Try mixing and matching your favorite foods, and let your imagination run wild. Bon appétit and enjoy those savory seared sandwiches!