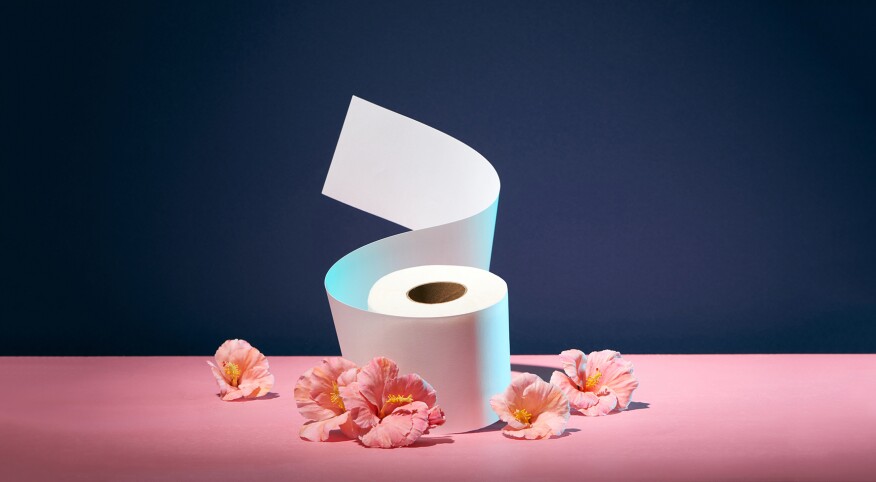 When I was a younger woman, I found it amusing that my mother knew the exact locations of all women's bathrooms in every department store in Manhattan. There were more department stores then, and ladies' rooms and lounges were an integral part of a day's outing centered on shopping or just a quick place to pop into when the need struck.

They were destinations for a quick relaxation in a chaise lounge with your legs up or a smoke nestled in an upholstered chair, ashtray on a stand or table nearby. I half-jokingly told her she should write a guidebook of ladies' rooms in the city. She didn't, and it would be almost useless today.

Now — during COVID — most shopping is online, and finding a restroom other than in a gas station or an open restaurant that reserves the privilege for diners is a challenge at best.

After many months in isolation, I was thrilled when galleries and museums opened. As an artist I really needed my live-art-of-other-people fix, in addition to the endless visuals I gorged on Instagram, Facebook and YouTube and in art books.

I met my friend Judy, a multimedia artist whom I hadn't seen in over a year, in Chelsea to do a gallery crawl. In each space we entered we put our face into a metal frame to take our temperature, downloaded and filled in a COVID questionnaire and signed in our names and phone numbers for virus tracking. Only after the high-tech clearance were we free to see canvases of endless American flags; abstract paintings grounded by a recognizable object; an exhibition of the four seasons and another based on the motif of palm trees, the design burned onto paper; and a weather storm map on mosaic tiles. I was curious if the images for the mosaics came from artist drawings, paintings or photographs. I asked the woman behind the desk and she called up to the gallery manager who came running down to us. "She's really attentive," I said to Judy. "That's because you look like a collector today in that snazzy jacket and glamorous blond streaks in your hair. You even have on makeup," my friend said.

We were bubbling with banter, when Judy grimaced and said her back hurt. She needed to sit, and I needed a bathroom. We walked up 10th Avenue looking for a café with tables outside. There were several, but all with people snaking down the block waiting. We hadn't had our fill of art so we decided to put our corporeal cravings on temporary hold, hoping for another café on a subsequent block of exhibitions.

Part way through the next gallery, I really had to use the bathroom. Suddenly I understood my mother's organization of shopping by ladies' room locations. She was the age I am now when I started chiding her on her organizational plans, not fully understanding how female plumbing changed with age. OK, I get it now. I looked around the gallery to see who was working there and spied a lovely young woman with long red hair. She looked rather sweet, not snooty because she was a gatekeeper to the power of the gallerist. I walked over, confident because Judy said I looked like a collector yet humbled by my urgency, and whispered, "Would you happen to have a bathroom I could use?"

I was ready to be told no because businesses are very protective of their restrooms from the public — especially during the pandemic. She took quick note of me and to my relief said, "Yes, but don't tell anyone."

"I promise not to spread it around," I said. I followed her through the back rooms of crates stored with paintings. It was like the thrill of being backstage of a theater; the magic and beauty were pent up in the boxes waiting to explode on the walls out front. She guided me to a very clean bathroom, which I was grateful to arrive at on time. There were scented wipes in a dispenser and hand-softening antiseptic soap in a bottle. I almost lingered, but my phone beeped. I had a message from Judy reading, "Where are you?"

I rushed back to the gallery floor, thanking the redhead at the desk along the way. After a quick sweep of the rooms, I saw Judy sitting on the step outside. I went up to her and said, "I guess we both got what we needed."

"I thought you might be in the bathroom," she said.

We were exhausted from our day of culture, and decided to return to our respective homes before it got dark.

In my clubbing days, the goal was easy admittance to the back room. You had to look hip or be famous. As for finding a restroom these days, I think the best thing to do is be sure to go to the bathroom before leaving home and then LOOK like you have money to spend. It might give you access to the special back room.