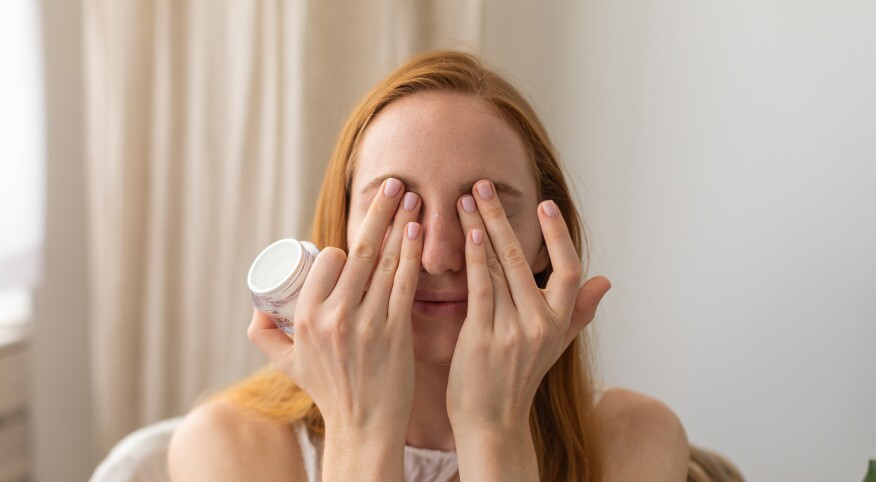 For decades, my skin-care routine consisted of the following steps: Wash face and apply sunscreen.

I scoffed a bit at women whose bathroom counters were cluttered with little bottles of creams and gels. I thought, Who has time for all that? Even after having two kids in my 30s, I could still roll out of bed, slap on some mascara and moisturizer, and look relatively well-rested — no matter if I'd stayed up half the night with a colicky baby.

You probably know what happened next: I turned 40. Seemingly overnight, I started waking up every morning looking like the title character from Corpse Bride. My babies were no longer babies, but from the dark circles around my eyes, you'd think I hadn't slept in days (weeks? years?).

And that wasn't all. The skin around my eyes seemed fragile and loose, like it had been pinched and never quite snapped back into place. In COVID-era parlance, I looked 10 years older above the mask than I did below. I wondered, Is it possible that my eyes are aging faster than the rest of my body?

Turns out the answer is yes, according to Papri Sarkar, M.D., a dermatologist in Boston and past president of the New England Dermatological Society. "The skin around the eyes is the thinnest and most sensitive on the face," she says. "Because of that, it's more prone to earlier wrinkling, dryness and irritation that leads to dark circles and spots."

I decided it was time to figure out this whole anti-aging thing — starting with an eye cream. But if you have barely so much as flicked your gaze down the skin-care aisle at the grocery store, it's easy to get overwhelmed by the pileup of formulations and active ingredients and brands.

The first thing to know, says Sarkar, is that most eye creams are just richer, gentler versions of face creams. "The amount of active ingredient in a face cream, while fine for your cheeks, may be too much for a sensitive area like your eyes."

The second thing to know is that, while many women notice a sudden, dramatic change in their skin during their 40s, the wheels of aging have been in motion for a very long time. Your body's collagen — that handy structural protein that acts as a scaffolding to hold up your skin — peaks at age 18, and every year after that, you're breaking down more collagen than you make. As you near menopause, your skin also atrophies (a lot), thanks to a decrease in estrogen.

For a long while, it's not noticeable. Then, sometime around your mid-40s, "the effects accelerate because you just hit that threshold where you've lost collagen, you've lost fat, you've even lost bone," says Sarkar. "We see it first around the eyes because the tissue there is so thin to begin with — it needs a good support system."

To that end, if aging is a bit like falling in love (occurring "slowly and then all at once"), you shouldn't expect instant results from an anti-aging eye cream. After all, those circles and wrinkles were years in the making. "An effective product works behind the scenes to help build things like collagen," says Sarkar, and as a result it typically takes three to six months to see a visible difference in your skin.

But how can you tell if you're choosing an effective product, not just overhyped cold cream? It depends on what exactly you're hoping to accomplish.

For wrinkling, you want a hard-hitting active ingredient that will help boost collagen, and the best, says Sarkar, is a retinoid. "The studies are really strong on this. Anything that has a Retin A or a vitamin A derivative will help," she says. "Retinoids can also even out skin tone, reducing pigmentation that occurs from rubbing your eyes." Ingredients that pack a punch, though, can be irritating. To dilute it, Sarkar suggests applying a layer of plain moisturizer around your eyes first and then adding the retinoid on top.

For blood vessels that are visible beneath the papery skin around your eyes, look for an eye cream that contains caffeine, which can temporarily constrict the vessels, decreasing their appearance. (Stick your eye cream in the fridge for extra zapping effect, since cold also reduces noticeable blood vessels.) "It's an effective but temporary fix, so you can apply it before a date or a job interview, for instance," says Sarkar. Heidi Prather, M.D., a dermatologist in Austin, Texas, likes products formulated with a metal applicator tip, which can further reduce puffiness by cooling the skin and promoting circulation.

For dark, dull skin around the eyes, vitamin C is an effective brightening agent. "It also has been shown to build collagen, though not as robustly as retinoids," says Sarkar. She also notes that certain peptides can be effective, although "each brand has their own proprietary peptides, and some work and some don't. And you can't really tell from the label which ones work."

In terms of formulation and price, the best eye cream is one that you'll use every day. So if you like rich, creamy formulas, go for the thickest one you can find. If the bottle is so expensive that using a pea-sized amount feels exorbitant, look for one that's cheaper. If you don't want to look like you've caked on a ton of tinted product, pick a clear version.

"The only thing I'm particular about is how people apply it, because the area can get darker just from rubbing," says Sarkar. Instead of kneading the skin around your eyes, pat gently using your ring finger. And no matter what you do, don't forget to top it off with a good SPF and UV-blocking sunglasses. "If you're not wearing sunglasses or sunscreen, just throw your eye cream away, because that's going to age your skin more than anything else."

Still can't be bothered to parse through all the product options? Below, Sarkar and Prather share eye creams that they often recommend to patients over age 40.

For dark circles

SkinCeuticals A-G-E Eye Complex For Dark Circles, $98. "This is specifically marketed for dark circles, which is the number-one reason I see people for eye complaints," says Sarkar.


For wrinkles

RoC Retinol Correxion Eye Cream, $25 or less. "It's effective, affordable, not super greasy, and you can find it pretty much anywhere," says Sarkar.

Olay's Regenerist Retinol24 Night Eye Cream, $39. "Another affordable drugstore cream that's quite good. I have a lot of patients who like it," says Sarkar.

For puffiness

Kiehl's Facial Fuel Eye De-Puffer, $22. "It contains caffeine, which makes it great for dark circles and puffiness, though not for fine lines," says Sarkar.

Skin Better Instant Effect Gel EYE, $90. "This has a metal roller ball for smooth, cooling application that can be delivered in a sweeping motion around the eye from the nose to the temple to promote circulation," says Prather.

For sensitive skin

Avène RetrinAL EYES, $49. "It's hypoallergenic and it's fragrance free. For people who are prone to uncomfortable tingling after applying products, this one is easier to tolerate," says Sarkar.