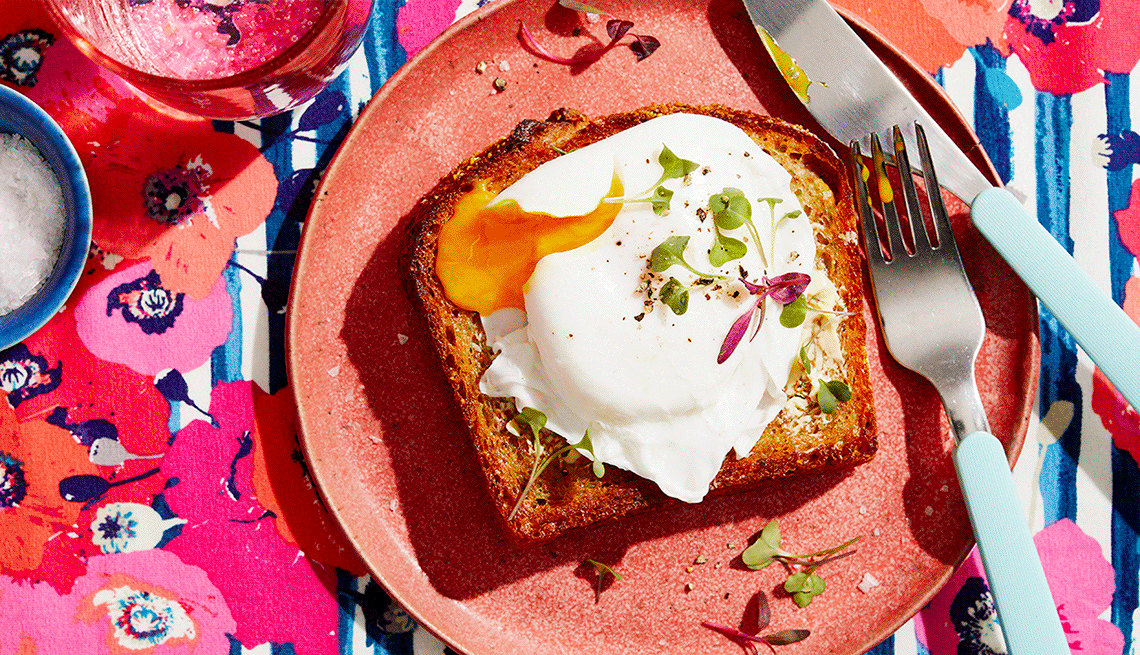 When I think of poached eggs, their perfect white, delicate clouds fill me with warmth, comfort and gooey goodness. The perfect poached egg — if you're an egg lover — is sublime. Look no further than the Iconic eggs Benedict (and all its many mouthwatering variations), decadence at its best. Lest you think poached eggs are just for brunch or breakfast, they're scrumptious any time of day. Try pairing them with your favorite pastas, potatoes, vegetables and meats. Yolks the limit on the many ways you can enjoy them!

Not only are they delicious, but poaching is also one of the healthiest ways to cook eggs, since the lower temperature causes less oxidation, helps maintain most of the nutrients and doesn't require added fat for preparation. Plus, poached eggs are an excellent source of protein and are rich in vitamin A and zinc. They have a high fat content, which helps curb hunger and keeps you satiated longer, leaving you less likely to snack between meals. Creating a flawless poached egg is easier than you think. All it takes is 15 minutes to impress your guests and raise ordinary dishes to another level.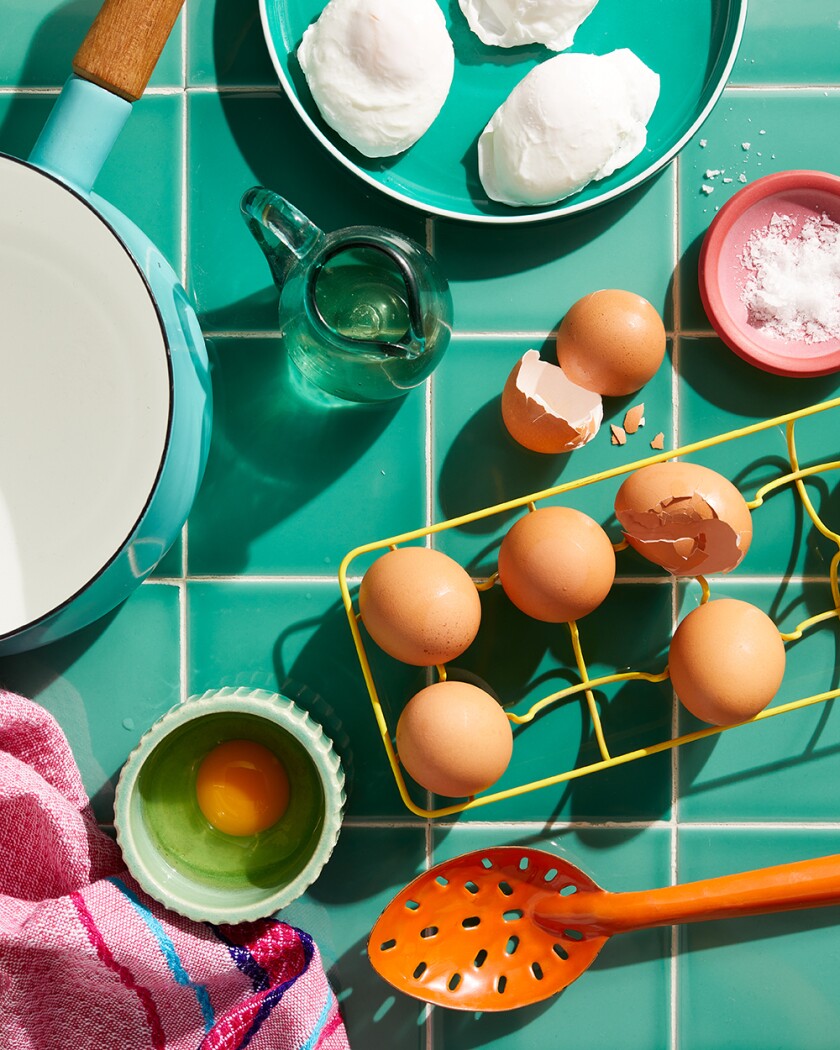 A Perfect Poached Egg

1 teaspoon kosher salt

2 teaspoons white vinegar

1 cold large egg

1. Fill a narrow, deep 2-quart pan 1 inch high with water. Add the kosher salt and the vinegar; bring to a simmer over medium heat.

2. Meanwhile, crack the egg into a small cup or ramekin. Use the handle of a spatula or spoon to quickly stir the water in one direction, until it's all smoothly spinning around, creating a whirlpool.

3. Gently place the egg into the center of the whirlpool. Turn off the heat, cover the pan, and leave the egg untouched for 5 minutes. Cook an additional minute if you prefer your yolk less runny. Remove the egg with a slotted spoon and serve immediately.

4. For preparing eggs in advance, place the poached egg into an ice bath and refrigerate for up to 8 hours. Reheat in warm water just before serving.

5. Pro tips: Use the freshest eggs because they tend to retain their shape better. For batches larger than 2 eggs, heat the water, salt and vinegar in a 12-inch nonstick skillet and don't stir while the eggs cook.

Recipe courtesy of Alton Brown on the Food Network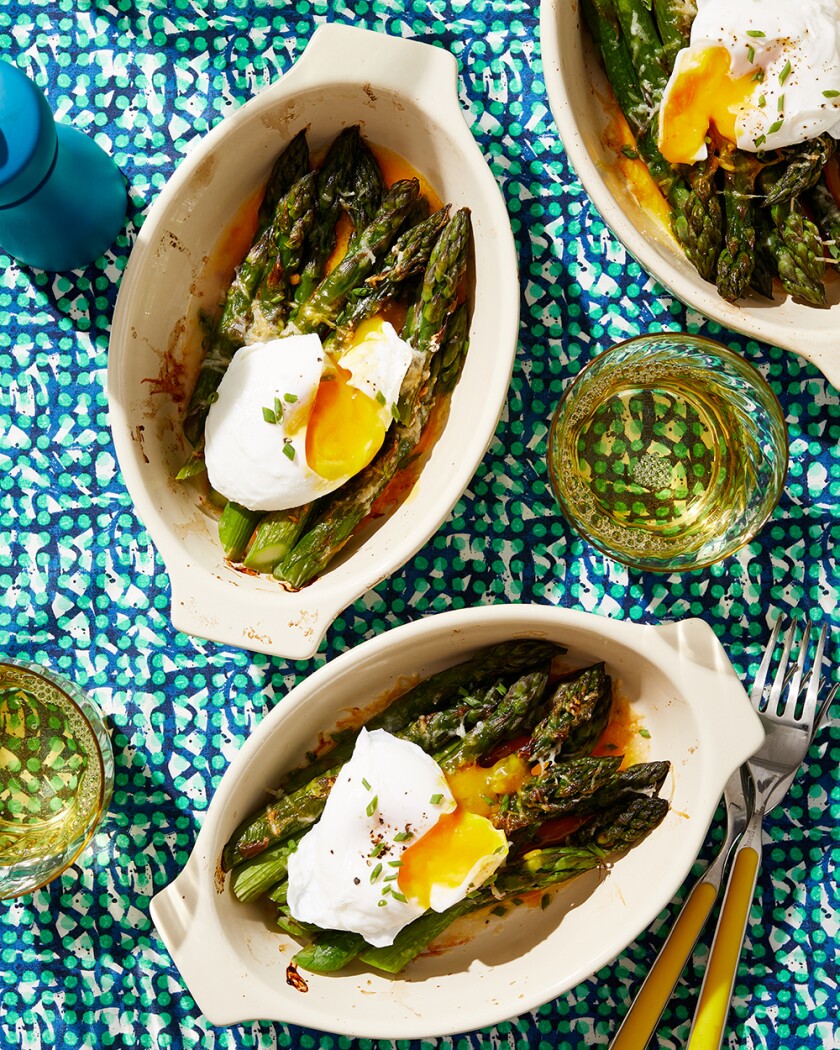 For an ideal side dish or appetizer, try this.

Parmesan Asparagus With Poached Eggs

Serves 4

1 pound thick asparagus, trimmed

2 tablespoons unsalted butter, melted

Salt and freshly ground pepper

¼ cup freshly grated Parmigiano-Reggiano cheese

1 tablespoon white wine vinegar

4 large eggs

1. Heat the broiler. In a large, deep skillet of boiling salted water, blanch the asparagus until it's crisp-tender, for 3 minutes.

2. Using a slotted spoon, transfer the asparagus to a paper-towel-lined plate and pat dry; reserve the liquid in the skillet.

3. Arrange the asparagus in 4 individual shallow baking dishes. Brush with the butter; season with the salt and pepper. Sprinkle with the cheese and broil 6 inches from the heat until golden, for about 1 minute.

4. Add the vinegar to the reserved asparagus blanching liquid in the skillet; return to a simmer.

5. Crack the eggs into the simmering water, leaving plenty of space between them; poach until the whites are set but the yolks are runny, for about 3 minutes.

6. Using a slotted spoon, carefully remove each egg from the water. Blot thoroughly dry with a paper towel and set on the asparagus. Serve immediately.

Recipe courtesy of Gwyneth Paltrow on Food & Wine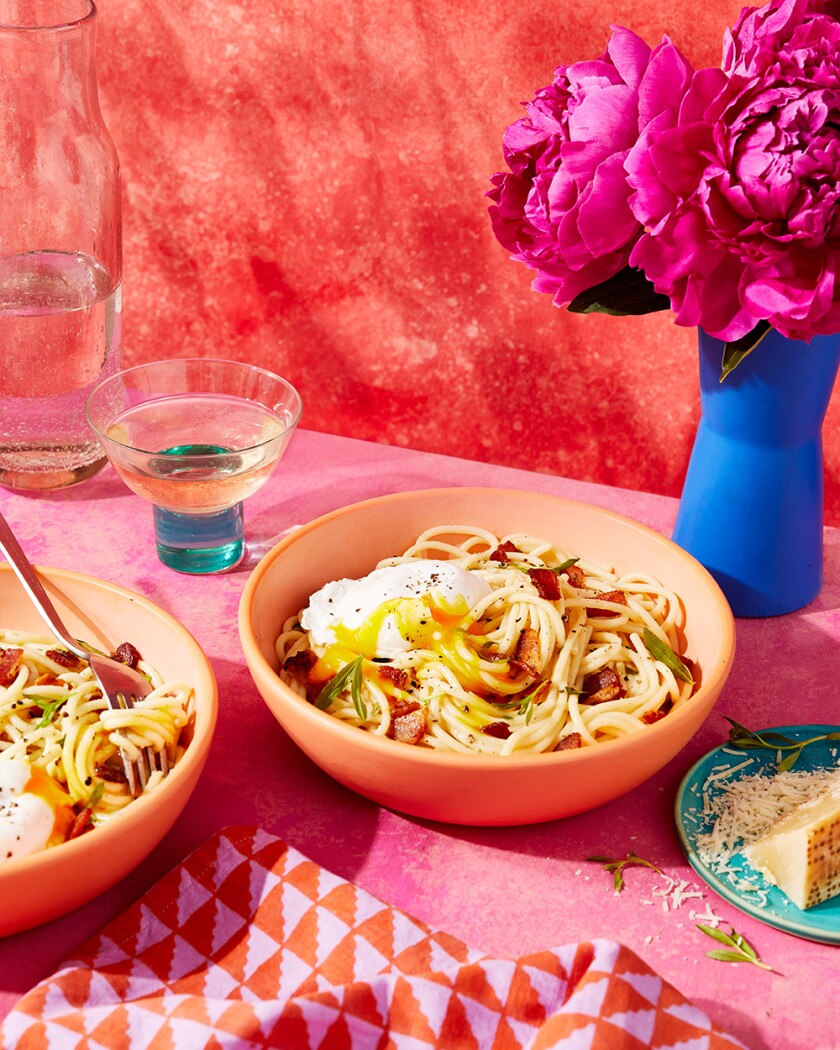 This recipe is great for an entrée.

Peppery Pasta Carbonara With a Poached Egg

Serves 1 or 2

2 bacon slices, cut into 1-inch pieces

¼ pound spaghetti

½ tablespoon unsalted butter

¼ teaspoon pepper, rounded

1/3 cup grated Parmigiano-Reggiano plus additional for serving

1 to 2 tablespoons chopped tarragon or parsley

Salt and pepper

1 large egg

1. In a 10-inch skillet, cook the bacon over medium heat until crisp. With a slotted spoon, transfer the bacon to paper towels, to drain.

2. Meanwhile, in a 4-quart saucepan of salted boiling water, cook the spaghetti until it's al dente. Reserve 1/3 cup cooking water, then transfer the spaghetti, with tongs, to a small bowl, shaking off excess water; keep the pan of water simmering.

3. Pour off all but 2 teaspoons of bacon fat from the skillet, then whisk the butter into the fat in the skillet, over medium heat. Add the spaghetti, the reserved cooking water, cheese and pepper. Cook, stirring, until the sauce is thickened and almost completely absorbed, for 2 to 3 minutes.

4. Add the bacon and 1 teaspoon tarragon and toss. Season with salt and pepper. Break the egg into a cup and slide it into the water. Poach at a bare simmer to desired doneness, for 2 to 3 minutes. Serve the pasta topped with the egg (transfer using a slotted spoon). Sprinkle with the remaining tarragon, if desired.

Recipe courtesy of Epicurious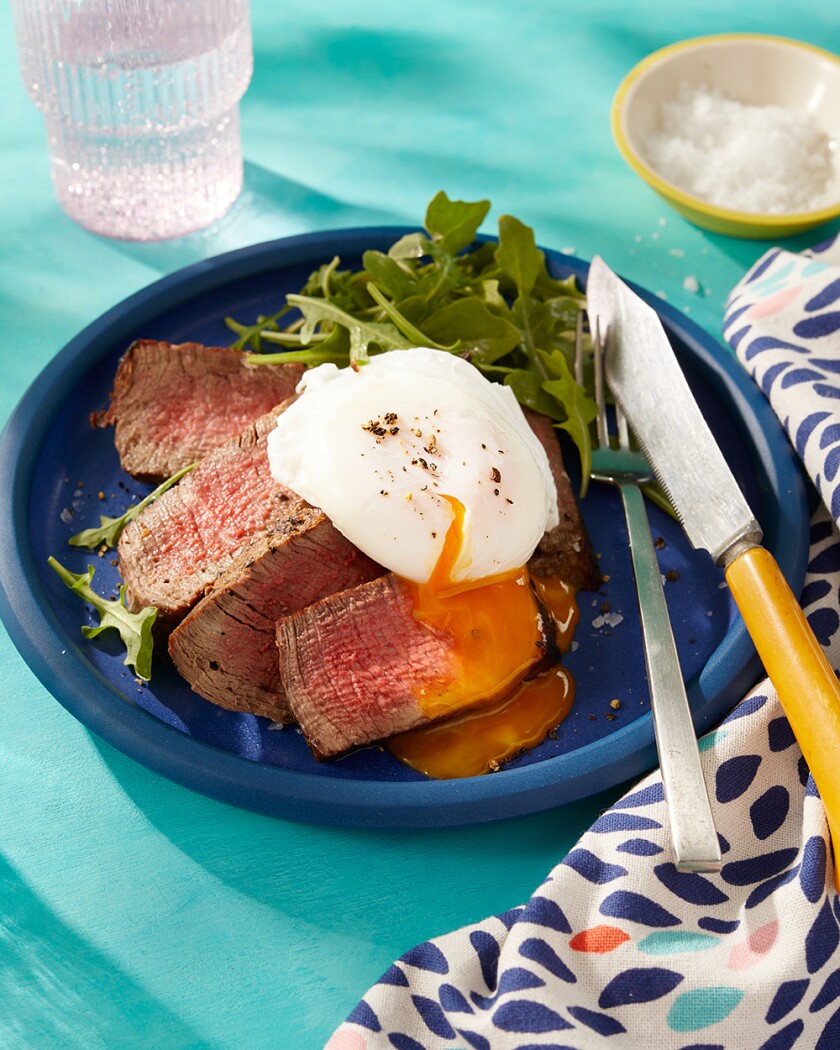 Filet Mignon With a Poached Egg

Serves 1 or 2

2 tablespoons oil, for cooking

1 8-ounce filet mignon

Coarse salt and pepper to taste

1 egg

1. Heat oven to 425°F. Add oil to an oven-proof skillet; heat oil over medium-high heat.

2. Pat the filet dry with paper towels; season with salt and pepper. When the oil is hot, place the beef in the skillet and cook it for 4 to 5 minutes or until deeply browned. Flip and cook for an additional 2 minutes. Transfer to the oven; cook to desired doneness (about 6 minutes for medium rare, but adjust this to your preference). Remove the skillet from the oven, and place the beef on a warm plate. Cover with foil and allow it to rest while poaching an egg (see A Perfect Poached Egg, above).

3. Remove the foil; top the steak with the poached egg, and serve.

Recipe courtesy of Uncle Jerry's Kitchen

What do you think of poached eggs? Do you love them or not so much? Let us know in the comments below.