3 Must-Try Brunch Recipes
And just in time for the holidays!
Aah, brunch  —  the ultimate splurge. And just in time for the holidays! Watching your calories? It's rumored that holiday calories don't count  —  or maybe I just read that on a napkin.

Some of my fondest memories were created over family holiday brunches. It was a time to reconnect, share laughs, enjoy karaoke and play board games. We weathered snowstorms and holiday travel snafus but no one missed brunch. And although things may look a bit different this year, our holiday tradition continues.

These days we all want to simplify while still enjoying delicious home cooking and quality time with our loved ones. Do you need help getting into the holiday spirit?

We're sharing a few fabulous brunch recipes designed to cut your time in the kitchen. If you have leftovers, send them home with guests in these cute containers or pack up "brunch in a box" for family members unable to attend. And don't worry, we're not forgetting the mimosas. Let's start with those.

Mimosas are a classic brunch favorite combining chilled champagne, prosecco or cava and orange juice in equal parts . Pour the bubbly first and allow it to settle before adding the OJ. For nonalcoholic mimosas combine 2 ounces orange juice, 2 ounces pineapple juice and 4 ounces sparkling citrus beverage — or try some of these festive mocktail recipes. Now let's get to the brunch recipes, which each serves 6 to 8 hungry guests. Round out your table with fresh fruit and some muffins from your favorite bakery.

Egg Muffins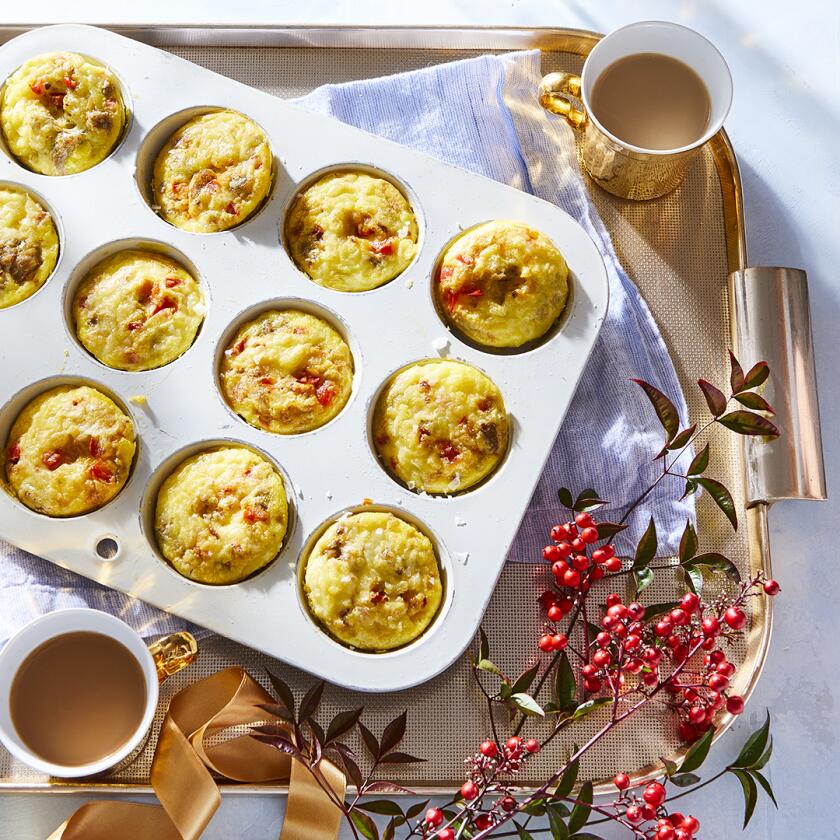 Essentially mini-omelets, these cute little egg muffins can be filled with whatever you like. Whether it's traditional comfort combos  —  ham and swiss, bacon and cheddar — or the super fancy, such as  smoked salmon/crab and parmesan or spinach, mushroom and mozzarella. The fillings can be prepped ahead, and when your company arrives  you will  wow them with your custom omelet bar. Garnish with chopped tomatoes and avocado slices. Enjoy!

Ingredients

12 large eggs

1/2 pound ground breakfast sausage

1/2 cup shredded cheddar cheese

1/2 cup chopped onion

1/4 cup chopped red pepper

1/4 teaspoon garlic powder

1 teaspoon oil

Salt and pepper to taste

Directions:

1. Preheat oven to 350°F. In a large nonstick skillet, cook sausage over medium heat until no longer pink; drain. Remove sausage from pan.

2. Add oil to the heated pan. Sauté onions and pepper over low medium heat until soft (about 5–7 minutes), stirring frequently with heat-resistant spatula.

3. Whisk eggs, salt, pepper and garlic powder together in a large measuring bowl. Pour into greased muffin tins, filling 3/4 full. Add 1 tablespoon of filling and sprinkle cheese on top.

4. Bake until a knife inserted in center comes out clean, about 15–20 minutes. Allow muffins to cool for 5 minutes. Loosen by running a plastic knife around the sides of muffins before removing. Place on a wire rack to cool completely.

French Toast Bake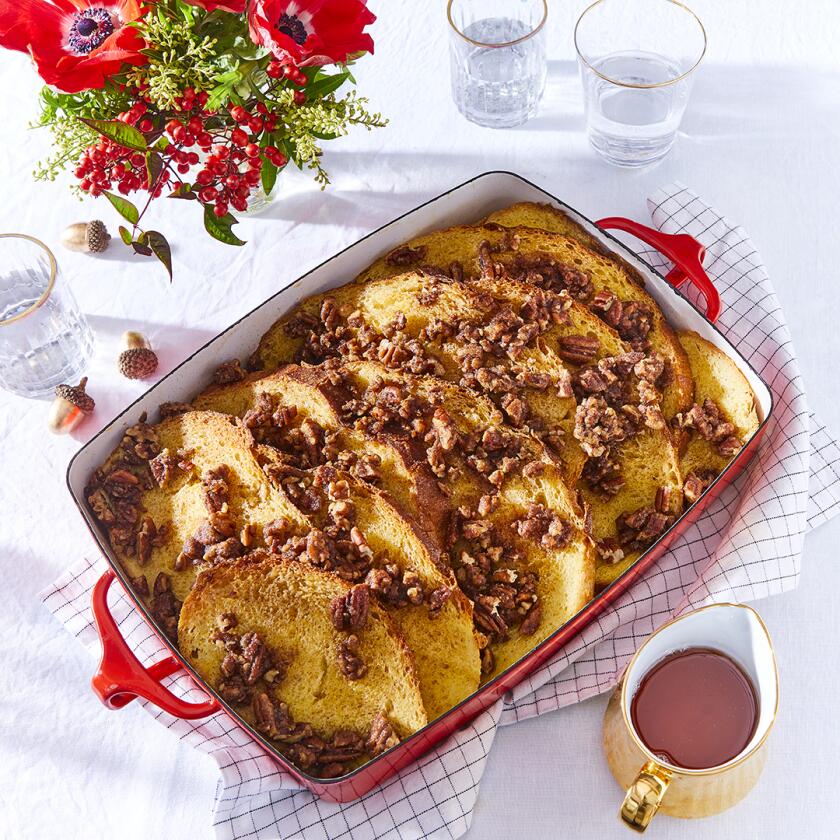 My son always says, "It smells like Christmas!" when I make this recipe. French toast is best when prepared using slightly stale bread, which fully soaks up the egg mixture and protects it from becoming soggy. Who loves standing in front of the stove flipping French toast? It's not necessary with this delicious dish that can be prepped the night before and includes a crunchy topping. Yes, please!

Ingredients

8 large eggs

1 1/2 cups whole milk

1 cup heavy cream

2 tablespoons vanilla extract

1 teaspoon ground cinnamon

1/4 cup sugar

1 loaf sourdough bread, sliced (a few days old)

Directions:

1. Thoroughly spray a 9-by-13-inch baking dish.

2. In a medium bowl, whisk together eggs, milk, heavy cream, sugar, vanilla and cinnamon.

3. Dip each slice of bread in the egg mixture (ensuring equal coverage) and place (overlapping) in prepared baking dish. Pour the remaining egg mixture over the top. Cover the dish with plastic wrap and refrigerate overnight.

4. Sprinkle the topping evenly over the casserole and bake uncovered at 350°F for 1 hour. Serve immediately with warm maple syrup.

Crunchy Pecan Topping

Do you love all things pumpkin? Substitute 1 teaspoon pumpkin pie spice for the cinnamon and nutmeg for a surprising twist. To prepare in advance, combine all ingredients and store in an airtight container in the refrigerator.

1 cup chopped pecans

1 teaspoon ground cinnamon

1/4 teaspoon ground nutmeg

1/4 cup brown sugar, packed

1/4 cup cold butter, cut into pieces

In a small bowl, combine all topping ingredients except butter and mix well. Cut the cold butter into the nut mixture until coarse.

Roasted Red Potatoes & Sausage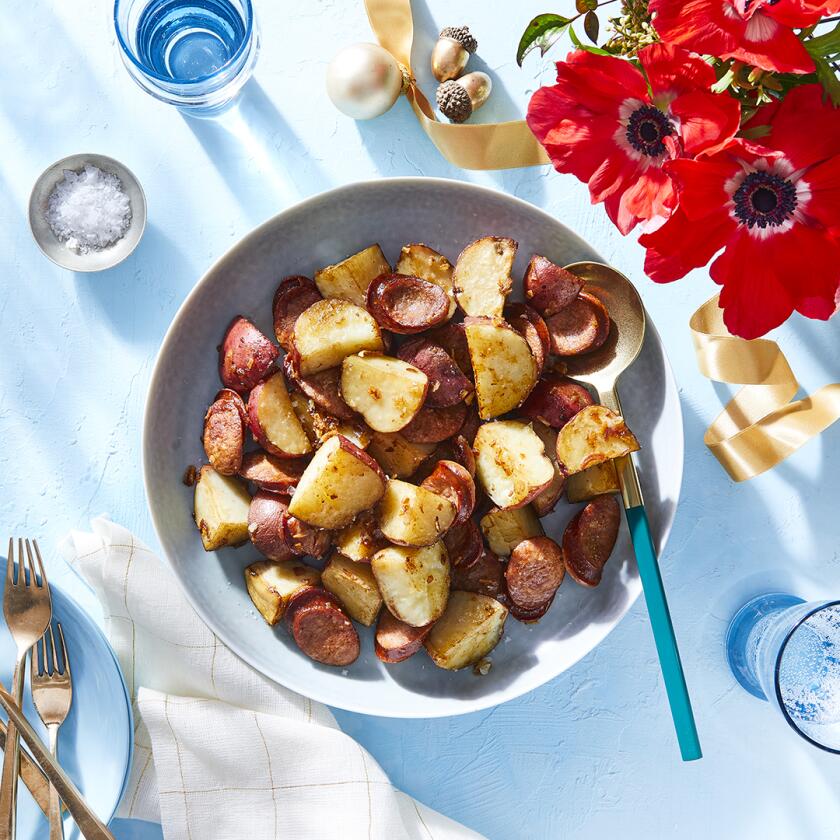 Remember those Lipton soup packets we mixed with sour cream for that infamous party dip in the 1980s? Well, they make a cameo appearance in this recipe and are sure to serve your taste buds a fun dose of nostalgia.

Ingredients

13 ounce precooked kielbasa, sliced into 1/2 inch rounds

3 pounds medium red potatoes, unpeeled, cut into 1 inch pieces

1 envelope Lipton Recipe Secrets Onion Soup Mix

2 tablespoons olive oil

Directions:

1. Preheat oven to 425°F. Line a large sheet pan with parchment paper.

2. In large bowl, combine oil with potatoes until thoroughly coated.

3. Empty soup packet over potatoes and toss until evenly coated.

4. Place potatoes on the sheet pan and spread out evenly.

5. Bake, stirring occasionally until potatoes are fork-tender and golden brown, 30–40 minutes. Add the sausage during the last 15 minutes. Serve immediately.

Monica Romano is a freelance writer specializing in health /wellness, lifestyle and personal essays. Her background in nursing and culinary arts brings a unique perspective to her writing and offers food for thought to her readers. Monica is happily single  —  for now, and is forever perfecting her recipe for avocado chocolate pudding. To read more of her writing, go to monicaromano.com.