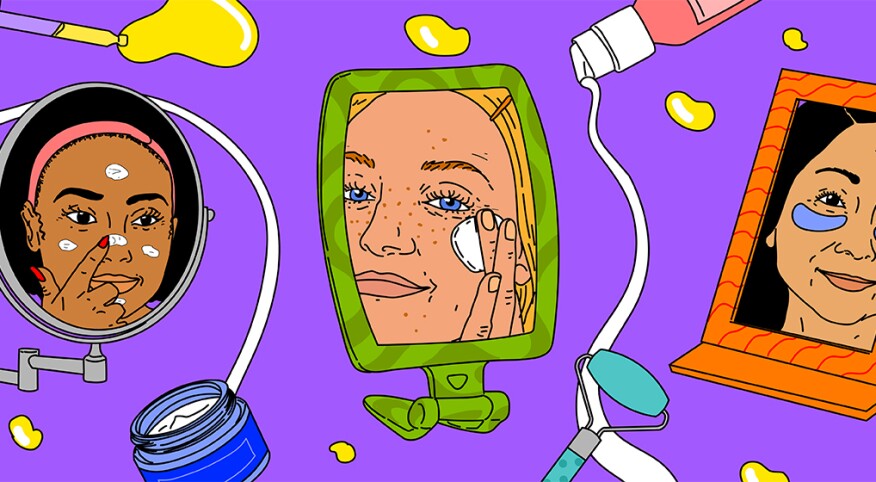 After you read this story, check out these 5 fabulous drugstore beauty finds that will help get you ready for summer!

While you likely spent your 20s loading up on SPF and glow-inducing products, 30s are when most people start to notice those teeny-tiny lines pop up on their face. And when it comes to skin care in your 40s and 50s, it's all about battling dullness and revving up your wrinkle-fighting regimen. The truth is, as we age our skin-care needs shift, which makes taking a step back to reevaluate your routine necessary for your skin's health. Keep scrolling to read our decade-by-decade guide on what to expect as your skin ages, as well as how to change your skin-care routine accordingly.

Skin care in your 30s

Once we hit our 30s we're faced with a decrease in cell turnover — meaning, the rate at which our dead skin cells shed to reveal fresh, glowing skin slows down. The result: acne, enlarged pores and a lackluster complexion. You may also start to see fine lines form underneath your eyes and near your laugh lines. To deal with these skin-care changes, keep an SPF of at least 30 on rotation (FYI: lack of sun protection is the main cause of wrinkles), as well as a retinol-based night cream to help stimulate collagen production. If acne flare-ups are an issue, opt for a salicylic acid cleanser (this will help get rid of breakout-causing bacteria) and an overnight spot treatment.

Skin care in your 40s

Your 40s mark a time skin becomes thinner (since collagen production slows down), discoloration and photoaging become more prominent (thanks to accumulative sun damage), and skin is overall less supple and bouncy in texture. The solution: alpha hydroxy acids (AHAs), for one. AHAs help exfoliate the top layer of dull, dead skin, bringing newer ones to the surface to reveal a brightened appearance. Look for a cleanser that contains glycolic acid (a type of AHA) to help encourage the regeneration of fresh skin cells. Also, incorporate an antioxidant-rich serum into your routine, as antioxidants help fend off free radicals and sun damage. Vitamin C, in particular, is an antioxidant that's touted for its skin-brightening properties. (And, don't forget to still apply SPF daily.)

Skin care in your 50s

Your 50s come with liberating side effects (ahem, no more monthly periods), but that also means dryness and deep-set wrinkles due to the shifting of hormones as well as a decrease in sebum, collagen and elastin production. You may also notice that your skin is significantly thinner and less supple than it was in your 20s and 30s. To avoid drying out your skin further, use a gentle, non-stripping cleanser that gets rid of the day's grime without removing your skin's natural oils along with it. Also, opt for moisturizers that list ceramides as a hero ingredient. Ceramides naturally occur in our skin and are responsible for keeping the bad stuff out (think: pollution and bacteria) and sealing in the good stuff (aka hydration). As we age, however, our skin starts to lose this valuable lipid, making ceramide-rich products essential for upping our skin's resilience to harmful pollutants and locking in moisture.