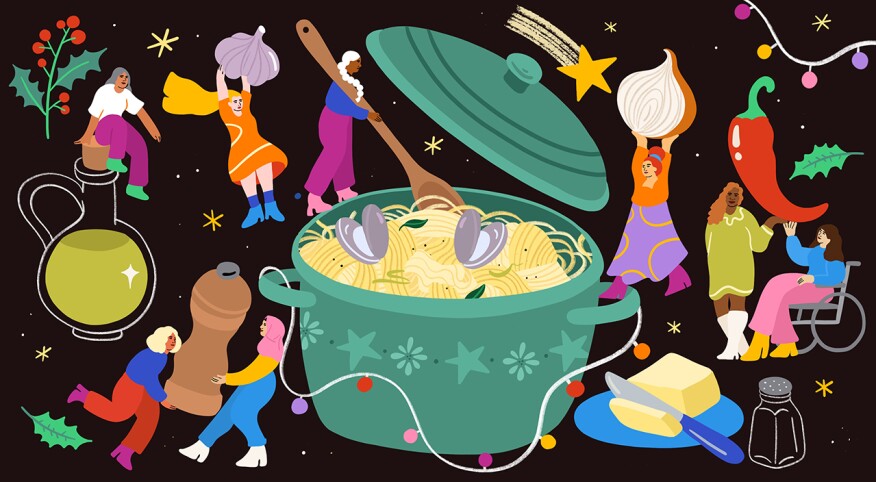 "What's your favorite holiday meal?" I asked my sister this once and her answer surprised me. It wasn't a meal at all — it wasn't even an intricate appetizer or dessert. It was, she said, "The plate of green olives mom would always put out on the table before Thanksgiving dinner was ready."

Green olives! That's it? There's nothing festive or unique about a simple plate of green olives. But to Kathryn, the olives were special. "Mom always made it known that they were not to be eaten before dinner, but I couldn't resist," she said. "I would sneak so many olives and then cover up the empty spots on the plate with celery. It was a mischievous and thrilling thing for a young girl and I still do it!"

While my sister certainly loves them, her fondness runs so much deeper than taste. She loved the anticipation (or lack thereof) of the forbidden olives, the thrill of disobeying her mother and the sweet success of getting away with it!

Good food is a staple on any holiday. When you combine it with family and love, you have a recipe for nostalgia. Here are a few more great holiday memories accompanied by the recipes that forged them:

Nanno, 75, Connecticut:

"We would have potato pancakes every year during Lent when we couldn't eat meat. My father was German, and I am sure my mother was trying to please him with a traditional German recipe. Similarly, my dad learned to like corn beef and cabbage (my mother was Irish) on St. Patrick's Day. A good old-fashioned marital compromise and it worked! They had 11 children and were married for 65 years before my dad passed away."

Pleasing Pancakes

Ingredients:

· 4 large russet potatoes

· 1 medium onion

· 1 egg, beaten

· ¼ cup all-purpose flour

· ½ teaspoon sea salt or to taste

· ¼ teaspoon pepper or to taste

· 2 tablespoons vegetable oil for frying

Directions:

· Preheat oven to 200 degrees.

· Peel the potatoes and onion and grate them (or put them in a food processor for about 2 minutes). Remove any excess liquid.

· Mix in egg, flour, salt and pepper and mix well.

· Heat vegetable oil in a large, non-stick skillet over medium heat. Drop ¼ cup of batter into hot oil and flatten with the back of a spatula to make 1/2-inch thick pancakes. Fry until golden brown, about 4-5 minutes. Flip and fry for an additional 4-5 minutes.

· Place the pancakes on a paper towel to absorb excess oil.

· Serve with sour cream and/or applesauce and enjoy!

Nathan, 38, Tennessee

"A tradition I've been doing for many years now is a massive nachos plate for New Year's Eve! My friends and I will make a massive nachos plate — usually several large sheet pans set next to each other. Simply making it together is a lot of fun. We have all of the toppings you can imagine for throwing on nachos and the end result is always a masterpiece that keeps us happy all night long." If you're going to celebrate into the wee hours of the morning this New Year, why not try delicious breakfast nachos?"

Na-cho Average New Year

Ingredients:

· Breakfast sausage

· Eggs, beaten with a splash of milk

· Tortilla chips

· Cheese, shredded

· Beans, optional

· Other toppings of your choice: avocado, onion, sour cream, salsa, hot sauce, peppers, tomatoes, olives, etc.

Directions:

· Preheat oven to broil.

· Line the cookie sheet with parchment paper or foil and spread chips on the sheet.

· In a medium skillet, cook the sausage on medium-high heat until browned (about 5 minutes) and flip as needed. Set aside on a paper towel.

· Scramble the eggs in a skillet on medium-low heat. Leave the eggs slightly undercooked as they will continue to cook in the oven.

· Spread half of the cheese over the chips.

· Add the cooked sausage, eggs, and beans.

· Cover with the remaining cheese.

· Broil until the cheese melts (about 2 minutes). Keep a close eye on the nachos. as broiler times vary.

· Remove from oven and add remaining toppings of your choice.

· Enjoy with Mimosas and cheers to the New Year!

Sara

"Growing up, my family always celebrated Christmas Eve with a big seafood feast, which included the classic Italian dish linguine with clam sauce. This dish was a family favorite, and my mom would spend hours in the kitchen preparing it for our holiday meal. After my mom passed away a few years ago, my siblings and I decided to carry on the tradition of the Christmas Eve seafood feast in her memory. And, of course, no feast would be complete without the linguine with clam sauce."

Christmas Clam Sauce

Ingredients:

· 8 ounces linguini

· 2 tablespoons olive oil

· 2 tablespoons butter (salted)

· ¼ diced onion

· 1 tablespoon minced garlic

· 2 cans of chopped clams

· ¼ cup white wine (dry or cooking)

· Salt and pepper to taste

· ½ teaspoon red pepper flakes

· Parmesan cheese

Directions:

· Heat olive oil and butter on medium heat.

· Once heated, add garlic, red pepper flakes, and onion and sauté for 2 minutes.

· Add juice from canned clams (set clams aside for now), wine and Worcestershire sauce and bring to a boil.

· Reduce heat to low and let the sauce simmer for 10 minutes.

· Add cooked linguini and clams and cook on low for 5 minutes.

· Add salt, pepper, and parmesan cheese to taste.

Dru, 44, Connecticut

"Well, in my family, it isn't a holiday without fruit glop. Cottage cheese, Cool Whip, Jell-O powder in your choice of flavor and fruit or a drained can of fruit cocktail. In recent years, we've made it with sugar-free Cool Whip and Jell-O, so it's marginally better for us. I have no idea where the recipe came from, but it's been on holiday tables my entire life — I'm guessing it dates from the '50s because it has that kind of convenience-food-is-awesome feel to it, but who knows? It does appeal to everyone, from toddlers to senior citizens, so it has that going for it. And with the advent of weird Jell-O flavors, we've been able to make it appropriate colors for whatever holiday we're celebrating. Oh, and it's excellent for breakfast the next day!"

Comfort Fruit Glop

Ingredients:

· 16-ounce container of cottage cheese

· 3-ounce box of Jell-O (you choose the flavor)

· 8-ounce container of Cool Whip

· 15-ounce can fruit cocktail or fresh fruit of your choice.

Directions:

· Mix cottage cheese and Jell-O together.

· Fold Cool Whip into the mixture.

· Add fruit, mix lightly with a large spoon.

· Chill for three hours before serving.


What's your favorite holiday recipe and/or memory? Let us know in the comments below.