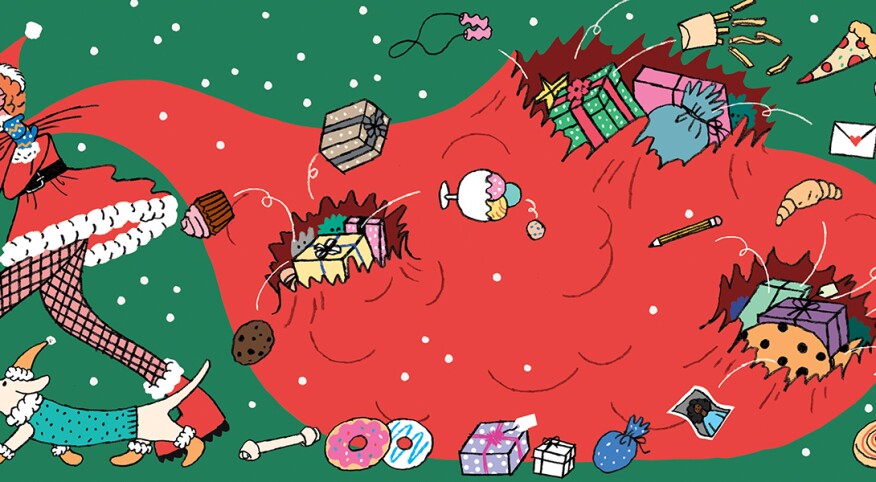 Scoring a freebie is like finding the perfect parking spot. Oh, the sense of satisfaction! With that in mind, here's a little present from us to you — 25 things you can get for free starting now through the end of the year. Enjoy!

1. It may be a made-up holiday, but what's not to love? National Cookie Day is Dec. 4, and you can bet there will be a plethora of discounts and freebies from various retailers. To peruse a list from last year, go here.

2. Free Shipping Day has been held every year in mid-December since 2008. This year, the promotional event takes place on Dec. 14. More than 1,000 online stores that will be offering free shipping.

3. Yes, Virginia, there is a Santa Claus. And the U.S. Postal Service can help every parent or guardian prove it. Here's how to ensure your child receives a personal letter from jolly old St. Nick.

4. With the holiday party season kicking into full throttle, here are three festive cocktails to make your — and your guests' — spirits bright. (No, the ingredients aren't free, but the recipes are!) Want more holiday food tips and tricks? Well, here you go!

5. If National Cookie Day didn't satisfy your sweet tooth, National Cupcake Day is Dec. 15. Closer to the day, go to Google for "National Cupcake Day" and "free cupcakes," and you'll surely come upon a list of businesses giving away one of our favorite desserts. Go here to see last year's list.

6. If it's your birthday, you can get a free bowl of ice cream at most Cheesecake Factory restaurants, as well as a free dessert at most Cracker Barrel restaurants. At Iguana Mia, you can score a free entree up to $18 value, free fried ice cream, and a free picture of yourself in a sombrero on their website. Note that most restaurants require you to come in on your actual birthday and that you show your ID. Go here for more birthday freebies and discounts.

7. Planning a big trip? Save money on passport photos by taking your own picture and ordering it for free through ePassportPhoto.com.

8. Speaking of trips, Tripit will organize all your travel plans and documents in a matter of minutes. Just download the mobile app and forward your confirmation emails to plans@tripit.com. For safety, TripIt will share your itinerary with those picking you up at the airport or anyone else who needs to know.

9. Few things are better than free stuff, and if you want to find free samples of health-, fitness- and wellness-related products, there are several sites to check out. For starters, take a peek at MySavings.com, JustFreeStuff and Freaky Freddie's. My Free Product Samples is another site that can connect you with free items.

10. Planning to go over the river and through the woods to Granny's house for Thanksgiving? Keep the kids busy by printing out some free travel games. Here are a few places to find them: TripSavvy, The Zebra and Pinterest. You can print board games, for free, by going to Homeschool Gameschool.

11. If you want to work off all that turkey and dressing, there are a bunch of free fitness apps to get you in shape with a little help from your phone. One of the most widely used apps is RunKeeper, which makes it easy to set up a running routine and to stick with it by tracking your progress. You can also use the app to track cycling and even ice skating. Avid cyclists might also want to try Strava, which not only plots out your trips on a map, but also compares your abilities to others who have traveled the same route. For those who prefer an in-home workout, try out the free Sworkit Fitness app.

12. When it comes to apps, there are also some good ones that will help you snag some free food. For example, by downloading the Panera Bread app, you'll get a free pastry as soon as you register for the MyPanera rewards program. The more you use the app, the more free surprises you'll score. Download the Krispy Kreme app and you'll land a free donut; download the Quiznos app and get a free 4-inch sub with purchase. A download of the McDonald's app also brings with it a variety of freebies.

13. Do you have a kid in college? Various services connect students with free food on their college campus. One is called Lunch Box. Another is called Free Food on Campus. You can also check your email and scan Facebook for university events offering free food on any given day. In addition, various restaurants offer discounts and deals to students with an ID. All you have to do is ask if there's a student discount. Finally, you can get free drinks at Chipotle and Chick-fil-A with a food purchase and valid ID at participating locations. And there are quite a few free food and drink items to be had on certain days of the year called Freebie Days.

14. And let's not forget our furry friends! If you want to really spoil your dog, take your pet to a free pet event. You can visit dog shows, parades, festivals or fundraisers. Just go to BringFido, and you'll get a complete list. You can also find dog-friendly beaches, as well as the top dog-friendly hotels and restaurants worldwide. There's even a long list of pet sitters and services. And for free dog food samples and treats, check out K9-Cuisine or the Feed Pet Purveyor.

15. If you're tired of spending money on costly invites, create your own party invitations with the help of a free template. Don't want to buy holiday cards, either? Make your own in the comfort of your home.

16. Planning a winter getaway is a breeze with Free Travel Guides — free print and digital vacation planning and visitor guides from hundreds of destinations across the United States. Find the latest attractions, things to do, places to eat and stay, and discounts and coupons at travelguidesfree.com.

17. Tired of shelling out money for a new Advent calendar each year? Print out your own, for free, on Pinterest.

18. Yapta is like having a travel assistant at your beck and call — for free. (Yapta actually stands for "your amazing personal travel assistant.") The service allows you to track and monitor prices on all your already-booked flights and hotel rooms. If a price drops, you get an immediate savings alert from Yapta.

19. If you enter into Google "third night free," dozens of offers from hotels will typically pop up on your computer screen, all offering you a free third night if you book a stay for three nights or longer. Participating hotel brands include Four Seasons, InterContinental Hotels & Resorts, and the Hard Rock Hotel.

20. For those focused mostly on walking, there are plenty of free apps that can track your workouts by revealing your route, speed and distance. Others are geared more toward tracking your daily steps and activity. And some do all of the above. Free apps include Map My Walk, Endomondo and the Fitbit App MobileTracker (which doesn't require a Fitbit).

21. Sam's Club often offers free health screenings for members, including blood glucose. Cholesterol screenings are typically available to members for a small fee. Go here to find out more. CVS' Project Health initiative offers free annual health screenings at select pharmacy locations across the country. Screenings include Body Mass Index (BMI), glucose, blood pressure and cholesterol. There's also a full calendar of Project Health events. Or, go here if you prefer the information in Spanish. Even if you're not a member, Costco pharmacies that are open to the general public offer various free health screenings to both members and nonmembers. These screenings include heart, diabetes and osteoporosis checks. To find out what your local Costco offers, go to Costco.com and click on "Pharmacy" in the main menu.

22. Save both money and time by printing out free holiday gift tags straight from your home computer. Go here or here to find one you like.

23. Ring in the season by doing a free holiday craft. You can make a lovely paper snowflake with the help of a free, printable snowflake template. (You will find more here.) While you're doing that, keep your children happy with these free, printable holiday coloring pages. Also, check out these easy DIY ideas for holiday ornaments and wreaths.

24. Home Depot offers do-it-yourself classes for both adults and kids — for free. You can learn how to do everything from installing a ceiling fan to refreshing the look of your walls. Michaels craft stores also offer classes for both adults and kids. Some are free and some are available for a fee.

25. Finally, do you have plans for New Year's Eve? If so, make sure to stay safe by letting someone else do the driving. While Uber and Lyft are popular, the companies' surcharges can be costly. The good news is that most cities have a public bus system — and many will offer free bus rides during certain hours on New Year's Eve.

One final tip: National Espresso Day is coming up on Nov. 23. Watch out for deals from the big (and small) coffee chains, as well as — hopefully — some freebies.