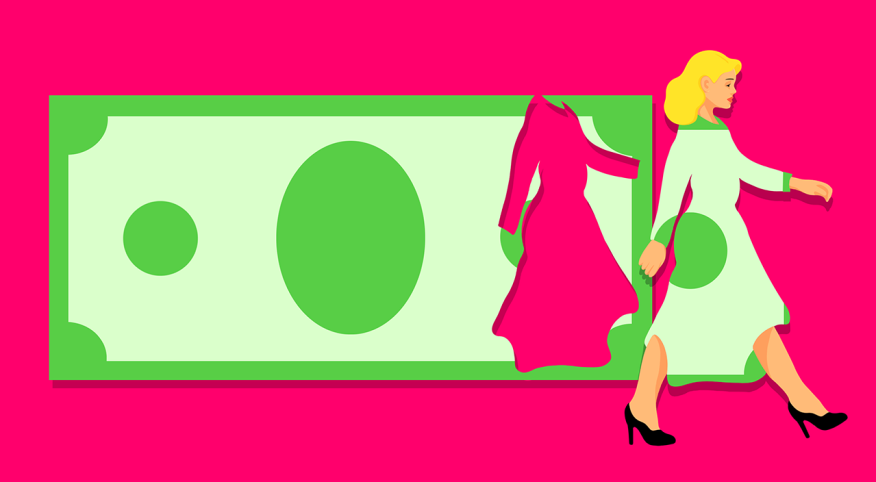 My 14-year-old daughter has a much better wardrobe than I do, thanks to the $13 per hour she makes from babysitting. As soon as she finishes each gig, she hops online to her favorite second-hand shops, where she buys brands from Lululemon to Alo Yoga to Diesel … at extreme discounts that even she can afford.

Saving the environment and her wallet simultaneously? Here are some of her (and my) favorite places to buy the trendiest clothing online.

Depop

This site specializes in inexpensive trendy women's clothing (though you can snag men's clothes as well). I seriously want everything whenever I shop here. They have tons of Free People, Lululemon, Urban Outfitters, American Vintage and Madewell items, but you can usually find any brand you're looking for, as the site is incredibly active. You can filter by brand, size, color and even condition. Each seller has a rating, so I tend to stick with those who have plenty of 5-star ratings (and I read all of them). Sellers take their own photos, set their own prices and ship from their homes.

Poshmark

This is almost a social media resale site. It connects you with your friends on all your social media sites, and you can see what they're selling — you may be surprised at how many people you know are on Poshmark, which has been around since 2011; you're essentially shopping their closets. More than 80 million people are on Poshmark, so if you don't like what's in your friends' closets, you can browse other ones. You can search by color, price, condition or keyword if you really know what you want. Poshmark sellers list everything from clothing to jewelry to leather goods at every price range, from Forever 21 to Gucci, so odds are good you'll find what you're looking for. One standout with Poshmark is its authentication service. Poshmark's team checks anything that's $500 or more for authenticity, which is super helpful and reassuring.

ThredUp

We love ThredUp because it's one of the rare online resale shops that has a return policy. If you don't like the item, you can return it for a restocking fee. If you choose to return for credit, ThredUp will give you a free return shipping label. Otherwise you'll have to pay for shipping. ThredUp has a huge inventory of women's, children's and maternity clothing, plus accessories. Sellers have to send their items to ThredUp, and the company chooses which ones are worthy of selling. Apparently they accept approximately 60 percent of what they receive, so they're pretty picky about stains, tears and other issues.

Facebook Marketplace

If you have a favorite brand, then Facebook is the way to go. Log on to Facebook and do a search for the brand you adore. For example, if you want to purchase used Lululemon clothing, do a search for Lululemon. Immediately, "Lululemon for sale" and "Lululemon like new" pages will pop up. You can purchase directly from people posting on those pages. To look for items instead of brands on Facebook Marketplace, you can search for something specific and browse by category.

The RealReal

Do you have champagne taste on a beer budget? Welcome to the RealReal, where you can snag luxury jewelry, fancy candles, home goods, designer clothing and other nice items for relatively low prices. The RealReal authenticates every single item, and the company is in charge of the pricing, the photographing and the shipping — so this is more of a professional service, with prices to match. But amazing deals can be found. For instance, a Supreme duffel bag that retails for $425 was recently selling for $300.

Vestiaire Collective

This is a fantastic site for resale shoppers because it guarantees that every item purchased is authentic. If the seller misrepresented anything, you can request and receive a refund. The site sells everything from Gap sweatshirts to Rolex watches — and so much in between.

Fashionphile

Fashionphile specializes in men's, women's and pet accessories, such as bags, shoes, jewelry, watches, wallets, sunglasses and leashes. Everything is authenticated, and nearly everything is extremely high-end, with labels such as Tiffany, Gucci, Saint Laurent, Chanel, Alexander McQueen and Louis Vuitton selling at 5 to 50 percent off. This isn't the spot for blowing your babysitting money (my daughter couldn't afford anything), but it's where you turn when you're in the market for a truly special item and want it at a discount.

Have you tried any of the above shops? Let us know in the comments below.