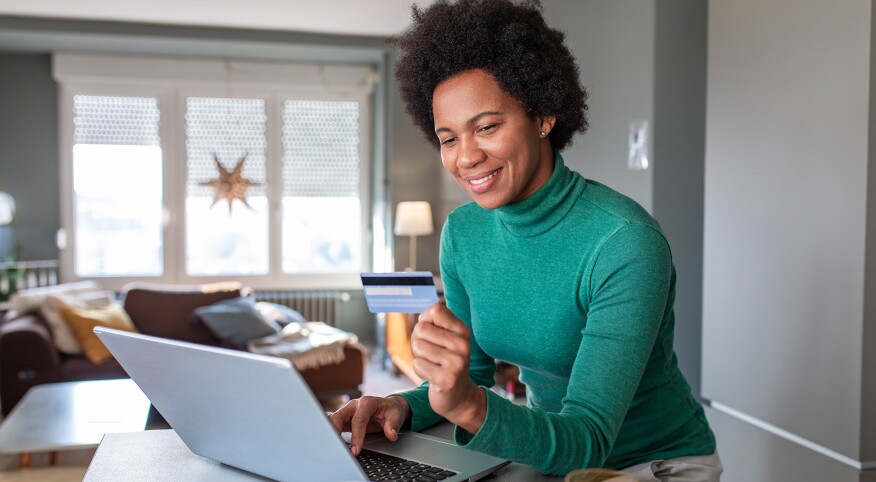 Our need for clothing doesn't stop after we turn 50, and our desire to look and feel good in our clothing shouldn't end then, either. For example, I could live without ever wearing another pair of trousers. Comfort and flexibility in my day-to-day life matter a lot to me. I still have jeans and slacks in my closet, but more and more I reach for leggings, tunics and dresses that are forgiving and flattering. I still hunt for bargains on quality clothing as I did 40 years ago, and I always enjoy finding a deal as much as I did then, too.

Shopping online is easy and, for some, more convenient than driving to a local shopping center or boutique. During the pandemic, many people began to learn what I've known for years — the variety of styles and range of sizes available online are wide-ranging. I've found some excellent small shops online that offer unique and beautiful clothing that you can't get at the big chain stores where we end up spending money when we shop at a mall. If you are on Facebook and Instagram, follow the shops with accounts to get additional updates and offers.

The secret to shopping at these smaller online stores is to get on their email lists. The shops will alert you to sales on existing inventory that they need to clear out, end-of-season discounts and customer-appreciation bargains. Most department stores bring in items specifically for sales, but boutiques are much less likely to do that.

I have purchased something (or a few things!) at all of the shops on my list, and their easy return policies and friendly customer service make them a breeze to patronize. One thing to watch out for with online stores of this size: Make sure you check to see if an item you like is "final sale." If you've never worn a brand or are shopping to try something on before keeping it, stay away from final-sale items. Most shops won't waiver on this policy. I've also included my two favorite shoe brand websites — they frequently have great deals, but I like them because their shoes are supercomfy!

Artful Home has beautiful fashion — plus some interesting art as well. For the most part, the clothing is expensive, but if you keep an eye out for sales, you can grab a special item or two every so often. Everything I've bought there has been worth the money and really well-made.

Clarks shoes are, in my opinion, the most comfortable brand of shoes. They have deeply discounted sales.

Cole Haan is a classic brand that never goes out of style, in my opinion. My favorites are the ZeroGrand and GrandPro lines. The sales are worth waiting for.

Fawbush's is located in Edina, Minnesota — where I have never been. I found the shop online when I searched for "women's clothing natural fabrics over 50," and now I'm a loyal customer. They have a variety of styles and prices to appeal to just about any of us. If I'm ever in Edina, the first place I'm going is to Fawbush's!

Flax Clothing (Barn Sale Site) is my favorite brand of linen. You can find Flax at most of the shops I list here, but their Barn Sales are a treasure trove of big markdowns. I stock up in the fall for the following summer (most items are final sale). Their clothes run large, so keep that in mind when ordering.

Hello Boutique is a store in Hamden, Connecticut. I love the website because it shows you exactly what sizes are available for each item before you click through to get more information. There's a wide range of designers — most of which I had never heard of before finding the website.

Lissa the Shop is based in New Jersey. It has many of the same brands as Hello Boutique, and I often check both shops for sales and discounts. Bonus: Lissa the Shop sends great, lightweight tote bags with every purchase!

Pax Philomena has the BEST cotton caftans. I wait impatiently for sales, and I have quite a few of them in my closet. They're comfortable, wash well and are made of the most beautiful, colorful fabrics. There are other items, too — but the cotton caftans are my favorite!

I love to shop for clothes and shoes … and handbags … and accessories. When I was young, I was too broke to spend much money on myself, but I became a bargain hunter when I worked in fashion in my 20s. As a retail buyer, I learned the cycles of markdowns and was always on the lookout for deals and steals. I bought designer clothing at 75–80 percent off in some cases, and learned the value of a quality black pump, a well-fitted bra and control-top pantyhose — all of which I would buy on sale. Now that I'm older and I have a little more money to spend, I've developed a strong sense of my style in middle age. I know what looks good on me — but more importantly, what feels good to wear. Hope you do as well.