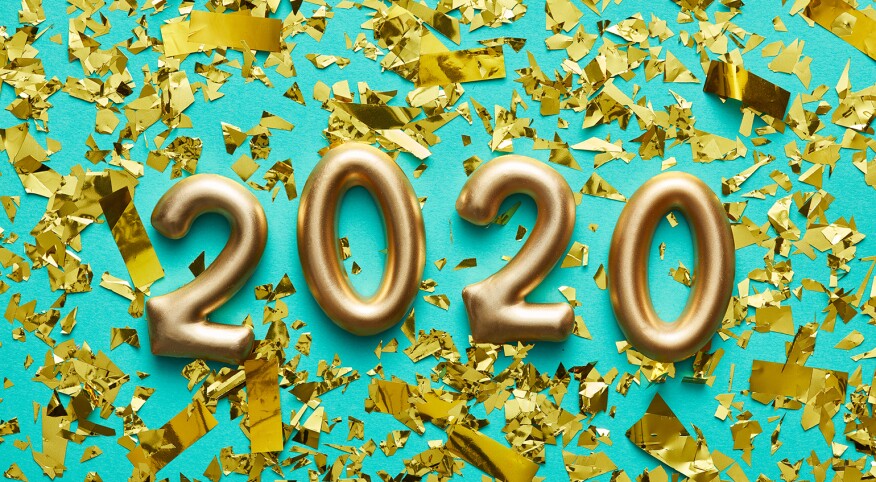 Christmas is over, but receiving goodies doesn't have to end! Follow our monthly guide to assorted 2020 FREEBIES and TREAT YOURSELF all year long.

NOTE: Made-up national holidays (Talk Like a Pirate Day, anyone?) are the font from which most free things flow, but not always and not everywhere. Please check websites and/or locations near you for confirmation.

JANUARY

New Year's Day (Jan. 1): You can find freebies mere seconds into the new year — and these keep you and others safe. On New Year's Eve most cities offer free rides home on public transportation, so check your local government website. AAA's Holiday Safe Ride program offers free "Tipsy Towing" for members who have overindulged. (Check here to see if it's available in your area.)

National Bagel Day (Jan. 15): It used to be on Feb. 9, but Thomas' (purveyor of English muffins and bagels) got tired of sharing the holiday with National Pizza Day, so they petitioned to have it moved — and won! Exercise your right to a free bagel at participating Original Brooklyn Water Bagel Co., Panera and Bruegger's Bagels. Note: You may still see deals on Feb. 9, so check the National Day Calendar website for coupons on both dates.

National Popcorn Day (Jan. 19): It's estimated that Americans eat approximately 17 billion quarts of popcorn a year, so heck yeah it should be free once a year! Check your local movie theaters (including Regal Cinemas and AMC), plus Harry & David and Popcorn Factory stores.

Martin Luther King Jr. Day (Jan. 20): Adults and kids can reflect on his life and work for free at national parks and museums (check local listings to be sure). The Rock & Roll Hall of Fame in Cleveland offers free admission to celebrate his legacy.

Chinese New Year (Jan. 25): To celebrate the lunar new year last year, Panda Express gave out free egg rolls and cans of Dr. Pepper. Check its website to see what the year of the rat might bring!


FEBRUARY

There's a lot to love this month — including Home Depot's free Heart Box Workshop for kids. Check the website for registration dates (not available at publication time).

National Frozen Yogurt Day (Feb. 6): If the weather isn't cold enough for you, head over to participating TCBY locations for a free froyo!

National Pizza Day (Feb. 9): Not sure why schools and offices are open today? Everyone should be out availing themselves of the many free and discounted offerings. California Pizza Kitchen, Domino's, Little Caesars, Papa John's, and Pilot Flying J are just a few of the restaurants offering free slices or deep discounts.

Valentine's Day (Feb. 14): You can't open your eyes without seeing some kind of Valentine's Day promotion or discount. We rounded up a few of the most notable: BOGOs (buy one, get one) from Starbucks on most beverage orders, and heart-shaped pretzels from Auntie Anne's; kids eat free at participating McAlister's Delis, and check your local Quiznos and Chuck E. Cheese locations for free subs or kids' meals. California Tortilla is giving away Love Chips, and if you tell someone you love them on Mimi's Cafe's Facebook page, you'll get a free entrée.

Free Pancake Day at IHOP (Feb. 25): Every year as a charity fundraiser, IHOP gives away a free short stack of Original Buttermilk Pancakes. Check here for details.

Leap Day (Feb. 29): If you can prove it's your birthday at Great American Cookies, they'll give you a free cookie cake. Prove it at Hard Rock Cafe and you'll get a free entrée. Make sure you bring ID as proof to Houlihan's Restaurant for a free entrée, McAlister's Deli for a free cookie, Olive Garden for free "Dolcini" desserts (go to their website first to find a coupon), participating Pizza Huts for a free one-topping personal pizza, and Villa Italian Kitchen for a free slice of pizza. Happy Birthday!


MARCH

National Pi Day (March 14): Get it? It's on 3.14! Since you can't eat a ridiculously long string of numbers, you can get free or discounted (think $3.14) pizza and dessert PIE at restaurants like Boston Market; Bojangles'; Fresh Brothers; Pieology; CiCi's Pizza; BJ's Restaurant & Brewhouse; and Marie Callender's, where you can get a free slice of pie with purchase of an adult entrée.

First Day of Spring (March 19): Celebrate not having to wear clunky snow boots for much longer with a free Italian ice at Rita's Italian Ice locations or a free cone at Dairy Queen.


APRIL

Museum Day (April 4): The Smithsonian has arranged free admission at participating museums throughout the country. Check here for ones near you.

Free Cone Day at Ben & Jerry's (April 9): As if there weren't enough flavors — er, reasons — to love these guys, they also give away free cones every year.

Wawa Day (April 11): If you're lucky enough to live near a Wawa, then you're extra fortunate on April 11 when they give out free coffee — with flavor shots, if you're so inclined.

Tax Day (April 15): Who couldn't use a break (tax or otherwise) today? Arby's is handing out free French fries (look for a coupon on their website), and California Tortilla has given away free chips and queso. Tony Roma's, Great American Cookies, Hardee's, Kona Ice and Hard Rock Cafe locations have different food giveaways and promotions. Go to Staples, Office Depot or OfficeMax online to download a coupon for free paper shredding. Plus, admission to national parks is free.

National Park Week (April 18-26): If you're planning a family trip or want to cross one of these off your bucket list, this is the time to do it. Entrance fees are waived and different parks hold special events to celebrate how we all can protect and enjoy our national treasures.

Earth Day (April 22): Happy 50th anniversary, Earth Day! Since 1970, Earth Day has selected a theme: 2020's is climate change. In the past, Target has handed out free recyclable bags; Starbucks will give you free coffee refills if you bring in a refillable mug; participating EVOS locations have offered free organic milkshakes; and if you have the Citi Bike app, you can download a free pass for unlimited 30-minute rides.

National Pretzel Day (April 26): This beloved holiday (especially if you're Stanley from The Office) is a freebie wonderland. You may need to visit the websites to download a coupon or sign up for their app, but hello — a free Auntie Anne's pretzel is a small price to pay for the salty, buttery goodness. Also check out Pretzelmaker, Philly Pretzel Factory and Wetzel's Pretzels locations and their websites for more information.

National Superhero Day (April 28): Krispy Kreme celebrates its own version of the holiday today by offering coupons for free doughnuts for the unsung real-life heroes you know.

MAY

Cinco de Mayo (May 5): Contrary to popular belief, this is not Mexico's independence day. You can still celebrate the Mexican army's 1862 victory over French troops with a variety of discounts at your local Mexican restaurants. Check out Chipotle (free delivery), Del Taco, Applebee's Dollaritas, Baja Fresh and, well, pretty much anywhere you can get a margarita or nachos.

Mother's Day (May 10): For the most part, a child's love is the only thing that's truly free on Mom's Day, but there are some other things to be had. On the Friday before Mother's Day, national public gardens waive admission (and some give free seeds), so check the ones closest to you. Wienerschnitzel locations give moms a free chili dog, fries and soda. When the server at participating Tim Hortons locations asks you what size iced coffee you'd like, say "mom sized" (anyone who does gets a free 52-ounce iced coffee). TCBY has froyo giveaways, and moms eat from a special free menu at Hooters. Yup! Hooters.

Free Cone Day at Häagen-Dazs (May 12): Every year, the ice-creamery gives out free mini cones with no purchase or coupon. It's not an all-day event, so check your local store for hours.

Memorial Day (May 25): Individuals and families with military ID are treated (as well they should be) to a variety of freebies at Shoney's, McCormick & Schmick's, Twin Peaks, MOD Pizza, Ninety Nine, Firebirds Wood Fired Grill, Pie Five Pizza, and many other local restaurants. Knott's Berry Farm, Colonial Williamsburg and national parks offer free admission to members of the military and military families.

JUNE

Free Fishing Day (during June): Fish on any public body of water without paying for a permit. Days vary by state, so be sure to check first.

National Doughnut Day (June 5): Free doughnuts?! Think of it as Christmas in June. Krispy Kreme, Cumberland Farms, Entenmann's, Dunkin' Donuts, Tim Hortons, and participating Walmarts and Wawas are giving away free doughnuts (some with purchase; check first). Even Jiffy Lube is getting in on the holiday by giving away free doughnuts and a free air-pressure check (to avoid donut tires).

National Iced Tea Day (June 10): Head to Starbucks, Wendy's, Teavana or PJ's Coffee for a free tea, or get a Snapple BOGO in select stores with coupon. Check with stores or online to see if you need to download a coupon to redeem.

National Flip Flop Day (June 12): Look, you'll probably be wearing them anyway. Grab your flip-flops and visit a Tropical Smoothie Cafe for a free smoothie from 2 p.m. to 7 p.m. Check website for date and time confirmation.

Father's Day (June 21): Pay for yourself and dad jousts for free at Medieval Times. Shoney's restaurants give dads free pie, and go to Spaghetti Warehouse for free lasagna or spaghetti and meatballs. TCBY is giving free 6-ounce frozen yogurts, and BJ's Restaurants & Brewhouse has handed out free pint glasses while supplies last.

JULY

National 7-Eleven Day (July 11): Download the 7-Eleven app today for a free Slurpee.

Cow Appreciation Day (July 14): Yup, it's a day. And it's a day when Chick-fil-A will give a free entrée to anyone who shows up dressed like a cow.

National Ice Cream Day (July 19): America's favorite dessert is honored with free or discounted ice cream at participating McDonald's, Burger King, 16 Handles, select Dylan's Candy Bar locations, Dippin' Dots windows, Dairy Queen, Publix, Cold Stone Creamery, Baskin-Robbins and Friendly's restaurants. PetSmart even has a coupon for dog-safe ice cream for your furry friends!

National Hot Dog Day (July 22): Download their app or visit websites at Sonic Drive-In, Pilot Flying J, Philly Pretzel Factory, Callahan's, Dog Haus, Hop Dog and Wienerschnitzel for free dogs (some with purchase or deeply discounted).

National Lipstick Day (July 29): Check your local MAC Cosmetics, because in the past they have had free lipstick giveaways (with purchase).

AUGUST

National Root Beer Float Day (Aug. 6): Get a free root beer float from — where else? — A&W!

National Bowling Day (Aug. 8): Even if you're terrible at it, bowling is fun (and funny). Celebrate it with free games or shoe rentals at BowlMor Lanes or Bowlero, or visit sites like GoBowling.com or KidsBowlFree.com for participating locations with freebies.

SEPTEMBER

National Cheeseburger Day (Sept. 18): Yes, you can haz a cheeseburger for free. Check to confirm this year's deals, but B. Good has given away a free cheeseburger if you downloaded its app. Also check out your local Wendy's, Red Robin and Sonic for special deals.

Talk Like a Pirate Day (Sept. 19): Talk like one at participating Krispy Kreme locations for a free doughnut. Talk like one and you get a free deep-fried Twinkie from Long John Silver's. If you dress like one, too, you get free fish and fries!

National Coffee Day (Sept. 29): America's morning BFF is celebrated aplenty with giveaways at participating Cumberland Farms, LaMar's Donuts, Original Brooklyn Water Bagel Co., Peet's Coffee & Tea, Pilot Flying J, Coffee Bean & Tea Leaf, Dunkin' Donuts and Starbucks locations.

OCTOBER

National Chocolate Day (Oct. 28): So close to Halloween, too! Visit your favorite local chocolate haunts like Godiva (last year they gifted free G-Cube samplers) and Lindt to see what they're offering for free!

Halloween (Oct. 31): BOOyah! Freebies abound. Dress like a burrito for Halloween and Chipotle will give you a free burrito. Kids 12 and under in costume get a free scary-face pancake at IHOP. Kids eat free at Outback Steakhouse on Halloween. Go to Arby's and just say "Trick or Treat" to get free bacon added to your burger or sandwich and even into your milkshake (don't knock it — yum!). Baja Fresh, Baskin-Robbins, Sbarro and Tijuana Flats are among the many local and national restaurants that have giveaways or let kids eat free. Check websites or call local locations first.

NOVEMBER

Veterans Day (Nov. 11): Lots of restaurants offer free meals and food to veterans and military individuals and families with ID, including Applebee's, California Pizza Kitchen, CiCi's Pizza, Cracker Barrel, Bob Evans, Bakers Square, Denny's, Dunkin' Donuts, Famous Dave's, IHOP (red, white and blue pancakes!), O'Charley's, Olive Garden, Ruby Tuesday, Shoney's, Texas Roadhouse, Sizzler, Krispy Kreme, Red Lobster, White Castle, BJ's restaurants, and Friendly's. Veterans and military individuals and families also get free entrance to national parks and 9/11 memorials. In the past, veterans were offered a free oil change at Meineke Car Care Centers, but check first this year.

Black Friday (Nov. 27): Nonmembers can go ahead and "Trim the Fat Friday" at Gold's Gym with free workouts today.

DECEMBER

Free Shipping Day has been held every year in mid-December since 2008. More than 1,000 online stores typically offer free shipping.

Yes, Virginia, there is a Santa Claus. And the U.S. Postal Service can help every parent or guardian prove it. Here's how to ensure your child receives a personal letter from jolly old St. Nick.

With the holiday party season kicking into full throttle, here are three festive cocktails to make your — and your guests' — spirits bright. (No, the ingredients aren't free, but the recipes are!) Want more holiday food tips and tricks? Well, here you go!

Planning to go over the river and through the woods to Granny's house for Thanksgiving? Keep the kids busy by printing out some free travel games. Here are a few places to find them: TripSavvy, The Zebra and Pinterest. You can print board games, for free, by going to Homeschool Gameschool.

If you're tired of spending money on costly invites, create your own party invitations with the help of a free template. Don't want to buy holiday cards, either? Make your own in the comfort of your home.