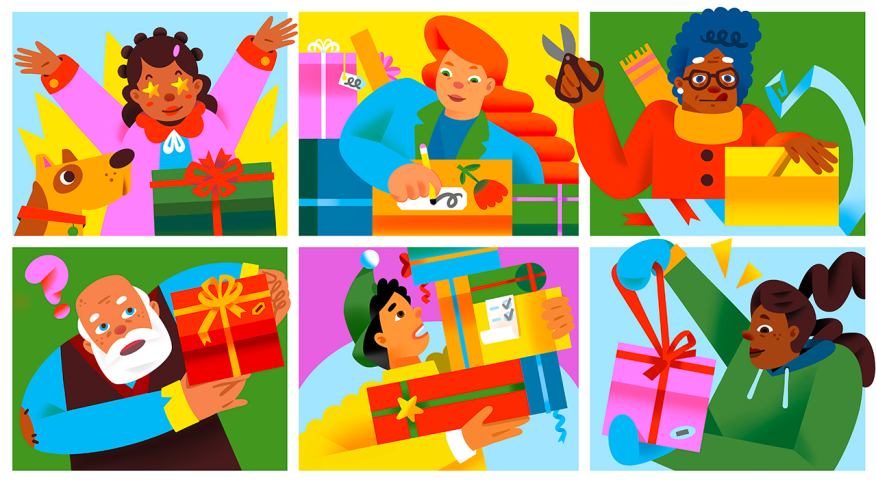 I've never been a late-minute gift buyer. Throughout the year, whenever I notice a cool item that would be perfect for my husband, daughter or close friends, I grab it and stack it away until the holidays arrive.

Avoid the crowds and shipping delays by starting to shop in November. Most brands have discount codes online for first-time buyers. And there's never a better time to shop than on Black Friday. Although prices aren't announced until the last minute, check out these suggestions.

Especially for your spouse

Tired of massaging his tense shoulders by hand? An Aerlang Massage Gun is a fraction of the price of one real spa massage. Later he can relax with the latest streaming hit show using his new Fire TV Stick 4K, cheaper than a night at the movies with popcorn. The JBL Go 3 Portable Speaker with Bluetooth is compact, travels anywhere, and provides waterproof protection for his Bruce Springsteen playlists.

For the sober-conscious, Ghia is a non-alcoholic apéritif resembling Amaro, a sweet and savory drink bursting with herbals and botanicals; it's easily made into a spritzer that will warm up any winter night.

No ties for dad

I used to buy my father the same aftershave every year. Today's dads are hipper with their running shoes and pickleball paddles. Selkirk Sport Amped S2 is ranked as the best high-end pickleball paddle by Good Housekeeping, as well as the most affordable, Niupipo Graphite Pickleball Paddle and Cover, to encourage beginners.

Noise-canceling headphones are ideal for plane travel, connecting to relaxing music in the backyard or blocking out city traffic or construction noise. I rely on my Bose Bluetooth Noise Cancelling Headphones. Since they run over $300, look for Black Friday deals or purchase previous models, which are often reduced.

Surefire tipis for teenagers and young adults

Do they tend to lose their most cherished possession, earbuds? Apple prices range from $99 to $249, but it's now a competitive market that includes Beats, Bose and Sony. For anyone starting off in their own apartment, a bundle of bedding from Brooklinen offers sales year-round. Their motto: "Prices that won't keep you up at night." A year's subscription to HBO, Hulu or other streaming channels makes the holiday last all year. If you've launched a budding baker, the affordable Great Jones Holy Sheet Pan comes in vibrant colors like raspberry and broccoli. Finally, this eco-conscious anti-plastic generation would love a Baggu (my new favorite design is Sky). These reusable colorful totes have expanded into cooler bags, laptop cases, travel bags and sun hats — as it's never too early to dream about summer.

Gifts for girlfriends

Is she a big reader? The Book of the Month Club has launched a GIFTING PROGRAM that gives you $10 off a six-month or 12-month gift purchase subscription between November 1 and November 22. Go here to purchase it. The promo code is JINGLE. Book of the Month is a curator of bestselling and new hardcover books, allowing subscribers to select their favorites to be delivered to their homes.

Do you get manicures together? If she can't get to the nail salon, a UV LED nail lamp is something she might not buy herself.

Nguyen Coffee Supply is the first Vietnamese American-owned organic roaster of coffee beans sourced from a 4th-generation Vietnamese farmer. Java will fuel lots of girlfriend conversations. Plant enthusiasts will enjoy Flourish All-Purpose Plant Food Kit with a subscription that will keep windowsills robust and green. Health-conscious Clvr has a fan base of Oprah Winfrey and Meghan Markle. These oat milk latte and tea blends of herbs, roots, mushrooms and probiotics claim to boost immunity, elevate moods and even relieve stress.

True friendship is certainly the best gift anyone can have, and the smallest presents can be most meaningful. A five-minute gratitude journal lasts an entire year; buy one for yourself and pledge to write in it daily. Or simply invite her over for a girlfriend-only home-cooked meal. Everyone needs to be served once in a while, relaxing with an after-dinner cup of tea while you do the dishes.

Mom

The most meaningful gifts I have received from my daughter are her hand-written cards. I save them in a storage box. Giving your mom a gift of praise and thanks lasts forever and is priceless.


Who in your family is the most difficult to buy a gift for? Let us know in the comments below.