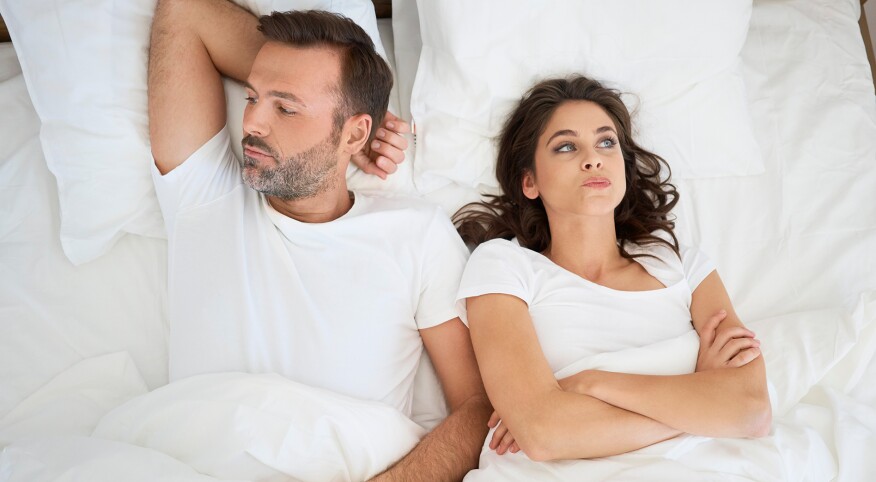 Sexless Marriage doesn't have a hard and fast definition, but the term itself pretty much says it all. Some say less than 10 times a year qualifies, others say it's no sex at all for 12 months. Whatever the definition, you get the gist, and it's more common than you might think. The generally accepted statistic is that roughly 15-20% of all marriages are sexless, or go for long periods with no sexual activity. We know from Google that sexless marriage is top of mind — in 2019 searches for 'sexless relationship' were second only to searches for 'abusive relationship.'

What may surprise you is this: contrary to our general sense of the way the world works, Google searches also show that it's actually more often straight men who don't want to have sex than the women who are disinterested. Or at the very least, it's women who much more often search "why won't he have sex with me?" than men do. W

hat do we make of all these facts? And for those of us who find ourselves in this situation, what's the path out? Can it ever change? How does one stop months from becoming years? Are you a terrible person for not wanting to sleep with your partner? Is he/she? Should you break up?

Most of us need sex or sexual stimulation of some sort. It's practically like air and water. It's good for us. Physical intimacy activates neurotransmitters that impact our brain health, and other benefits of sex include better sleep, improved self-esteem, lower blood pressure, decreased depression and anxiety, overall stress reduction, and, hugely important, increased intimacy and closeness to our partners, which makes everything feel good. So why isn't everyone in a long-term relationship doing it??

Here's a list of the most common causes:



The quality of the relationship. Unresolved relationship issues (fights, mistrust, infidelity) tend to result in poor communication. One or both partners may have had their feelings hurt, or gotten turned down too many times, and now no one is putting in any effort.

The sex is bad. If sex is not worth having, we won't want more of it.

You're bored. Women, even more than men, need novelty, and sometimes people stop making an effort.

You're too busy. One or both of you gets too busy or neglectful, what with dealing with teenagers and aging parents, and all the hassles of life. Sex becomes de-prioritized.

A health issue. Generally speaking, the healthier a person is, the higher their libido. If one of you has cancer, a broken leg, too many hot flashes, or a deep depression, it will likely affect your sex life, particularly if you don't talk about it.


In and of themselves, none of these issues will create a sexless marriage: distrust or ongoing issues can be resolved with good conflict resolution skills or therapy. One can make a conscious decision to prioritize intimacy. Bad sex can be fixed when both partners are willing to listen to each other, experiment, and learn by maybe working with a sex coach, reading books, or taking a class. Health challenges are very real, but they do not preclude intimacy. Tackling boredom requires the safety of feeling like you can say anything. These are all communication issues.


Talking about sex can be hard. We're so often afraid to give direction, or worried that what we want may be greeted with surprise. Or sometimes we don't even know how to articulate what we want, and we've never been taught how to. And yet, according to The Gottman Institute, the more couples talk about sex, the better sex they'll have. The more open spouses are in expressing their sexual desires and the more they are willing to fulfill those desires, the higher is the level of marital satisfaction.The benefits of talking about sex , not just to your partner, but to anyone who will listen, are clear: talking about it makes you more comfortable with it, and that is a good thing. Here are some tips to get started:



Do a bit of exploring on your own. If you're used to leaving this topic unaddressed with your partner and aren't quite ready to bring it up try dipping your toes in by setting aside time to journal about your desires, reading some erotic literature, or watching erotic videos.


Talk to your friends. Research shows increased sexual satisfaction for anyone who has an outlet to discuss their sexual experiences and desires. I participate in (and sometimes moderate) a weekly, virtual Monday Night Sex Chat on Revel. Revel is a platform made by and for women in middle age and beyond and it's been lovely to have a private space to discuss desire and aging with other women. I've been encouraged to try new things with my partner and feel bolder than ever about asking for what I want in bed.

Try new toys. If you've never tried one before I recommend this sleek vibrator from tabu (also by and for women). Whatever toy(s) you choose you'll want to set aside some time for exploration without climax as the explicit goal. Just relax and play around. Getting to know what you like on your own will make you feel empowered to express your desires to your partner. And if you're up for introducing them into your sex life with a partner is a great way to shake up your routine and bond over new experiences together!


A relationship that's having a sexual lull doesn't have to mean it's over. This might be an opportunity for growth and new connection, a moment for you to confront each other honestly. That will take hard work, and some self-exploration on your part as well. How much does sex mean to you? How vulnerable with your partner are you willing to get? By answering these questions and trying some of the activities suggested above, you will find your answer, and whether that means staying or leaving, we know that you'll be just fine.