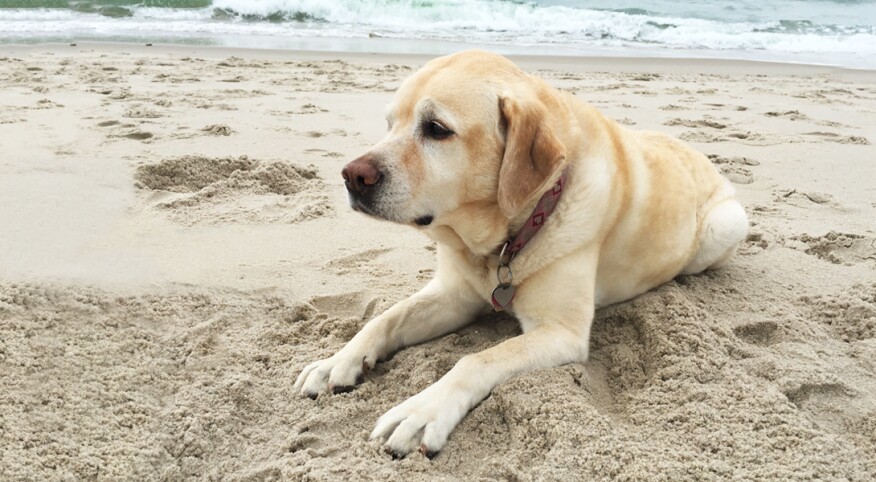 On her last good day, we went bra shopping. The underwire of the one I'd been wearing was poking me in the chest. I had no desire to be inside on a gorgeous spring day, and Roxy needed a walk, I needed bras, and she loved the clothing stores that dotted the Upper West Side. My husband and I had recently rented an apartment in Manhattan, and Roxy had learned that the salespeople in these stores offered treats to dogs and left out water bowls for them so that they would feel welcome while their parents browsed.

So, one sunny Saturday afternoon in April, we headed to the Town Shop. Roxy sniffed the tulips and daffodils that were beginning to bloom around the trees. She was almost 13 and slowly adapting to city life. My sons were young adults now and my life as a suburban mother was coming to a close; though our apartment was small and noisy, it was sunny and near the subway and we felt euphoric living there.

Our move to the city had been great for us but disorienting for our dog. Where was the driveway where she sunbathed? Where was her best friend, Cocoa? The chocolate Labrador had died the previous August, but as far as Roxy was concerned, she simply had vanished. Roxy was so saddened by Cocoa's disappearance that once she realized her friend was gone for good, she refused to walk by her house. After Cocoa's death, Cocoa's parents had moved to Pittsburgh. For 12 years, Cocoa's mother and I had taken our dogs on long runs and walks. Now that they were gone, Roxy and I wandered aimlessly around the neighborhood. In the city, Roxy had made friends with Bash, a Bernedoodle, and Lincoln, my friend Kat's Labradoodle, but they were young male dogs, and she didn't have the same ancient ties to them. At night in our apartment, she looked so forlorn on her bed in the living room that I pulled her bed close to ours so we could hear her breath, and she ours.

My kids wondered if living in the city was good for Roxy. I said, quite selfishly, "If I have to choose between my happiness and Roxy's, I'm going to choose mine." Ouch.

After we arrived at the Town Shop, Roxy lay down in the dressing room, and watched me try on bras. The salespeople didn't have any treats, but petted her and made a fuss. The bra store was 12 blocks from our apartment — a long walk for her — but she did it so easily that when Lincoln's mom Kat texted and asked if we wanted to go to Central Park, I said sure. Roxy gobbled up half a pretzel that was lying on the ground, and then she and Lincoln settled under the table at Le Pain Quotidien while Kat and I sipped lemonade. That night, I raved to my husband about what a great day Roxy had had.

But the next morning, she was wiped out and I worried that our long, lovely afternoon had been a big mistake. A few weeks earlier, she had been admitted to the hospital for the first time. She wouldn't eat her dinner. Labradors eat everything, instantaneously, so this was alarming. Then she vomited. We brought her to the vet, who said she had a 105-degree temperature and sent us to the animal hospital. There, she was given blood tests, and several rounds of antibiotics. An ultrasound showed an enlarged spleen. She had a lesion in her stomach, was anemic and needed a blood transfusion. Then she had two seizures. The doctor thought the antibiotics might have triggered the seizures. Perhaps she had eaten something that punctured her abdomen. Possibly she had IMHA (immune-mediated hemolytic anemia). Worst case, she had cancer, but only doing an invasive procedure that required general anesthesia would determine that, and she was too old to tolerate it. Six days later, we were given a bill that dwarfed our monthly mortgage. Roxy was given three weeks' worth of antibiotics, put on a diet of white rice and boiled chicken, and discharged.

We remained optimistic and arguably delusional. In my mind, Roxy was channeling my grandmother, who had lived until 98. We had gotten Roxy the month after my grandmother had passed away, and I was convinced Grandma's ladylike, loving spirit and longevity lived on within Roxy.

The morning after bra shopping, she slept late and pooped twice in the apartment. She barely touched her breakfast. This is where the story gets painful. It was Sunday, another beautiful day. My husband and I went for a bike ride in Central Park. The cherry blossoms and magnolia trees were blooming, the forsythia bushes were golden and glowing. When we got home, Roxy wouldn't eat her dinner. We called the vet, who said to bring her in the next day.

The next day, she couldn't lift herself off the rug. The rest of the day is a blur. The vet gave her an ultrasound, and wrote on a bright red Post-it, "Hemangiosarcoma." She called the hospital in New Jersey and told me to take Roxy back there, where she would receive around-the-clock care. What she was really doing was sending Roxy back to New Jersey to die, but I didn't know that at the time.

At the hospital, two orderlies carried Roxy inside on a stretcher. The vet summoned me into her office. "Come on in," she said. I didn't like her tone. She explained that the ultrasound showed nodules in Roxy's spleen and a mass in her liver. She probably had hemangiosarcoma, an aggressive blood cancer. The cancer had metastasized to her breasts, spleen and liver. It wasn't treatable, and the risk was that one of the nodules could rupture. If that happened, she could "bleed out" and die alone, terrified, in pain. The vet suggested putting Roxy down that night.

"Tonight?" I cried. "Can't you operate and remove the mass?"

The vet shook her head. "No surgeon will touch it."

I burst into tears.

Roxy was lying on two blankets, hooked up to an IV. I sat down on the floor with her. My kids were hours away, my husband in New York. Time flew. My husband arrived, then my older son. My younger son could not get there in time to see her, so we FaceTimed with him. When Roxy heard his voice, she lifted her head and looked right at the phone. It was well past midnight. The vet came in and gently reminded us that her shift ended at 2 a.m. If we wanted her to be the one who put Roxy to sleep, we would have to say our goodbyes soon.

She returned with two syringes, one to put Roxy literally to sleep, and one with an overdose of a sedative that would stop her heart. It was dreadful to witness this final brutality, to make the calculated decision to end our dog's life, as gentle and loving as the vet was. "Goodbye Roxy," we said, and buried our faces in fur. I don't know how long we sat there with her. Even up to the moment when the two orderlies strapped her to a gurney and took her away, she still felt warm and alive.

The next morning, an old friend came to pay a shiva call. She and her husband had separated, and it felt good to be with someone who was also grieving, even if our griefs had nothing to do with each other. In the days afterward, I wanted to talk only to people whose dogs had died. Back at the apartment, I stared at her bed and food bowls and felt grateful for the stain she had left on the rug.

A couple weeks later, my husband and I drove to the Jersey shore. Roxy loved the beach, and my husband loved taking her there in the early mornings, before the rules kicked in that barred dogs. She ran through the sand, waded in the surf and nuzzled the legs of everyone who greeted her. On her way home, she collected pinecones and white stones in her mouth. People ask if we will get another dog. I don't know. I've hidden away her dog beds and bowls, but kept her pinecones and white stones. They sit on our windowsill, a makeshift shrine to the dog we loved and lost, a collection of hard things to chew on.


Photograph by Jamie Karlin