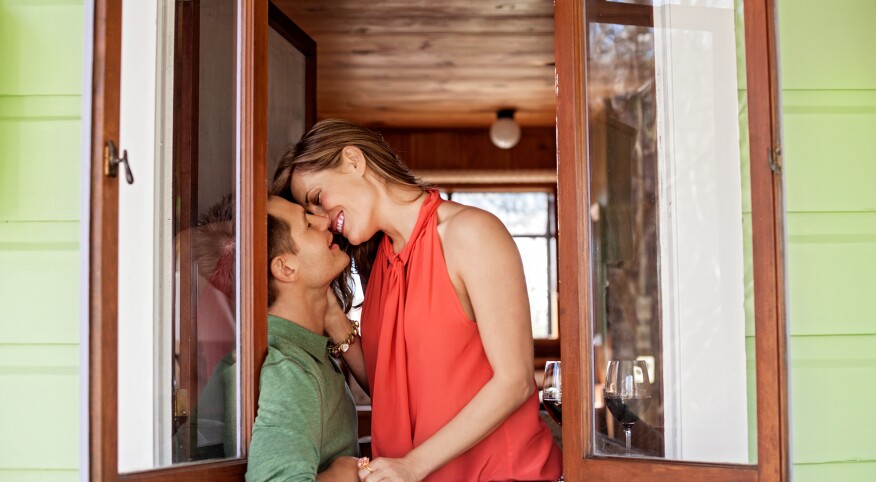 It has been years since we were married and years since we were divorced.

For the last couple of years, my ex and I have been an item again. We spend about five nights a week together and have no plans of cohabitation or tying the knot once more. What joined us this time was Bruce coming to my aid when I broke my neck in 2019.

He was my savior for the second time in my life, and as I healed became my lover again. After decades, we have come to know and appreciate each other's bodies blinded to the changes of time. We are comfortable together and in part see the other as the person we fell in love with decades ago.

We first met sitting at nearby tables in a restaurant. I was spending the summer alone at a beach town where I didn't know anyone (except for the occasional weekend visitor), recovering from a fire's severe burns; an artist learning to use her arm again. I wore a jumpsuit and neck scarf that concealed my scars, and looked unharmed if not overly clothed in the dim lighting. Although I was not ready to date, I gave him my number when he asked — to avoid explaining why I wouldn't go out with him.

The skin hidden under my clothes was still bright red from third-degree burns. The grafts made my arm and stomach look like a patchwork quilt. I could barely stand looking at myself in the foggy beach house mirror. There was no way I would let anyone else see my body.

Whenever Bruce called, I always turned him down.

On a sweltering Friday night, he phoned once again. My little cottage felt like an oven. Turning the pages of the book I was reading caused me to sweat.

"Do you want to go out for ice cream?" he said. I could taste the coldness sliding down my throat.

"Is your car air-conditioned?" I asked, hiding my excitement at the thought of relief from the heat.

"Of course," he said. "Tell me where you live and I'll pick you up in half an hour."

My skin itched in its confinement. I agreed, removed my scar-compression garments and wrapped myself in silk clothes. He had come to my rescue without knowing it. Sitting in the ice cream parlor, I said, "Sorry if you think I'm playing hard to get. I'm not ready to date. I was burned in a fire a year ago." I expected him to choke on his cone and quickly take me home.

Instead, he looked at me and said, "I would never have known. I'm so glad you survived."

Ingrained in my memory, the first time we had sex informs today's intimacy. On our second dinner date, Bruce took me to an upscale restaurant in Sag Harbor. Over scallops, under the table I felt his hand slowly climb up my thigh beneath my skirt. I ran my foot up his leg. I felt my body more intensely from the inside rather than on its raw surface.

This first sexual contact newly awakened a passion that gave me a sense of freedom. His fingers climbed higher. I slumped in my chair to allow their ascent. Only my shoulders remained above the table. I muffled my orgasm with an enjoying-your-dinner-partner's-conversation smile. I sat straight up hoping I hadn't been noticed by the two well-known artists smoking cigars at a nearby table or the family dining a few feet away. They all were oblivious. We didn't order dessert.

I invited Bruce back to my house. The half-hour drive seemed eternal, so we stopped in the dark parking lot of a loading dock. I was totally ready when he lifted my skirt, leaving the rest of my clothes intact.

At my house I changed into my scar-covering, long-sleeve, ankle-length turquoise cotton nightgown, which I would not remove.

Bruce's desire for me made me feel attractive. I needed him like a life preserver to retain that self-image. For lack of company during the week, I spoke to myself so much that sometimes I couldn't decipher what I was saying. One thing I did know was that the post-fire me was not looking for a man whose main offering was hipness and artistic narcissism — my past type. I was ready for something different, but not sure if Bruce, the triathlete, was the form it would take.

After our next date, I was startled to see him install his elaborate toiletry kit in my bathroom. I thought he was renting a place for the summer, but it turned out to be a weekly arrangement. I didn't give it another thought. During my self-imposed isolation, anyone I allowed into my world had an unquestionable glow.

In the business of beauty products, he not only took his own toiletries very seriously, but brought me bottles of expensive perfume and lotions to soothe my skin, which I still wouldn't reveal to his gaze. We spent every subsequent weekend evening together that summer, dining out and making torrid love under my nightgown. I wore my gauzy garment like armor. It shielded exposure to my skin and vulnerability. Only after we were married a year later did I expose my scarred body to him.

With Bruce's five joint replacements added to the mix, our present defects and wrinkles don't negate the desire we have for each other nor obscure the muscle memory of our initial wild nights.