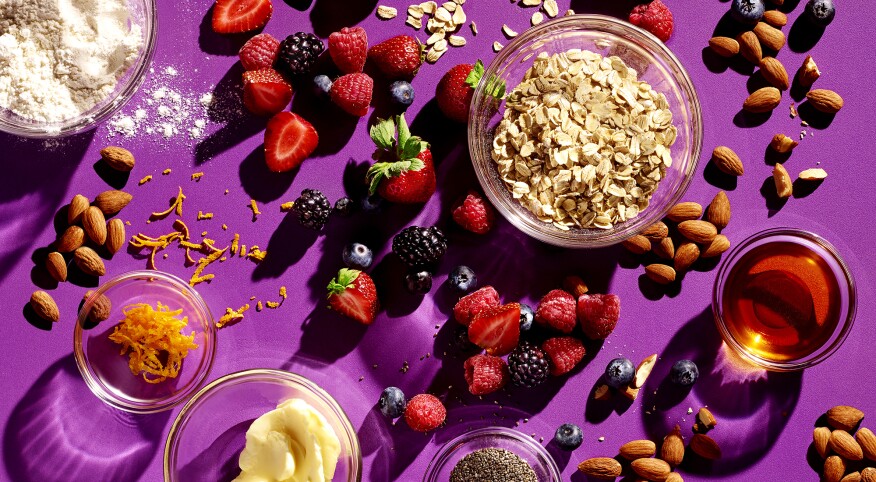 Chances are, you've been snacking quite a bit lately. When we're stressed, tired or simply working from home, we usually have a bowl of snacks to reward us for getting through the day. No shame in that game. But if you want a healthier snack or if you're bored with your go-to, we're here to help. We spoke with 10 nutritionists to learn what their favorite snacks are because, yes, nutritionists always have a bowl of something, too. We're all human.

The expert: Emily Danckers, a registered dietitian and nutrition coach in California

Favorite snack

Mini charcuterie board with cheese, hummus, whole wheat crackers and veggies

Why it's a go-to

"It's super fun and feels like a treat, but it's still healthy," Danckers says. Also, it's filling because it has protein, a healthy fat, a whole grain and veggies. Plus, it's delicious.

The expert: Heather Hanks, nutritionist with Instapot Life

Favorite snack

A handful of raw nuts and fresh berries

Why it's a go-to

The sweetness of the berries pairs well with the crunchiness of the raw nuts. Also, it's nutritionally balanced: Berries are high in unique antioxidants called anthocyanins, and research shows that antioxidants are better absorbed when they're consumed with dietary fat, Hanks says. This is a feel-good snack that's gluten-free and easy to digest for most people. It also travels well when you go to the gym, work or anywhere.

The expert: Marc Zalmanoff, a health and fitness expert with Marc Z Fitness and Nutrition in Frisco, Texas

Favorite snack

Nature's Bakery Fig Bars

Why it's a go-to

Zalmanoff always has a few of these on hand, as they're easy, convenient, gluten-free, dairy-free, soy-free, nut-free and plant based. Plus, they're a great snack because they're filling.

The expert: Brittany Crump, a registered dietitian with Savor Nutrition in San Antonio

Favorite snack

Sliced apples dipped in peanut butter with dark chocolate chips

Why it's a go-to

It's nutritious but will also keep you satisfied until your next meal, Crump says. This snack provides all three macronutrients: Healthy fats and protein from the peanut butter and fiber-rich carbohydrates from the apple. "Give it a try if you want to enjoy a nutritious snack while satisfying your sweet tooth in a more mindful way, as you are pairing chocolate with two nutrient-rich foods," Crump says.

The expert: Mackenzie Burgess, registered dietitian nutritionist and recipe developer at Cheerful Choices

Favorite snack

Energy bites (rolled oats, nut butter and add-ins of your choice ranging from mini chocolate chips to raisins to coconut flakes)

Why it's a go-to

These take just five minutes to make, and they are perfect to prep ahead of time, Crump says. "I love how they have a healthy balance of fiber and plant-based protein to provide long-lasting energy."

The expert: Joe Johnson, fitness expert with 9 to 5 Nutrition

Favorite snack

Kale crisps

Why it's a go-to

For a snack to be healthy, it should be at least one of the following: High in protein, relatively low in calories, very filling or rich in micronutrients (all four is a big plus), Johnson says. If you want to get some greens in without having to down a shake, put some kale on a baking tray, and pop it in the oven for five minutes at 180 degrees. Sprinkle with salt and garlic powder, and you've got a tasty, crunchy, almost zero-calorie snack to eat in front of the TV.

The expert: Melanie Beasley, a registered dietitian based in St. Paul, Minnesota, with Nutritional Weight & Wellness 

Favorite snack

Egg salad with avocado mayo and celery served in an organic red or yellow pepper

Why it's a go-to

Beasley says she always eats an animal protein, healthy fat and carb at every meal and snack. "The combination of this trio is important: They work together," she says. When you add healthy fat, such as butter, olive oil, coconut oil, bacon grease, avocado oil, etc., you're helping your body absorb the critical nutrients in those veggies (magnesium and calcium are great examples). Also, when eating fruits and vegetables, it helps you get the nutrients you need to be productive. The protein is key for anchoring your blood sugar, providing energy and making the brain chemicals that help us feel calm and relaxed.

The expert: Susan Levin, registered dietitian and director of nutrition education, Physicians Committee for Responsible Medicine

Favorite snack

Mini rice cakes with peanut butter

Why it's a go-to

"As a busy mom, I prefer these snacks because everyone in the family can enjoy them, and the food takes little time to prepare," Levin says. "The nut butters help satiate hunger until mealtime."

The expert: Julia Axelbaum, registered dietitian and lead dietitian at Form Health, a Boston-based telehealth medical weight loss program

Favorite snack

Healthy low-carb pizza using a Mission Carb Balance tortilla as the base topped with tomato sauce and shredded mozzarella cheese

Why it's a go-to

It tastes indulgent even though it's actually really healthy, Axelbaum says.

The expert: Alison Borgmeyer, registered dietitian

Favorite snack

Scrambled egg in the microwave with one Babybel cheese and leftover sauteed veggies

Why it's a go-to

The total snack is ready in 90 seconds. Mix everything together, microwave for 30 seconds, take out and stir, do another 30 seconds, take out and stir again, and eat it. "I like this in the late afternoon — it tides me over until dinner, and I think I eat less at dinner because of it," Borgmeyer says.