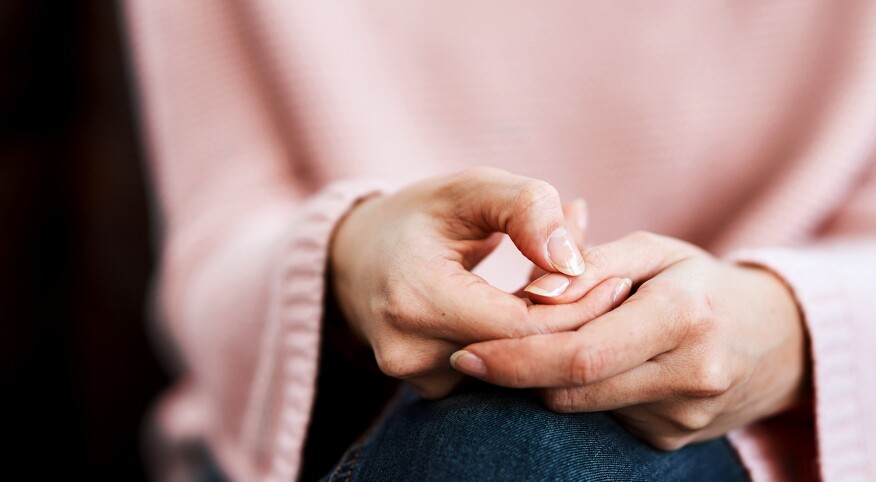 In the last year, my family has been hit with really hard times. It seems out of nowhere, a flood of forceful waves crashed into us and we found ourselves submerged in the sudden surge just trying to survive.

Our family has faced two terminal cancer diagnoses and the agonizing journey toward grief and loss, a near-fatal medical emergency and a life-changing injury — along with a slew of stressful situations surrounding them all. But as most people learn in their most difficult days, what feels absolutely impossible slowly becomes possible with the mighty and miraculous strength that dwells and swells within us all. Through my own impossible circumstances, I've clung to these five life-preserving things to do that have centered me and buoyed me in the storm and made my survival possible. No one is without hardship and heartache in their lives. We all endure seasons of suffering and find ourselves immersed in the unpredictable surf. If you are there now, I hope this list helps you too.

Find comfort in faith

Let your faith strengthen you and bring you peace. Whatever spiritual beliefs you have, this is the time to depend on them and trust in them. Seek counsel and support from others in your faith who can come alongside you, encourage you, and pray with you and for you. Your religious conviction will provide you with the peace, direction and sustenance needed to help you manage whatever you are going through.

For me, nothing brings more comfort and strength than the core of my identity and the hope of all things, which is based on my Christian faith. I committed my last hour of the night to Bible study and prayer with my husband. I also continued to invest in my women's fellowship full of supportive and faithful friends. Both have been my steadfast anchor through it all.

Embrace your people

Cling to the trusted relationships in your life and receive their support. Who are your people? Now more than ever, embrace those relationships and remember that in the midst of so much unpredictability, they are your stability and security. Those pivotal people are the pillars who can hold you up when everything else is crumbling around you. Reach out to them and allow them to help you in any way they can.

A critical piece to my own survival has been the friends and family members who have always been there for me and continue to be. Their presence and provisions of meals and encouragement, counsel and concern have been lifesaving. I often reminded myself of the gift of these relationships and how grateful I was (and still am) to have them in my life.

Take care of yourself

No matter how submerged you are in the crisis, make time for self-care. When things are chaotic and stressful, it can be difficult to find time for your own personal needs. But now more than ever, your self-preservation is critical, so set boundaries to ensure you are caring for your physical and mental health. What do you need to do to relieve stress, rest your body and restore your well-being? Make sure you carve out windows of time to do those activities daily. This might require you to make some tough decisions. But remember, you can't give what you don't have.

I made sure to set limits with certain people and responsibilities, in order to make space for regular walks, naps and quiet time, because they were essential to maintaining my health. I also need normalcy and routine as much as possible when things are so unpredictable and stressful, so I tried to stick to a schedule as much as I could.

Focus on priorities

Keep making choices that align with your priorities. When things get chaotic and overwhelming, we make impulsive decisions that can drain our energy and take time away from what matters most. Be cognizant of what you are doing and how you are spending your time, discerning what is most important right now — and the rest will have to wait. Keep evaluating your priorities and make intentional choices that focus on those first.

Life can be so busy and all the details of things to do can pull me away from my biggest priorities, so I kept an ongoing list of what commitments and communication could wait. That helped me put a temporary hold on those responsibilities, and I narrowed my decisions down to what needed my attention most.

Seek the good

No matter how hard life gets, search for the good. No matter how devastating your situation is, I believe that if you look for any good in the midst of it all, you will find it. Identifying positive aspects that come from a terrible experience doesn't take away the suffering we endure, but it can bring us encouragement, strength and some redeeming pieces of hope in the hardship.

Sometimes when things fall apart, the process of putting the pieces back together again can bring new revelation and direction to our lives. We may not understand why things happen, and we may wrestle with the unexplainable tragedy that hit us so hard. There's nothing we can think or do that will repair the condition of our circumstances, but I believe that in our darkest hour our greatest growth occurs, and purpose can rise from pain.

As for my own year of trauma and heartache, I have witnessed relationships restored, faith renewed, and an insurmountable amount of strength and courage that rose from the rubble of our wreckage. And most of all, I've seen each and every powerful and poignant layer of love prevail — in and through it all.

What helps you when going through a tough time? Let us know in the comments below.