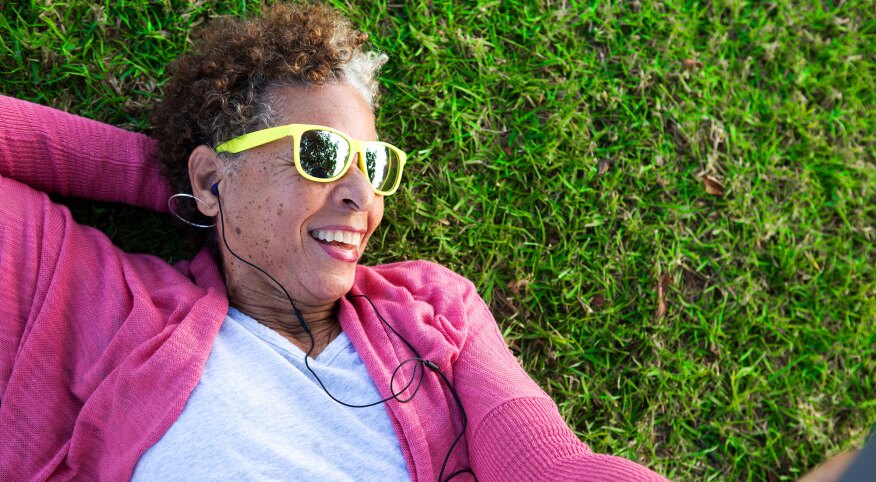 As a child, I hated milk. My mother insisted I drink it straight-up with every meal, warning me, "Don't you want strong bones?" She also encouraged me to get plenty of sun (before anyone knew about the risk for skin cancer). Today, experts agree that vitamin D is essential for bone health. There are theories that it may elevate your mood and help you sleep, and even prevent a range of diseases. Yet it's often difficult to identify deficiency symptoms.

When I was pregnant, I returned to drinking milk, pouring it into a wine glass to make it seem more palatable. I didn't know I had a vitamin D deficiency until years later, when a doctor discovered it during a routine blood test at my annual physical.

As many as 1 billion people worldwide don't have enough levels of vitamin D. Deficiencies span every age group and ethnicity. Our bodies make less vitamin D as we age.

Here's the latest on why D is important and how to know if your daily intake is sufficient.

What is vitamin D?

A fat-soluble vitamin, D is absorbed with fats in the food we eat. According to the Mayo Clinic, "your body can only absorb calcium, the primary component of bone, when vitamin D is present."

It is essential for bone health (Mom was right!). There are three ways to get our daily dose: from ultraviolet (UV) sun rays through our skin, eating oily fish and dairy, and taking D3 supplements. Your body can't synthesize vitamin D through glass windows, such as driving a car. The amount we get is determined by where we live, the amount of pigmentation (melanin) in our skin, the time of year, time spent outdoors and our use of sunscreen. Vitamin D might aid in reducing cancer cell growth, controlling infections and reducing inflammation, according to the Harvard School of Public Health. Current research is looking into risks of heart attacks, stroke and diabetes for people with low levels.

Can you get vitamin D naturally?

Health experts' advice of limited sun exposure and maximum sunscreen applications has lowered our intake of vitamin D. However, current guidelines agree that you can safely get up to 15 minutes of sun exposure several times a week to boost D levels.

Only a limited number of foods are rich in vitamin D. Look for "fortified with D" on food labels like orange juice and cereal. High on the list of D-rich foods are cod liver oil, swordfish, salmon, tuna, yogurt, sardines and egg yolks. Four ounces of salmon eaten twice a week is an excellent source of vitamin D.

When are supplements needed?

Increasing D-rich foods and getting some sunlight is often not enough. Many doctors advocate taking D3, which you can buy over the counter. Daily supplements are strongly advised in autumn and winter. How much do you need? The Health and Medicine Division of the National Academies of Sciences, Engineering, and Medicine recommends 600 international units (IU) daily from age 19 to 70; after that 800. The maximum is 4,000 IUs daily, but never take more than the daily recommended amount without a doctor's advice. Too many D3 supplements can be toxic, and symptoms include nausea, reduced appetite, constipation and increased thirst.

Are you at risk for vitamin D deficiency?

For most people, no matter where they live, it's difficult to get enough vitamin D through sunlight and diet, according to family medicine physician Jennifer Boozer, affiliated with Keck Medicine of USC.

The darker your skin, the more difficult it is to get enough vitamin D from sunshine. Other risk factors include living in northern climates, use of sunscreen, being overweight or obese, lactose intolerance, and vegan diets. Although more research is needed, serious conditions might occur because of vitamin D deficiency — including diabetes, high blood pressure, even certain cancers. Crohn's disease, celiac disease, gastric bypass, and kidney and liver diseases can lower levels, along with medications like steroids and laxatives. Discuss your risks with your doctor.

Why should you worry about a deficiency?

"Without vitamin D your bones can become soft, thin and brittle," according to the Mayo Clinic. Insufficiencies can be connected to osteoporosis. Symptoms are often not obvious and can include muscle weakness, bone pain, fatigue, and depression or other mood changes. The best way to determine if you're deficient is through a blood test with your doctor, who can advise you on adding daily supplements.