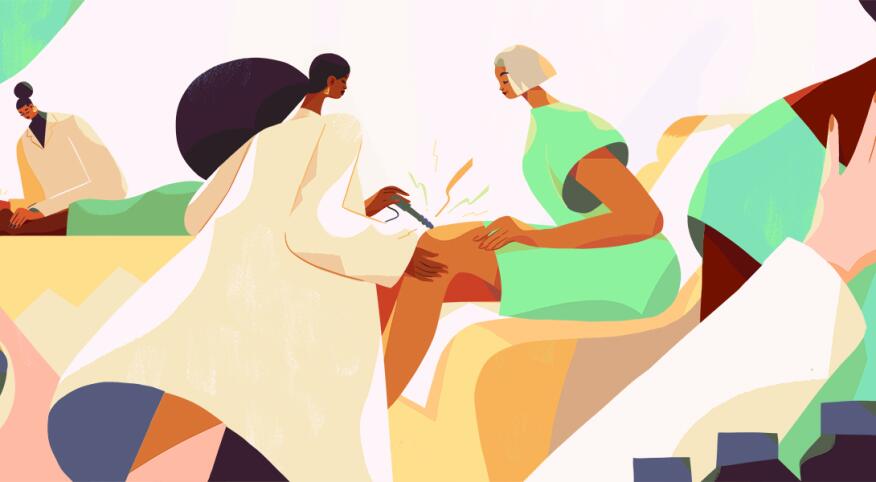 Did you know that what plumps your lips can help your hips? Or that Botox can ease your sore neck?

Doctors are now using these beauty treatments to turn back time in muscles and joints to alleviate tennis elbow, runner's knee and the annoying aches that slow us down. As we get older, the good stuff that keeps our bodies strong and our bones cushioned degrades. That can lead to pain.

Don't ignore it. Don't play through.

"Those are warning signs," says Halina Snowball, M.D., a Stanford University-trained physiatrist in Stamford, Conn. "People who end up in wheelchairs and using walkers, not as the result of a devastating event or disease, are doing so because they ignored joint and muscle aches and pains along the way."

Check with your doctor first to identify the source of your pain. Then consider visiting a trained pain-management specialist. They're on the cutting edge of what professional athletes and Olympians are using to get back in the game. Nowadays, procedures and substances used in beauty treatments can make us feel better, too. Don't you miss your weekly doubles match?

"The sooner you act," says Snowball, "the more likely you are to preserve the integrity of your joints and muscles so they serve you your entire life. With early intervention, it's possible to retard, and in some cases reverse, age-related musculoskeletal problems and preserve long-term mobility."

So treat your body with the same care as your gorgeous face. (Check with your provider, as some of these may be covered by insurance.)

Hyaluronic Acid: Your body makes its own hyaluronic acid. When it's created in a lab, the gel is used for lip augmentation and to fill out wrinkles. Now it is being injected into joints to create an artificial cushion. Requiring anywhere from one to four treatments, the effects can last up to six months.

Platelet-Rich Plasma (PRP): Synthetic versions are available in face creams and supplements, but here, your doctor extracts your own cells through a blood draw that is processed in a centrifuge to isolate plasma and platelets. In this 30-minute procedure, they are reinjected into damaged tendons and joints not just to treat pain, but to encourage healing.

Botox: This multipurpose injectable is being used to ease myofascial pain and muscle spasms in the neck and shoulders. Doctors also are injecting it into the gluteus minimus to assist in hip mobility.

Adult Stem Cells: Similar to PRP, these cells are harvested from your bone marrow or fat, where the cells are richer. The cells are separated and reinjected into injured areas to regenerate damaged tissue. Last year, Keck Medical Center of USC reported that stem cells were injected into the cervical spinal cord of a 21-year-old man, who regained the use of his arms and hands.

Extracorporeal Pulse Activation Technology (EPAT): Also known as shockwave therapy, EPAT utilizes high-velocity sound waves to stimulate the metabolism and speed up the healing process. It has been used to treat cellulite, but EPAT is also an especially popular treatment for plantar fasciitis and Achilles tendonitis.