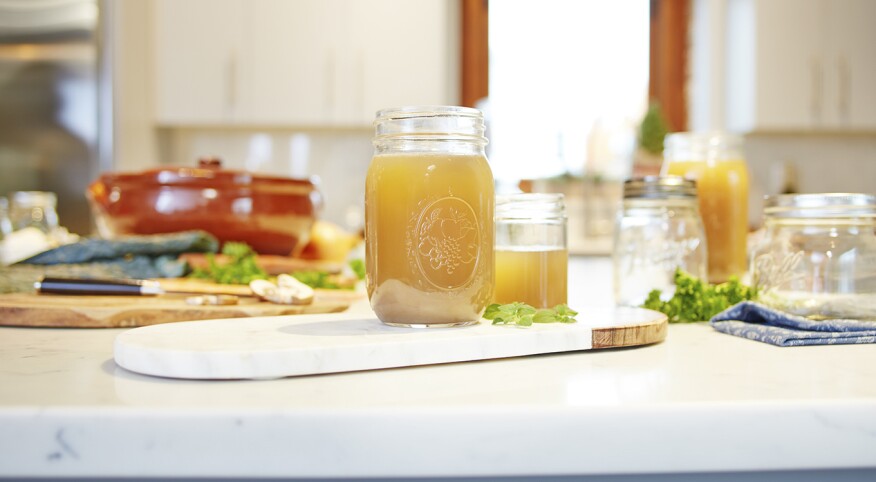 The newest health superfood has been around since the dawn of the cavewoman. Bone broth is prepared by boiling the bones and connective tissue — think cartilage, skin, ligaments and tendons — of healthy animals, chicken and fish. Though usually found in soups and gravies, the nutrient-packed ingredient is also now turning up in protein bars.

How much nutrition are we talking about here? The USDA Nutrient Database states that one cup of homemade chicken or beef stock ranges from 31 to 86 calories, .2 to 2.9 grams of fat, 4.7 to six grams of protein, and varying amounts of calcium, iron, potassium and other minerals.

Why is it so trendy? Once upon a time — say, a few years ago — bone broth was just an ordinary, if quaint, recipe ingredient. But the popular Paleo diet and similar eating plans brought the concept of consuming all parts of an animal into the mainstream. While there is still no published research on the bone broth itself, it's associated with good health thanks to its glycine and arginine amino acids (which help fight inflammation), gelatins (which promote feelings of fullness) and high collagen content. Ask your doctor or nutritionist for more info.

Remind me why collagen is important? Studies suggest that a regular intake of collagen supplements can preserve existing cartilage, may increase density and have an anti-inflammatory effect. That means stronger joints, and relief from sore muscles and (yikes) arthritis. Fun fact: Runners who participate in the Ironman Triathlon are usually served chicken stock soup at the finish line.

Can I make it at home? Sure. It's not terribly expensive, either. You need to make sure the animal was as healthy as possible, so look for high-quality bones from grass-fed cattle or bison, pastured poultry or wild-caught fish. You can find good bones from leftovers when you roast a chicken, duck or goose, or from a local butcher. Exact recipes vary, but the key is to simmer the broth in water along with spices and vegetables for eight to 24 hours. If you don't have the time to commit, you can also buy dozens of bottled, jarred, boxed and even bagged bone broths. And the bone broth company Brodo recently opened a brick-and-mortar shop in New York City. You can buy another bone broth from Bonafide Provisions at Whole Foods or on Amazon.

I still feel weird about eating animal tissue. Any alternatives? The Ancient Nutrition Bone Broth Protein Bar in Peanut Butter Chocolate Chip ($7 for a pack of two) is chewy and rich in flavor — and doesn't at all feature the taste of animal protein. Plus, chocolate!