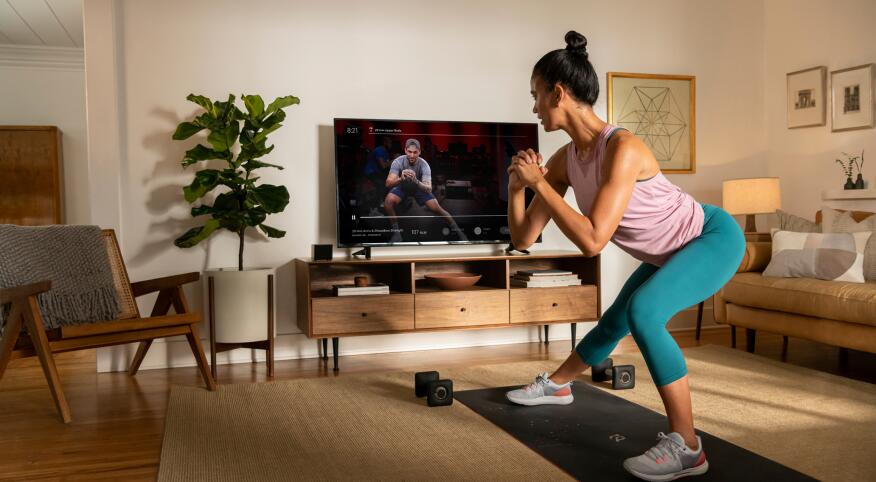 If you're like us, your workout for the past few weeks has consisted of wandering from the couch to the fridge. Try these at-home workouts to break a sweat, to boost your morale and to avoid gaining the "quarantine 19."

CorePower Yoga
This chain has been supplying beginner-to-advanced yogis with places to practice long before we were trapped at home. But now, they have opened their virtual doors and are offering yoga, meditation and sculpting on-demand classes gratis to members and nonmembers. They rank everything in terms of difficulty, from C1 being more elemental up to C3, which is more advanced. The yoga classes are pretty standard — and are great if you're looking for basic yoga. If you really want something special, try the Yoga Sculpt classes, which are a blend of yoga and strength (you'll need light to medium weights, but you can use soup cans in a pinch). Classes change weekly, so if you don't see the classes you want this week, chances are you'll see them next week. If you want all the classes, it'll be $19.99 per month until they're back in the studio.

Peloton
Don't have a spin bike? Not a problem. Peloton has always been an at-home workout based on cultish bikes and online classes. But it offers way more than spin classes. Peloton has hundreds of yoga, strength, tread, cardio and meditation on the app, and they are live and on-demand. Normally, it's $13 per month for the app, but Peloton is offering three months free right now. If you don't have a bike or treadmill, we recommend the yoga flow classes with Aditi.

Orange Theory
You may have heard about this addictive boutique fitness obsession. Seriously, people can't seem to get enough of Orange Theory. Normally, you'd have to pay a pretty penny for a membership or a per-class fee — but they're offering daily 30-minute classes online for free. These classes are strength-focused, so if you want to get a six-pack while you're stuck at home, then this is where you need to be. These will get you sweaty and strong in no time at all (or more literally, in 30 minutes a day).

Couch-to-5K by Active
If you're new to fitness — specifically to running — try this app. It promises to prepare you for a 3.1-mile race in nine weeks. How? Your virtual coach will take you through three workouts weekly, tracking your time and distance and offering you tips on how you can improve. This program works indoors on a treadmill or outdoors, and the plan is super easy and straightforward to follow. You just need three days weekly (in a row or in whatever order you want).

AARP
AARP asked a few of its favorite fitness experts — names like Denise Austin, Jorge Cruise, Lorraine Ladish, Bryant Johnson and Kathy Smith — to create, from the comfort of their own homes, short, start-to-finish workouts. So clear some space, prop up your laptop or tablet nearby, and roll out that mat. These beginner-friendly workouts will be worth the 10 minutes they take to complete.

Daily Burn
Missing your group fitness classes? Turn to Daily Burn, which offers all different classes, ranging from cardio to maternity yoga — and everything in between. There are about 500 classes a day, and your price depends on the service you desire (it's free for the first 60 days). The basic is $15, and offers you unlimited access to the workouts and training programs. If you want the premium membership of $27 per month, you'll receive the entire archive of the Daily Burn classes, plus an additional 600 fan-favorite videos.

Pure Barre on Demand
Expect pure pain on day two, because Pure Barre is no joke. It has various-length workouts, and all focus on tightening your core, arm and leg muscles so you'll look like a ballet dancer in days. The best part of Pure Barre on Demand is that many of the workouts are recorded from the in-studio classes, so you're getting the real thing in the privacy of your own home — but for a lot less money. A Pure Barre class is usually around $25, but at home you'll be paying $30 a month for unlimited classes after your seven-day trial.