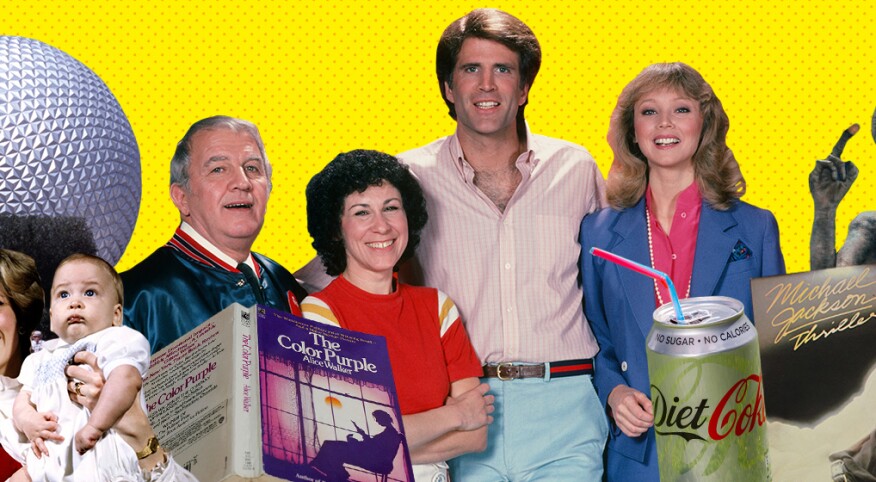 Remember when you were a kid and daydreamed about what life would be like in the 2000s? Personally, I was certain I'd be able to ride my bike in the sky and play games inside a computer.

I'd be lying if I said I'm not disappointed that I'm currently not friends with a droid. These visions were brought to me by 1982 — a year that, amazingly, had a knowing eye on what's next. And I'm not just referring to the fascinating, slightly foreboding science fiction films that dared to stretch my kid-sized imagination. (In case you're wondering, the above answers are E.T. the Extra-Terrestrial, Tron and Blade Runner). Not only did groundbreaking TV series, books, Broadway shows and music set the blueprint for the years to come (I defy any Gen Zer to not immediately fall for Laura Branigan's ultracatchy hit "Gloria"), but the technology also was a revolutionary game changer.

Even the wardrobe was … well, OK, there's no way to justify exaggerated neon sleeves. Now here we are, already 22 years (??!!) into the new millennium. And there's no better time to celebrate the present than by saluting the 40th anniversary of a year in the past that helped shape our future. In other words, 1982 was, like, totally awesome.

In chronological order, here are 10 reasons why.


Here's your host, David Letterman!
The Indiana native was a struggling comedian with a cancelled morning comedy show on his resume when he was tapped to host a show airing after The Tonight Show. Late Night with David Letterman, which debuted Feb. 1, would go on to break the mold of after-hours television thanks to its irreverent host and winking segments such as Stupid Pet Tricks and the Top Ten List. Though Letterman signed off from Late Night in 2015, he continues to interview celebrities on his Netflix specials.


It's impossible to not adore this story about the close bond between an abandoned alien and his new young friend, Elliott (Henry Thomas) — or, frankly, start bawling when the two must say goodbye. Directed with a warm touch by Steven Spielberg, E.T. the Extra-Terrestrial premiered June 11 and went on to become the top-grossing film of the entire decade. It also made a star out of precocious Drew Barrymore (she hosted Saturday Night Live that November at age 7!), not to mention Reese's Pieces candy.


The birth of Prince William
On June 29 at 9:03 p.m. — 11 months after the wedding of Prince Charles and Diana Spencer — the future king of England entered the world at the Lindo Wing of St. Mary's Hospital in London. Needless to say, Prince William's birth was a royally big deal. The palace spokesperson's announcement: "The baby weighs 7 pounds 1½ ounces. He cried lustily. The Prince of Wales was present." The next day, William had his first photo op on the hospital's front steps; it wouldn't be his last, of course. Also turning 40 in 2022? Kelly Clarkson, Seth Rogen, Anne Hathaway and Kirsten Dunst.


Behold 'The Color Purple'

Before the 2005 Broadway musical and the 1985 Whoopi Goldberg-starring film, author and activist Alice Walker wrote her epistolary novel (published on June 30). A feminist work about an abused and uneducated African American woman's struggle for empowerment in the Deep South in the early 1900s, the acclaimed The Color Purple won the 1983 Pulitzer Prize for fiction. By the way, that Tony-winning musical is still touring the country.


Fine, we all know by now that Diet Coke isn't exactly the liquid equivalent of a kale salad. But there was still much fanfare when Coca-Cola introduced its first low-calorie soft drink in the United States on Aug. 9. While not the first diet soda (that would be Diet Rite in 1958), Diet Coke was a turning point in the industry because of its aspartame-enhanced sugary taste. Its endorsers over the decades have included celebrities from Paula Abdul to Taylor Swift.


Making your way in the world today takes everything you got. That's why it's still comforting to queue up an episode of Cheers, one of TV's funniest and smartest sitcoms. Revolving around the exploits of the staffers and customers at a downtown Boston bar, the NBC show flopped upon its Sept. 30 premiere and was almost cancelled. Now Kelsey Grammer, who joined in 1984, is set to once again reprise his neurotic psychiatrist character in the 2022 revival of Frasier on Paramount+.


For the record, it stands for Experimental Prototype Community of Tomorrow. And on Oct. 1, the attraction that awed you as a kid opened at Walt Disney World in Florida. Inspired by an unrealized concept of Walt Disney himself, the sphere-shaped theme park celebrated space travel, aquatic life and imagination, and featured a host of "pavilions" set on a waterfront lagoon. An adult ticket at the time cost $15; now you'll have to pony up well over $100 — plus tax.


A show about abandoned street cats based on poems by T.S. Eliot … wha?! And yet composer Andrew Lloyd Webber's out-there idea sparked a musical phenomenon. Cats — which cost a whopping $5.5 million to produce — opened on Broadway on Oct. 7 with a record-breaking $6.2 million in ticket presales. And a new day had begun: In 1997 it became Broadway's then-longest-running show and finally closed in 2000 with 7,485 performances. The less said about the 2019 film adaptation, the better.


There are albums, and then there is Thriller. Released on Nov. 30, Michael Jackson's second solo album transcended all genres to become a hit-churning, cultural-changing juggernaut. Not only did you own the vinyl, you had the silver glove and did the moonwalk just like MJ. And back when MTV still aired videos, nothing was more popular than the cinematic titular clip. The album has sold 29 million copies to date, tied for tops of all time.


'Time' magazine honors the computer

Advances in technology moved at warp speed in 1982. Not only did Sony introduce its first CD player, but the 8-bit home computer — known as the Commodore 64 — came on the market and would sell up to an estimated 17 million units through 1994. No wonder that in December, Time magazine awarded its prestigious annual cover to the Machine of the Year with the headline "The Computer Moves In." The personal computer was the first inanimate object to get the honor (until then it had been awarded only to people or classes of people). Think about all that the next time you stand in line for the new iPhone.