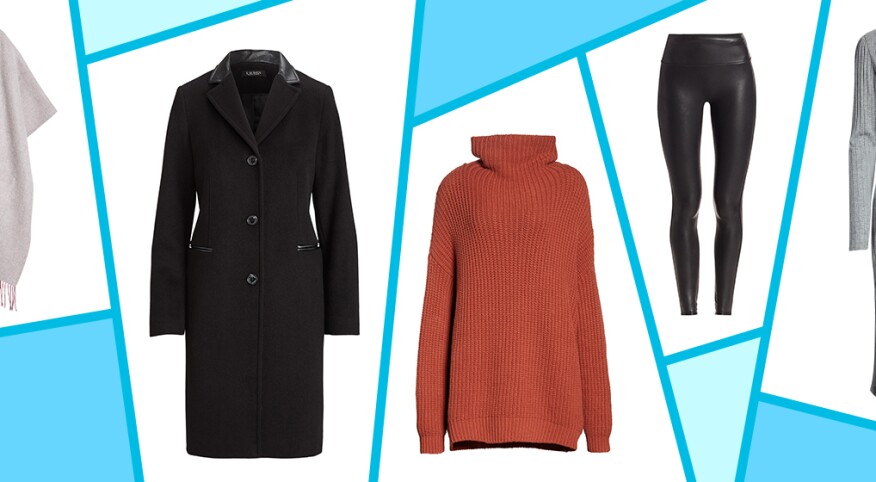 We all like to feel and look our best. But let's be honest, the dipping temperatures make us want to hibernate in our long johns with a blanket wrapped around our shoulders. I see my teenagers go out in public in their pajama pants, slippers and sweatshirts — and sure, that looks cute on them and their friends. Unfortunately, I can't pull off that look unless I'm in bed or in front of the fireplace for the evening.

The Girlfriend wants to make it easy by showing you some pieces in your wardrobe that are comfortable, warm and — most importantly — classic staples that you will wear for years. These 10 winter wardrobe essentials will be easy to pair with just about anything else in your closet. Just click "Add to cart" and admire your new outfits this season.

Straight-leg jeans

These jeans have made a considerable comeback (which is great news for those who were more than happy to say goodbye to skinny jeans). The fit on the straight-leg jeans is a bit roomier, and they are flattering on everyone. They also work well with boots and can be tucked into them or folded over, and they also work if you want your pants over your boots.

These mid-rise slim boyfriend jeans with Washwell from Gap retail for between $24 and $60 and come in petite and tall sizes. The wash makes them casual enough to wear with sneakers, yet easy to dress up with your favorite boots or heels.

Madewell has a great pair of Vintage Straight Jeans that will look lovely with your favorite T-shirt or dressy blouse. They retail for $128.

Levi's Wedgie Straight Fit retails for about $98 and has been a Levi's fan favorite for the past few years because of the fantastic fit and oversized back pockets. These come in tons of different washes, so there's a shade for everyone. You literally can't go wrong with a classic pair of these famous jeans.

Oversized sweaters

Is there anything more comforting than wrapping up in your favorite sweater? Houndstooth print is a classic choice that always looks sharp. This $90 sweater from Ann Taylor will keep you warm and stylish, and can be layered with your favorite button-down or T-shirt.

An open-front cardigan in black is the perfect wardrobe staple. It looks great on everyone and can be worn with your favorite skirt, dress and any bottom you have in your closet. This one from Chico's is long and drapey, and retails for $99.

This cozy Free People turtleneck sweater at Nordstrom retails for $128 and comes in a few fun colors. The oversized fit and drop sleeves is a throwback to the '80s.

Long wool coat

A long coat is a must-have in colder months because it can be worn with dresses and pants. Wool is always nice and warm, and who hasn't thrown one on over pajamas to run to the store quickly?

This wool-blend coat comes in black and camel, and retails at Nordstrom for $290. The leather-trimmed collar and pockets give it a little extra flair. If you are looking for something more interesting than a solid wool jacket, this plaid coat from L.L.Bean has lots of character. It retails for $229, and comes in two prints with a hood.

Seeking elegance? This single-breasted maxi coat from Anne Klein is 70 percent wool, 10 percent cashmere and 20 percent nylon, features slit pockets and retails for $420. It's available in black or navy.

Sherpa jacket

Nothing says winter like a Sherpa jacket. They are great to wear for an outdoor hike in the fall and winter, as well as the perfect thing to throw on for a trip to the mall or while running errands. This scotch plaid sherpa-lined jacket from L.L.Bean retails for $99 and comes in different plaid prints.

Dillard's has a long, open-front version from Steve Madden that's snuggly and warm. It retails for $139 and is available in Mocha Bisque or ivory. A zip-up jacket you can throw on with anything is also a must. This one from Columbia at Zappos retails for $110 and is so cozy you aren't going to want to take it off.

Faux-leather leggings

Leggings are a must all year round, but leather leggings are especially fun and sassy during cooler weather.

Spanx makes great faux-leather leggings that have tummy control panels and retail for $98. Old Navy has a more affordable option that are faux leather in the front and spandex in the back. They retail for $27 and come in tall and petite sizes.

This camo pair has lots of texture and looks awesome with anything from heels to boots. The leggings retail for $46.

Sweater dress

There are times during the winter when we want to or must dress up. Sweaters dresses are the perfect thing to pull on with your favorite boots. You not only will be dressed for the occasion, but also won't be shivering. This gray Julia Jordan sweater dress isn't too clingy yet has some shape with side slits and belt. It's available at Nordstrom and retails for $129.

This belted, turtleneck sweater dress from Ann Taylor is perfect for a chilly night out. It comes in this refreshing purple color and retails for $159. And this black dress from Express is timeless. Retailing for $80, this off-the-shoulder dress is roomy on the top and fitted on the bottom and can be dressed up or down.

Poncho

Throwing on a poncho not only gives you added warmth, but it also isn't as stuffy as a sweater. A V-Neck Poncho like this one from Ann Taylor is great because it gives you the look of a flowy wrap yet stays in place since you pull it over your head. The poncho retails for $98 and looks great with your favorite pants and leggings. If you are looking to add some spice to your wardrobe this Embroidered Daisy Mesh Poncho from Chico's will give any outfit a little kick. It retails for $90 and can be thrown over any outfit, casual or dressy. The slits allow you to wear a top with long or short sleeves.

Not only is this cashmere poncho from Nordstrom reversible, but it also can be worn like a cardigan or jacket, which makes it easy to take on and off. It retails for $149 and enhances any outfit. It can also be worn as a jacket.

Long-sleeve shirts

Soft and warm, thermal shirts look great on their own, aren't too expensive, and can easily be layered under your favorite sweater, sweatshirt or blazer. This scoop neck thermal from Caslon at Nordstorm has a relaxed fit, is super soft and retails for $49. JCPenney offers a long-sleeved, button-down thermal that will keep you warm and looks great with a tank top underneath. It retails for $65 and comes in three colors.

A faux suede button-trim top from Ann Taylor is a great addition to your wardrobe. It's classic, goes with anything and can be dressed up or down. It retails for $80 and comes in two winter colors: garnet and walnut.

Boots

Nothing feels better on cold toes than a cozy pair of UGG boots. This pair at Macy's ties at the side, comes in a different colors and retails for $240. There will always be times when you are dressed up for an occasion and it's boot weather outside. These Sam Edelman slip-on boots at Bloomingdale's are stylish but have great treads, which are essential for ice and snow. They retail for $200 and look great with everything from your favorite jeans to a sleek dress.

A little wedge heel gives your everyday boots an edge. This Jessica Simpson lace-up pair at DSW retails for $149 and will be the boots you grab more often than any other pair since they look great, are warm and go with everything.

Leather jacket

A leather jacket complements anything from leggings to dresses and will be a staple in your wardrobe for years. This faux-leather quilted jacket from Chico's is stylish, retails for $199 and features lots of detailed stitching.

If a shorter-style leather jacket is more your speed you will love this Michael Michael Kors one at Macy's. Retailing at $250, this jacket has a belt, comes in two colors and will look fantastic with your favorite jeans and T-shirt.

This faux-leather Nine West biker jacket at Kohl's is ultra-flattering. It retails for $160, has a side zip and closure, and is white — giving it an edge.