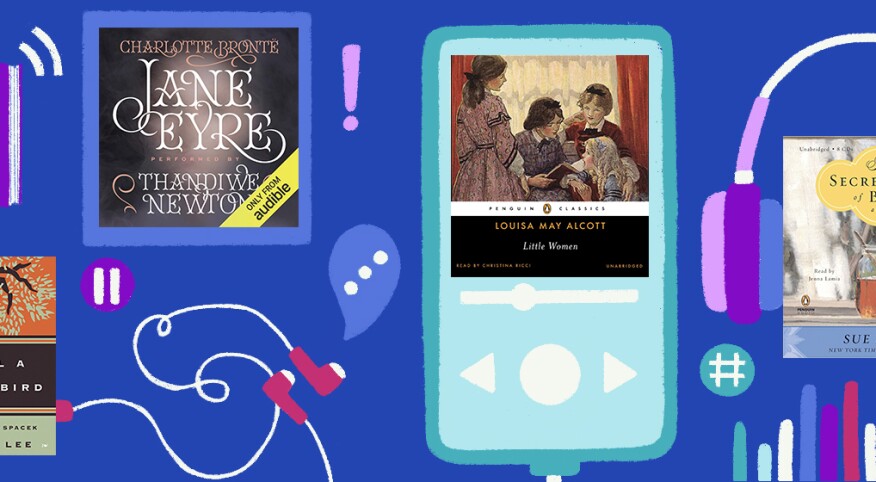 Several years ago, I started listening to audiobooks. While I enjoy actually reading books, nestled on the couch covered in blankets, I've grown to love listening to them, too. My husband bought me a CD player and waistband carrier for my birthday many years ago, and I've been listening to audiobooks on my daily walks ever since.

I've been through countless best-selling books, new releases and older books I never got around to reading. I easily become engrossed in the story while I trek through winding miles of pathways near my home, soaking in the sunshine and breathing in the fresh air. It's my favorite thing to do.

I also play audiobooks every time I'm in the car, which makes driving anywhere more enjoyable. I'm old-school when it comes to audiobooks. I get online and check out the CDs at my local library. If my library doesn't have the books I want, I can order them through other libraries in the metropolitan area and they will deliver them to my library for me to pick up.

A few years ago, I decided I wanted to revisit the old classic novels.

There were many I hadn't read, and I knew I was missing out on some of the most important books in history. There were others I read back in high school, but that was so long ago I wanted to refresh my memory. I thought listening to them again would be good for me, too. So, I researched all the best classic novels and created a list of books I've been enjoying ever since.

Anyone who listens to audiobooks knows the narrator is critical to the success of the story. I have had to ditch numerous books because I couldn't stand the narrator's tone or pace. There were books I started and quickly quit because the narrator was too annoying or boring for me. Thankfully, there are many talented narrators who do their job well and make the book come alive with their incredible vocal performance. I know many people would rather envision the story for themselves, but I have enjoyed a much deeper level of understanding and richer experience of the author's writing when I listen to the books.

For those of you who want to explore some of the greatest classic novels ever written, and do it through the magic of audiobooks, I will share 10 of my favorites. Each of these books is brilliantly narrated. I've been so moved by them that I will often listen to them again, much like we watch our favorite movies and TV shows or listen to our favorite songs. There are many more classic novels that were narrated well, but these are my best picks.

You can check them out with the links provided and learn more about both the book and the narrator. There is also an option to listen to a sample of each book, which will give you a better idea of the narrator's performance.

The Secret Garden, written by Frances Hodgson Burnett, narrated by Carrie Hope Fletcher

The Outsiders, written by S.E. Hinton, narrated by Jim Fyfe

Ben-Hur (new edition), written by Carol Wallace, narrated by Firdous Bamji

Lord of the Flies written and narrated by William Golding

The Hiding Place, written by Corrie ten Boom, narrated by Bernadette Dunne

To Kill a Mockingbird, written by Harper Lee, narrated by Sissy Spacek

Little Women, written by Louisa May Alcott, narrated by Christina Ricci

Anne of Green Gables, written by Lucy Maud Montgomery, narrated by Rachel McAdams

Fahrenheit 451, written by Ray Bradbury, narrated by Tim Robbins

Jane Eyre, written by Charlotte Brontë, narrated by Thandiwe Newton

BONUS AUDIOBOOK: The Secret Life of Bees, written by Sue Monk Kidd and narrated by Jenna Lamia. I know this is not a historical classic, but it's the most moving audiobook I have ever heard. Lamia's pure childlike voice of precious Lily will captivate you and pull on every heartstring you have.