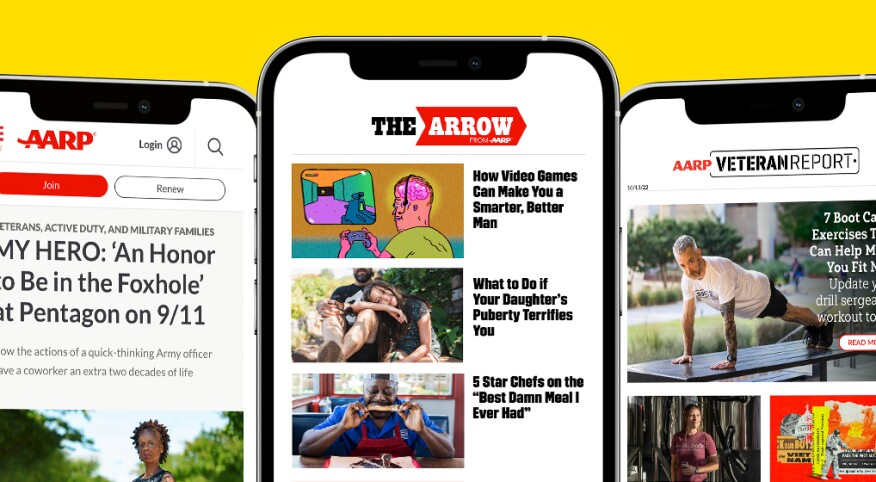 If you love The Girlfriend, the significant men in your life may also love this fab bi-weekly newsletter for Gen X men — The Arrow. You might also like another new newsletter — AARP Veteran Report — for any veterans or veterans' family members. Both are free!

The Arrow

The Arrow is a free bi-weekly newsletter for Gen X guys, delivered to your inbox on the first and third Wednesday of every month. It's loaded with useful tips to help men navigate the most important decades of their lives.

Since our debut in October of 2022, we've published stories about getting back into shape at midlife, grappling with inflation fears, the roller-coaster ride of your first colonoscopy, the small ways that men could become better husbands, the awkwardness of making new friends in your 50s, and how to become a less stressed-out dad, plus lots of guy-magnet stories on music, movies, grilling and, yes, beer.

We've also got a roster of best-selling authors, humorists, authorities in their field, and notable Gen X personalities. Over the last year, Joel Stein has shown us why middle-aged dads are so sexy, A.J. Jacobs has explored the allure of puzzles, Dave Holmes has reviewed the coolest new album releases, Ted Allen has offered guidance how older guys should dress, and Nick Offerman has explained how to find happiness anywhere (hint: it involves cheese).

From fine-tuning your relationships to turbocharging your career, from maintaining your body to making your every moment as a father count, The Arrow is here to coach men through it all.

You can find out more about the newsletter here or click here to subscribe to The Arrow.

AARP Veteran Report

AARP Veteran Report is also published every two weeks, usually on the second and fourth Thursday of each month. The intended audience includes all those who have served their country in uniform, along with their families and supporters. The newsletter offers a mix of inspiring stories of service, including regular features called "My Hero" and "Then and Now" as well as practical articles about money, work, health, lifestyle, and other parts of everyday life — news you can use, if you like.

The senior editor is Toby Harnden, who is a veteran of the Royal Navy, former war correspondent and author. AARP Veteran Report launched in August 2022 and is the newest newsletter in the AARP stable. It is growing rapidly as it builds relationships with its audience and its editors are eager for feedback and story ideas.

The newsletter highlights AARP resources for existing members while also introducing potential new members to AARP. With around 18 million veterans in the United States, a significant number of whom are among AARP's nearly 38 million members, the sky is the limit for subscribers.

You can click here to find out more about the newsletter and click here to subscribe to AARP Veteran Report.