Fabulous salads aren't just for summer. As the cooler months roll in it's tempting to turn to comfort foods like mac and cheese and Sloppy Joes. But if you're trying to integrate more fresh veggies and salads into your daily repertoires, try one of these hearty, satisfying salads. Bon appétit!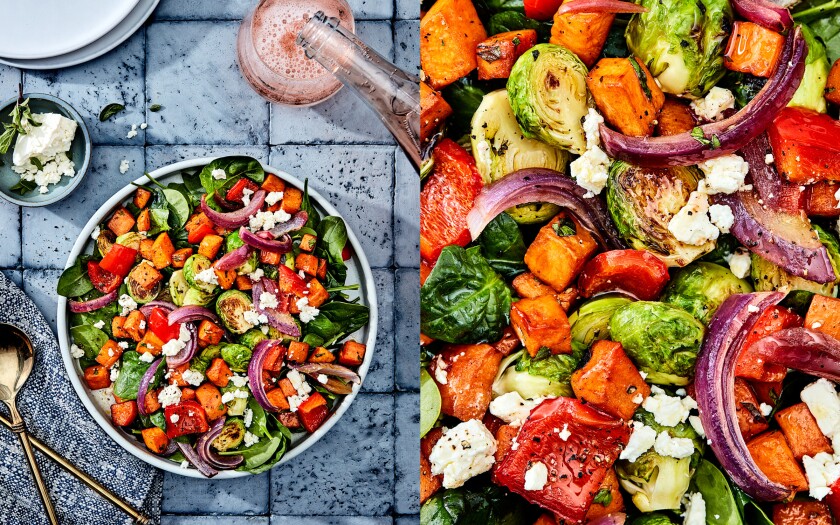 Roasted Veggie Salad with Maple Balsamic Vinaigrette

Makes 4 servings

Ingredients

1 bell pepper, chopped

1 pound sweet potato, skinned and chopped

1 pound brussels sprouts, halved

1 red onion, sliced

1 teaspoon fresh oregano

1 teaspoon salt

1 teaspoon pepper

3 tablespoons olive oil

1 cup spinach, for salad base

1 tablespoon feta, to garnish

Dressing

3 tablespoons olive oil

2 tablespoons balsamic vinaigrette

1 teaspoon maple syrup

Directions

Preheat oven to 400°F. Combine all vegetables (except spinach) in a large bowl and stir. Add salt, pepper, oregano and olive oil for the salad and stir. Spread vegetables on a baking sheet and bake for 40 minutes. To prepare the dressing, combine olive oil, balsamic vinaigrette and maple syrup in a small bowl and stir until well-combined. In a bowl, add spinach and any other greens you prefer. Sprinkle roasted vegetables and feta over the top. Drizzle dressing over the salad.

Source: Tasty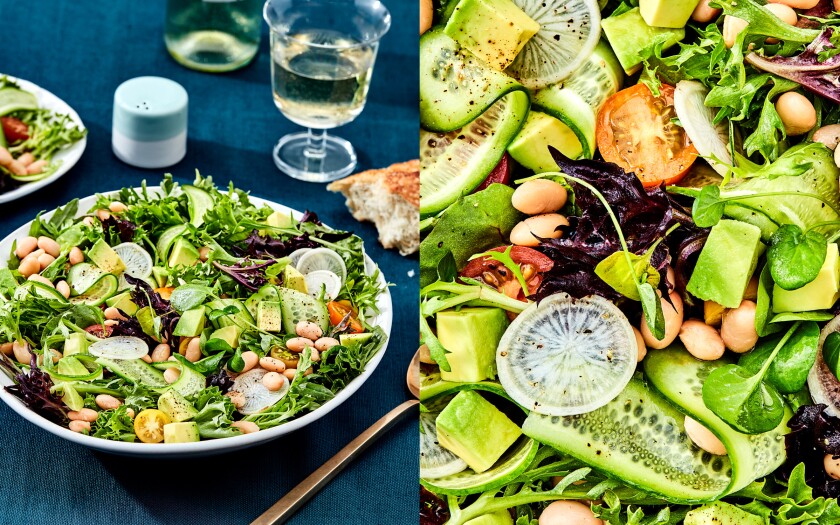 White Bean and Veggie Salad

Makes 4 servings

Ingredients

2 cups mixed salad greens

¾ cup veggies of your choice, such as chopped cucumbers and cherry tomatoes

⅓ cup canned white beans, rinsed and drained

½ avocado, diced

1 tablespoon red-wine vinegar

2 teaspoons extra-virgin olive oil

¼ teaspoon kosher salt

Freshly ground pepper to taste

Directions

Combine greens, veggies, beans and avocado in a medium bowl. Drizzle with vinegar and oil and season with salt and pepper. Toss to combine and transfer to a large plate.

Source: EatingWell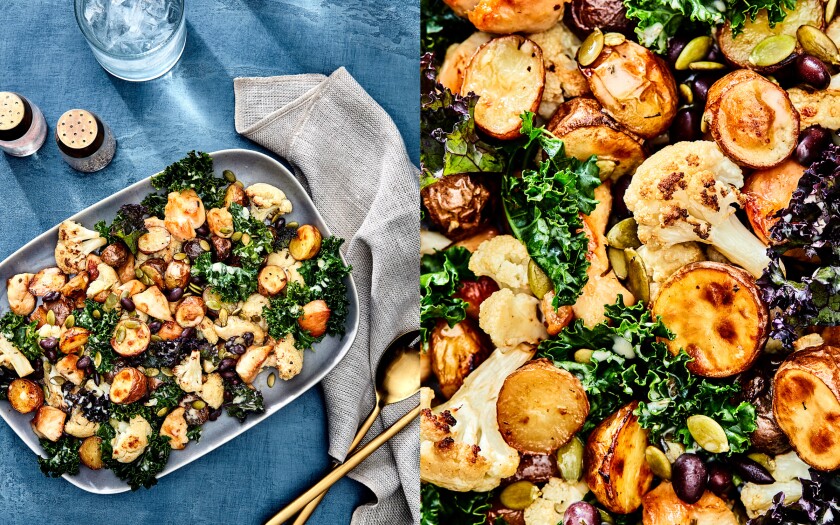 Sheet-Pan Winter Salad

Makes 4–6 servings

Ingredients

1 pound baby potatoes, halved

1 head cauliflower, cut into small florets

1 can black beans, drained and rinsed

1½ pounds boneless skinless chicken breast, cut into 1-inch cubes

¼ cup Green Goddess Dressing*

2 cups kale, roughly chopped

2 tablespoons pumpkin seeds, roughly chopped

Directions

Preheat oven to 425°F, rack in the middle. Line a rimmed baking sheet with parchment or a silicone mat. Scatter potatoes, cauliflower, black beans and chicken breast on the baking sheet, then toss with Green Goddess Dressing. Roast for 30 minutes. Vegetables should be cooked through and golden, and chicken will have an internal temperature of 165°F. Remove the baking sheet from oven, then immediately fold in kale and pumpkin seeds. The heat from the roasted vegetables and chicken will gently wilt the kale.

(*The nutritionist/recipe creator uses the Primal Kitchen Green Goddess Dressing & Marinade made with Avocado Oil, but says other options with an oil, vinegar and herb base should substitute without any issue.)

Source: In My Bowl  

Do you have a recipe for a great winter dish? Share it in the comments below.