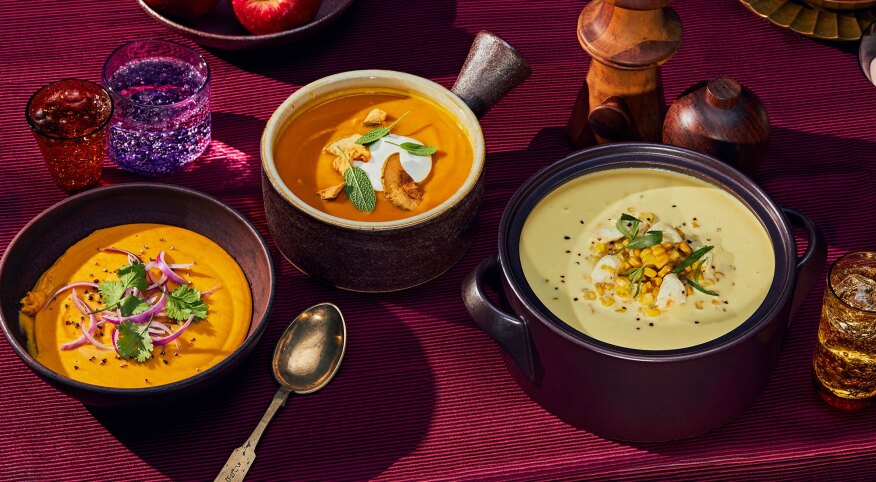 Here are three fabulous soups to make during the fall season.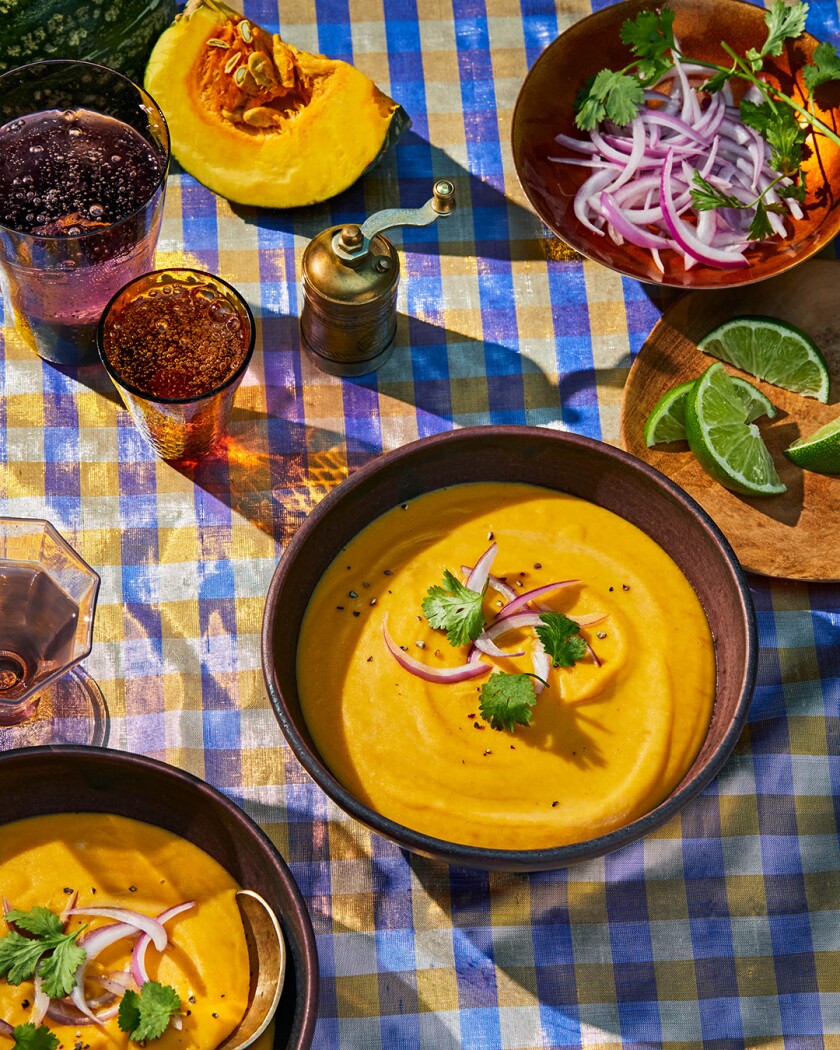 Butternut Squash Thai Curry Soup

This creamy and aromatic dish will keep you cozy this fall, offering a thick coconut cream finish with the distinct flavors you'll recognize from a classic Thai curry, says Aysegul Sanford, food blogger and owner of the food blog, Foolproof Living.

Serves 4

Ingredients

2 tablespoons vegetable oil

1 medium onion chopped (about a cup)

1 teaspoon fresh ginger grated

2 cloves minced garlic

1 tablespoon red curry paste

4 cups cubed butternut squash from one medium butternut squash

1 cup of red lentils

1 teaspoon kosher salt

½ teaspoon ground black pepper

5 cups of vegetable broth

½ cup full-fat coconut milk

1 teaspoon Sriracha sauce plus more as garnish

½ cup cilantro chopped

Heat olive oil in a large Dutch oven over medium heat. Add onion, ginger and garlic. Cook, stirring frequently, until onion is translucent, 3-4 minutes. Stir in the red curry paste and cook for another minute. Add cubed butternut squash, red lentils, salt, black pepper and vegetable stock. Bring to a boil over medium heat, turn down to medium-low and let simmer for 20-25 minutes or until the squash cubes are cooked. Check if done by inserting a knife into one of the vubes. If it comes out easily, it's done. Turn off the heat and use an immersion blender to blend the soup. Stir in the coconut milk and Sriracha. Garnish with cilantro and sliced red onion if preferred, and serve with lime wedges.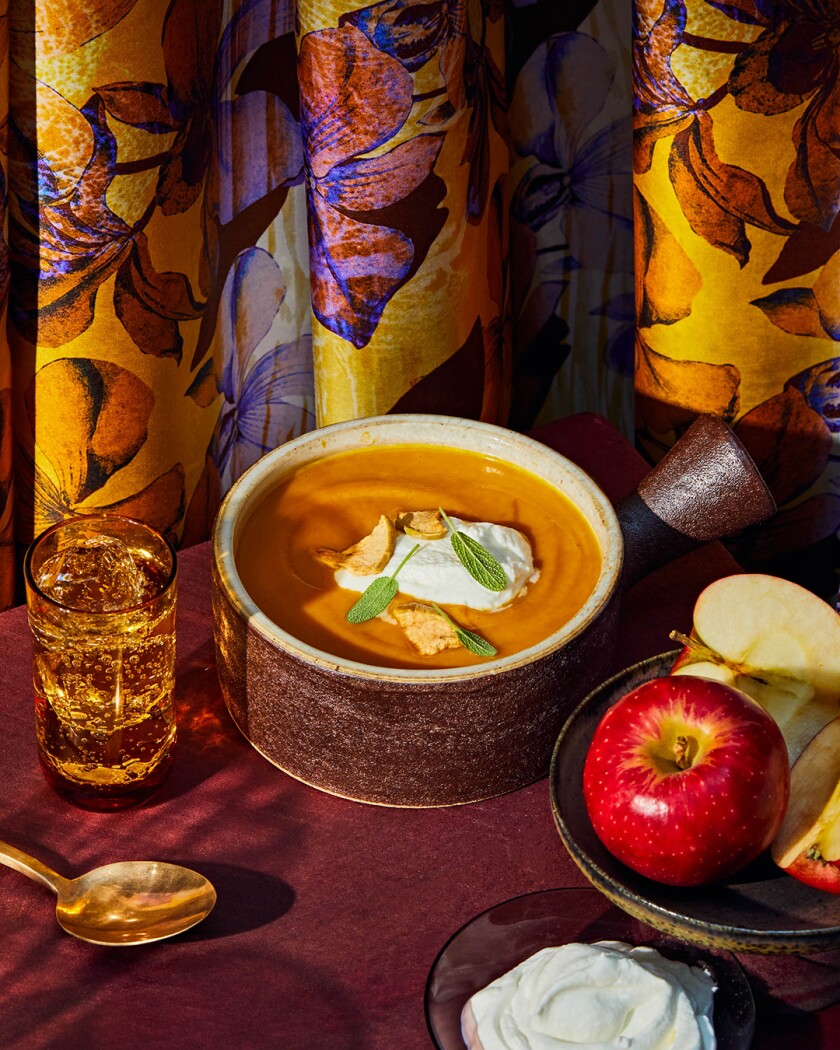 Apple Cider Pumpkin Soup

"For me, this soup is the essence of fall and growing up in small-town America," says Chef Christopher Koetke, the corporate executive chef at Ajinomoto Health & Nutrition North America. "Squash or pumpkin from the farmers' market, apples and cider from the U-pick, and bacon from the local butcher shop. It all works perfectly together and takes me back to my childhood."

Serves 8

Ingredients

3 cups fresh apple cider

¼ pound sliced bacon, chopped

1 cup finely chopped onion

3 cups roasted pumpkin pulp or unsweetened canned pumpkin

4 cups chicken stock

¾ teaspoon rubbed sage

½ teaspoon kosher salt

¼ teaspoon ground black pepper

¾ teaspoon MSG

Optional ingredients

Unsweetened whipped cream

Diced dried apples

Place apple cider in a saucepan and bring to a boil. Continue to boil until it's reduced by half. Remove from heat and reserve. In a large saucepan, cook bacon over moderate heat until browned. Remove the bacon from the saucepan, reserving the bacon fat. Add the onion to the saucepan and cook until the onions are softened and lightly browned. Add chicken stock, pumpkin pulp, sage, salt, black pepper and MSG. Bring to a boil. Reduce heat and simmer for 30 minutes. Carefully puree in a blender until smooth. Transfer to a clean saucepan and bring to a boil, adding the reduced apple cider. Serve as is, or garnish with a dollop of unsweetened whipped cream and a sprinkle of dried apples.

Corn Velvet Soup with Fresh Crab

This corn velvet soup was inspired by the seasonal bounty at the Oregon coast and surrounding areas, says Executive Chef Aaron Bedard of Stephanie Inn.

Serves 4

Ingredients

4 ounces butter

3 onions, chopped

2 leeks, chopped

6 cloves of garlic, crushed

1 bay leaf

½ bunch thyme

12 ears of corn, kernels removed (reserve ⅓ for garnish)

1-quart heavy cream

1-quart water and ½ cup

Spritz of lemon juice

Salt and white pepper to taste

2 tablespoons canola oil

½ pound crab, picked clean

In a pot, melt the butter on medium heat. Place onions, leeks, garlic and bay leaf in the pot and cook until the leeks and onions are translucent. Add 8 ears worth of corn kernels. Cook for 4 minutes, then add heavy cream and 1 quart of water. Bring to a boil, and reduce to a simmer for 25 minutes. Puree soup in blender until smooth, and strain through a cheesecloth or chinois. Add lemon juice, salt and white pepper to taste. Using a saute pan on medium-high heat, add canola oil. Once hot, add reserved corn kernels and saute until golden brown. Add salt and white pepper to taste. Heat the crab in a saute pan with water until hot. Place soup in a bowl, and garnish with crab and sauteed corn.

What's your all-time favorite soup? Let us know in the comments below.