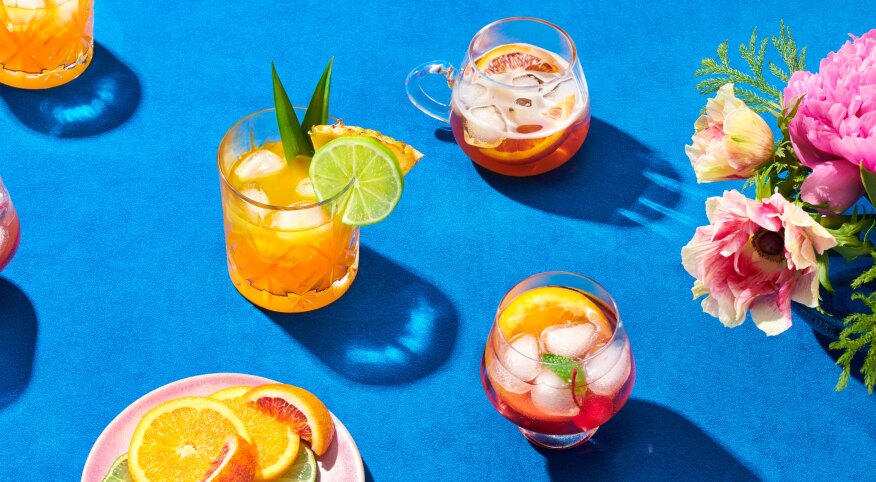 Wine is always a winner, but nothing says, "Let's get this party started!" like a festive spiked punch. Try these three easy-to-make recipes, each with its own distinct, celebratory vibe.

Vibe goal: Chillin' by the fire

Grab the Garland Punch
Ingredients:

20 ounces Ramazzotti Amaro (a bitter liqueur available at most liquor stores)
Orange slices for floating
Method: Place first four ingredients in a large bowl and whisk with two handfuls of ice for 45 to 60 seconds. (It should get a touch foamy on top.) Add a bunch more ice to fill the bowl and float orange slices on top. Serves 8-12 guests.

Created by: Lee Zaremba of Lazy Bird, a cocktail and music lounge in Chicago. Zaremba says this comforting,"dark as a winter evening" punch starts a touch smoky from the mezcal, before the citrusy and herby notes take over. You can substitute gin or bourbon for the mezcal if you like.

Vibe goal: Endless summer

The Valley Punch
Ingredients:

6 ounces crème de mûre (blackberry liqueur)
12 ounces red wine (merlot)
Orange, cherry and mint for garnish
Method: Add the first eight ingredients to a large punch bowl or pitcher and stir. (No shaking needed.) Garnish with orange slices, cherries and torn mint leaves. Serves 8 guests.

Created by: Vince Diorides, lead bartender at Jack Dusty at The Ritz-Carlton, Sarasota. Diorides says "the fall notes of cranberry and apple combine with the bold, velvety flavor of the crème de mûre to make the perfect versatile party punch," whether it is served poolside (ah, Sarasota) or at a snow-dusted holiday get-together.

Vibe goal: Festive fizz without the hangover

Kombucha Green Tea Sangria Mocktail
Ingredients:

2 cups mango- or passion fruit-flavored kombucha
2 cups chilled white grape juice
2 cups chilled passion fruit juice
2 kiwi, peeled and sliced
Method: Brew tea bags in boiling water for three minutes. Remove tea bags; stir in honey. In a pitcher, combine brewed tea with remaining ingredients, reserving a few orange segments for garnishes. Chill in the fridge for two hours or more before serving. Serves 8 guests.

Created by: Amy Gorin, owner of Amy Gorin Nutrition in the New York City area, who notes that the addition of fizzy kombucha gives this seasonal drink a festive kick. Want to add a splash of alcohol to the recipe? Simply substitute white wine for the grape juice.