3 Spectacularly Tasty Italian Recipes To Celebrate Italian-American Month 
October is definitely better with Italian food on your plate.
Americans love to gorge on Italian cuisine — in fact, choosing pizza as the single food they'd willingly live on for the rest of their lives. Eating sumptuous Italian cuisine can really feel like an out-of-body, religious experience. So in October, which is National Italian-American Heritage Month, be sure to make a special point of donning your cooking apron and trying out some Italian recipes to catapult you into celestial places. Trust me, you'll not tire of the raised glasses and choruses of Fantastico! Fantastico! Fantastico!

Simple Bolognese | Chef Giada De Laurentiis

Giada De Laurentiis is the celebrated Italian-American chef, television personality, business owner and author of the newly released Eat Better, Feel Better: My Recipes for Wellness and Healing, Inside and Out. I love how openhanded she is with her online collection of recipes, but to establish a strong baseline for all-things-Italian I dare you to perfect her classic Bolognese to serve over your preferred pasta.

Ingredients

¼ cup extra-virgin olive oil
1 medium onion, coarsely chopped
2 garlic cloves, peeled and coarsely chopped
1 celery stalk, coarsely chopped
1 carrot, coarsely chopped
1 pound ground chuck beef
1 28-ounce can crushed tomatoes
¼ cup flat-leaf Italian parsley, chopped
8 fresh basil leaves, choppe
Salt and freshly ground black pepper
¼ cup freshly grated Pecorino Romano
Directions

In a large skillet heat the olive oil. When almost smoking, add the onion and garlic and sauté over medium heat until the onions become very soft, about 8 minutes. Add the celery and carrot and sauté for 5 minutes. Raise heat to high and add the ground beef. Sauté, stirring frequently and breaking up any large lumps, and cook until meat is no longer pink, about 10 minutes. Add the tomatoes, parsley and basil, and cook over medium low heat until the sauce thickens. Season with salt and pepper. This will take approximately 30 minutes. Finish Bolognese with Pecorino Romano.

Tip: De Laurentiis typically makes a double batch at a time to use for family meals later in the week.

Risotto with Asparagus and Prosecco | Locanda Sandi, Valdobbiadene, Veneto from Frances Mayes' latest book, See You in the Piazza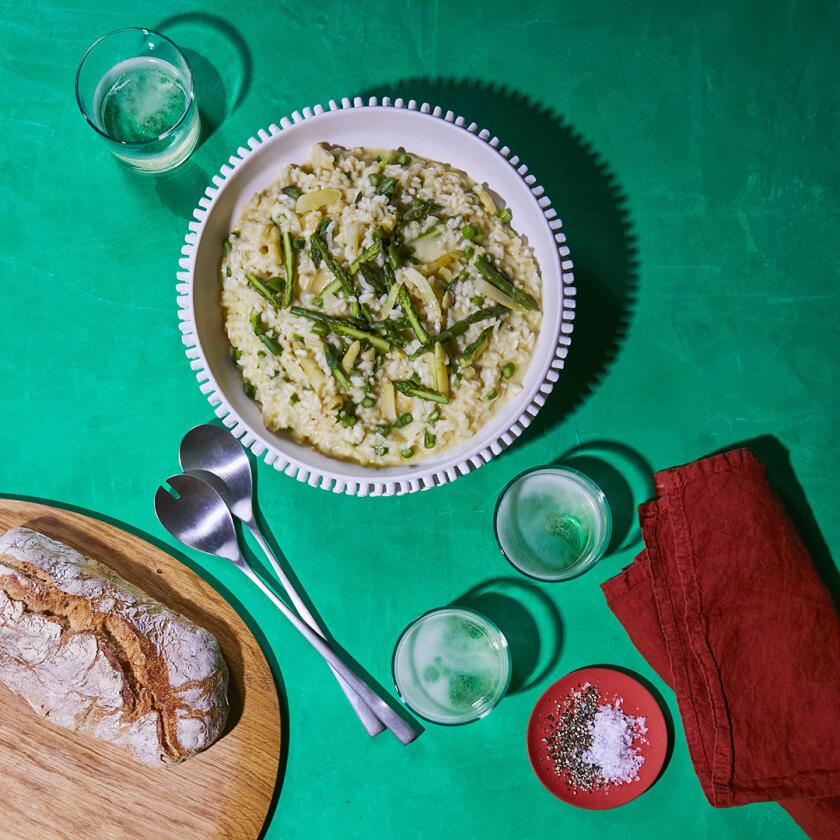 Frances Mayes is the author of seven books about Tuscany, including the now-classic Under the Tuscan Sun — which was a New York Times best seller for more than two-a­nd-a-half years and became a Touchstone movie starring Diane Lane. Her most recent book is See You in the Piazza, which the review in the New York Times called "a vacation in itself." In this book she takes readers on a 13-region adventure in Italy, colorfully and intimately sharing the food and culture through her engaging prose. In the Treviso province nestled in the Veneto region's renowned wine-growing area of Valdobbiadene, Mayes ushers readers into the restaurant Locanda Sandi, situated on the estate of winery Villa Sandi, known for their world-class Prosecco. Risotto with Asparagus and Prosecco is one of their Venetian-style offerings and is included in her book, shared here with permission.

Ingredients

1 large bunch (1 pound) asparagus, preferably white, stems peeled
4 tablespoons extra-virgin olive oil
1 onion, minced
Salt and pepper, to tast
1½ cups Vialone Nano rice (Note: Vialone Nano is a medium-grain and high-starch rice rendering the kind of creamy risotto Chef Gianmaria Cozza prefers. However, the more available Arborio is popular for risotto.
4 cups vegetable stock
2 ounces Casatella Trevigiana DOP cheese (or other soft cow cheese, such as Taleggi
1½ tablespoons butter
Directions

Cut the asparagus stems into small, round pieces, and thinly slice the tips. In a small skillet over medium-high heat, warm 2 tablespoons of the olive oil, and brown half of the onion for 4 to 5 minutes, stirring often. Add the asparagus stems (not the tips) and cook until crispy and tender, about 3 minutes. Splash in ¼ cup of the prosecco and stir, allowing it to evaporate. Add salt and pepper. In a risotto pot over medium heat, warm the remaining 2 tablespoons of oil and brown the rest of the onion. Add the rice, and let it toast for 4 minutes, frequently stirring. Add ½ cup of the prosecco and again allow it to evaporate as you stir. Add 1 cup of the stock and stir the rice for 6 to 7 minutes. Add the stock in ½-cup increments, letting each addition be absorbed before adding more. When the rice is close to al dente, after about 12 minutes, add the asparagus mixture and tips. When the risotto is ready, add the cheese, butter and remaining wine, to taste. Stir to combine. Divide risotto among serving bowls and serve immediately.

Tip: Mayes recommends saving a glass of prosecco for yourself to sip while you stir this savory and fresh risotto! Also, though the usual arborio rice is fine, she says carnaroli makes it even more special.

Potatoes and Bell Peppers | EXAU Olive Oil Cofounders Skyler Mapes and Giuseppe Morisani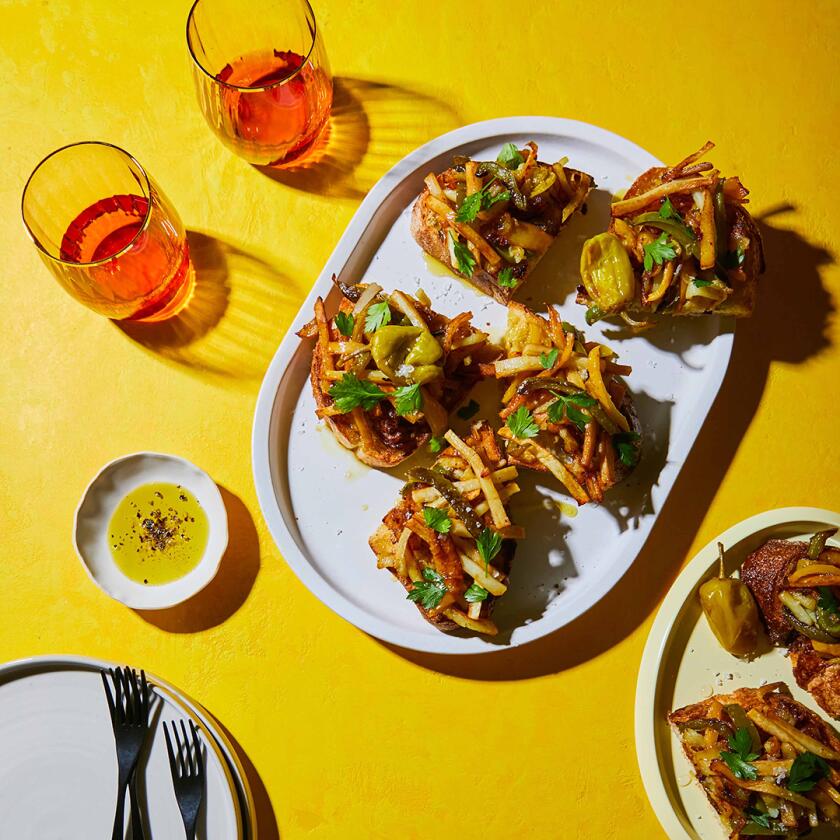 EXAU Olive Oil was founded by husband-wife team Giuseppe & Skyler, a 3rd generation Calabrian olive oil producer and a 3rd generation Californian. Combined, they have experience in the wine, design, and health industries, but their real passion lives in the olive groves.

Potatoes and Bell Peppers (Patate e Peperoni AKA Patate e Pipi) is a true Calabrian recipe that Giuseppe's mom, Lina, makes weekly, and before that, his grandmother. The olive oil for this recipe is Lina Extra Virgin Olive Oil, named after Giuseppe's mother. Giuseppe says the dish is the scent of his childhood spent in Le Castella, magically reminding him of a grandfather he was never able to meet. For Skyler, one of only two Black women olive oil producers in the world, this dish evokes images of her grandmother's bright yellow kitchen in San Francisco with the smells of sweet bell peppers wafting from the oven.

Ingredients:


Lina Extra Virgin Olive Oil (or the highest quality olive oil you have)
1 ½ pounds potatoes (russet potatoes work well)
2 bell peppers (or equivalent amount of other sweet peppers)
2 to 3 pepperoncini (spicy peppers)
Salt
Instructions:

Cut the pepperoncini in halves or thirds. Cut bell peppers lengthwise into 1/2″ wide slivers. Remove all seeds. Peel, wash and cut potatoes into ~1/2″ wide x 1/8″ thick slivers (like thinner steak fries).

Fill a large nonstick or cast-iron frying pan with a 1/4″ – 1/2″ layer of oil.

Heat on medium for ~40 seconds or until hot. Note: Be careful NOT to burn the olive oil. Test with pepperoncini.

Add pepperoncini, let gently fry for 30 seconds. Add bell peppers. Flip when necessary with tongs. Cook until soft or starting to change color (~7 mins). Add potatoes. Let them fry and build a crust. Gently flip with tongs or a large-slotted spoon to prevent breaking. Try not to flip too often.

Cook until everything is soft and golden brown. Fry a little longer if you want more crispy bits. Add salt to taste. Remove potatoes and peppers from oil with a slotted spoon and place in a large bowl. Serve after 15 minutes or let sit at room temperature to be eaten later in the day. Store in the fridge for up to two days, reheat in oven.

Tip: Use as a topping on bread or in a sandwich and don't forget to drizzle with extra-virgin olive oil.