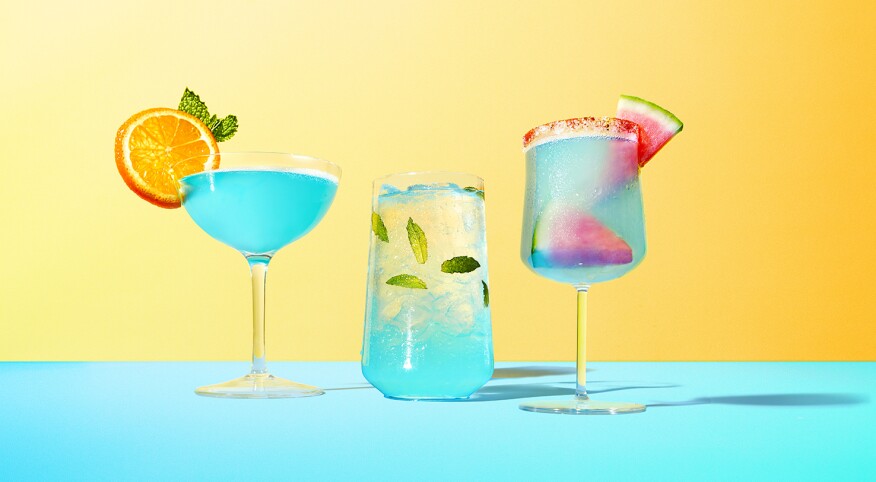 The spring rains will end sooner or later and give way to the cobalt skies of summer — this we know! To create all the feels of summer and encourage its arrival, stock your liquor cabinet with this trio of blues — Blue Curaçao, Hpnotiq and UV Blue Vodka — and get ready to create these gorgeous cocktails from Caribbean destinations that are sure to momentarily transport you to their luscious sandy beaches.

Hpnotiq Paradise from Belize

Three miles off the coast of Belize lies the small private island of Cayo Espanto, home of the luxurious 7-villa boutique resort. Redefining barefoot luxury, this little patch of heaven-on-earth surrounded by jaw-dropping beauty will pamper you with butler service, tailored activities and catered meals, satisfying your every craving. Add Cayo Espanto to your bucket list but, for now, savor their blue cocktail using Hpnotiq that's sure to evoke images of this island paradise.

INGREDIENTS:


1/2 lime
10 mint leaves
1 tsp. sugar
1 oz. Hpnotiq
1 oz. white Caribbean rum
2 oz. soda water
DIRECTIONS:

1. Muddle the lime and mint.

2. Pour the remaining ingredients into a glass over ice with the muddled lime and mint.


Salty Ocean Bomb from Dominica

Mixologist Frederick Moheid of Dominica's Secret Bay, a 6-star villa rainforest resort perched on cliffs overlooking the sea, gifts us with his crafty UV Blue Vodka-based creation, Salty Ocean Bomb. A Relais & Châteaux property, the award-winning luxurious hideaway is marked by their sustainability practices and relationship with nature — suggesting that the best way to experience this cocktail is outdoors, channeling their open-air concept.

INGREDIENTS:

· 2 oz. UV Blue Vodka

· 1 oz. white tequila

· 1 oz. blueberry syrup

· 1 oz. freshly squeezed lime juice

· 1 drop Angostura Bitters

· 4 to 6 ice cubes for shaker

DIRECTIONS:

1. Combine all ingredients in cocktail shaker.

2. Shake for 2 to 3 minutes and strain into a goblet.

3. Garnish the goblet's rim with salt & paprika and a dehydrated lime zest; drop two watermelon wedges into the cocktail.


Playa Abou Cocktail from Curaçao

The vibrant and colorful island of Curaçao is home to more than 35 beaches, 60+ world-class dive sites, rich history, diverse culture plus its candy-colored capital city of Willemstad. Using its famed signature liqueur Blue Curaçao, create the craft-cocktail "Playa Abou" at home to experience a touch of the island's magic, courtesy of the locally beloved Ochenta Cocktail Bar. The cocktail's beguiling blend of refreshing flavors conjures up the splendors of the beach it is named for.

INGREDIENTS:

· 1 oz. Senior Blue Curaçao 

· 1/5 oz. Tanqueray Ten

· 1 oz. coconut cream

· 1 oz. lime juice

DIRECTIONS:

Combine drink ingredients into a large shaker with ice. Shake thoroughly. Pour into your glass of choice and garnish with mint leaves and an orange slice.