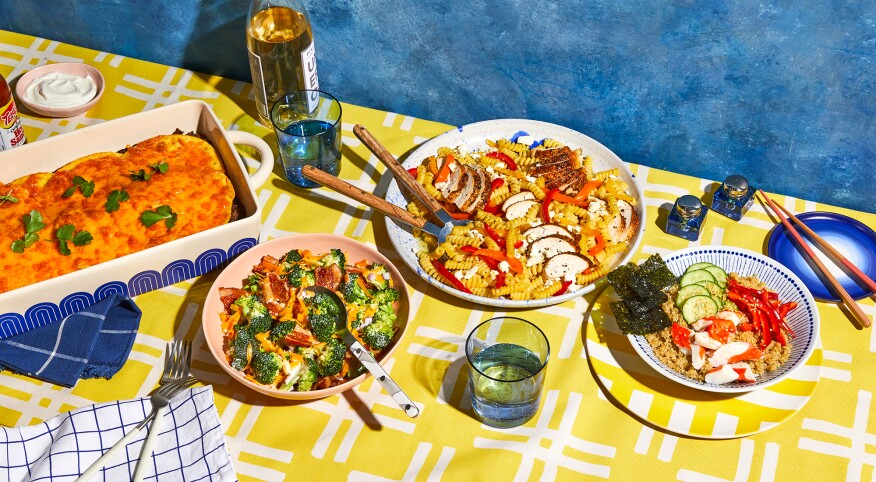 Whether you are spending more time in the garden, spring cleaning or gathering with family and friends, spring makes us want to spend less time in the kitchen and more time outside getting fresh air.

Coming up with dinner ideas isn't always easy, and we don't want to spend hours planning and shopping for meals — especially when we can do so many other spring activities.

Here are four easy, fresh springtime dinner ideas.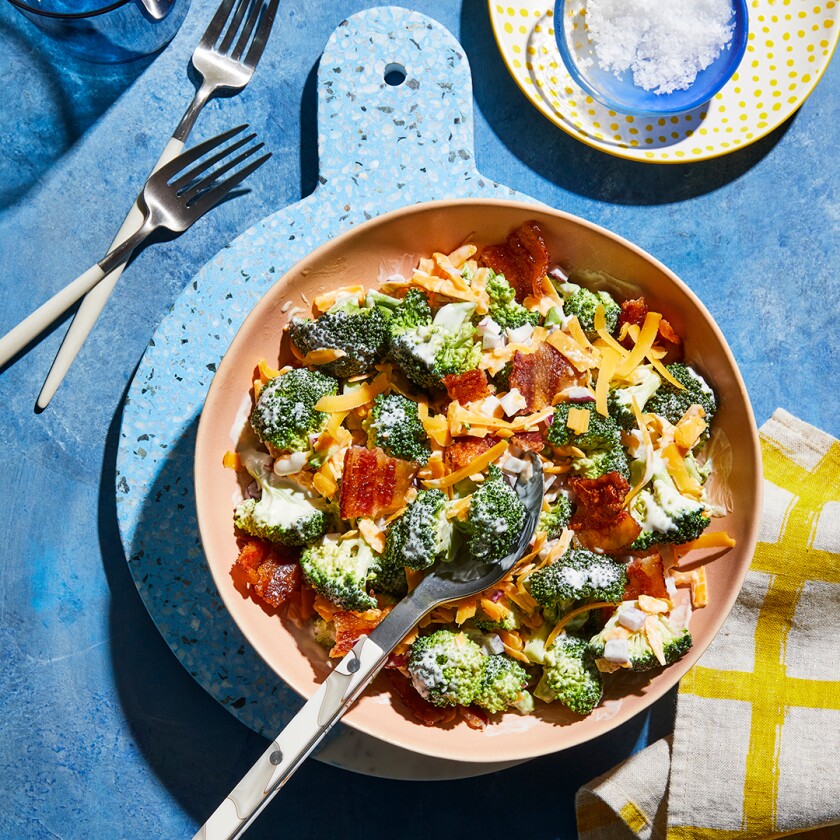 Broccoli and Bacon Salad

Everything's better with bacon, especially broccoli. This quick salad works as a main course with a nice loaf of bread or can be served as a side salad.

Ingredients

½ pound cooked bacon, crumbled

1 head of broccoli, chopped

1 small red onion, chopped

1 (8-ounce) block of cheddar cheese, shredded

1 cup mayo or plain Greek yogurt

2 tablespoons white vinegar

¼ cup sugar

Directions

Add bacon, broccoli, onion and cheese to the bowl. Combine mayo, vinegar and sugar, and mix with a fork or small whisk. Pour dressing over salad and toss.


Chicken, Pepper and Feta Pasta

This is a fast, filling pasta dish that takes under a half hour and makes great leftovers.

Ingredients

1 (9-ounce) package precooked chicken breast, sliced

3 colored bell peppers, sliced

1 pound pasta of your choice

1 (8-ounce) package feta cheese, crumbled

Salt and pepper to taste

Olive oil to taste

Directions

Cook pasta according to instructions. Warm chicken in a skillet or microwave for 3 minutes. Cut up peppers in slices and place on bottom of pasta strainer. When the pasta is done cooking, dump and strain over raw peppers. Leave for a few minutes so the pasta slightly cooks peppers. Toss pasta, peppers, chicken and crumbled feta in a bowl with tongs. Add salt, pepper and olive oil to taste.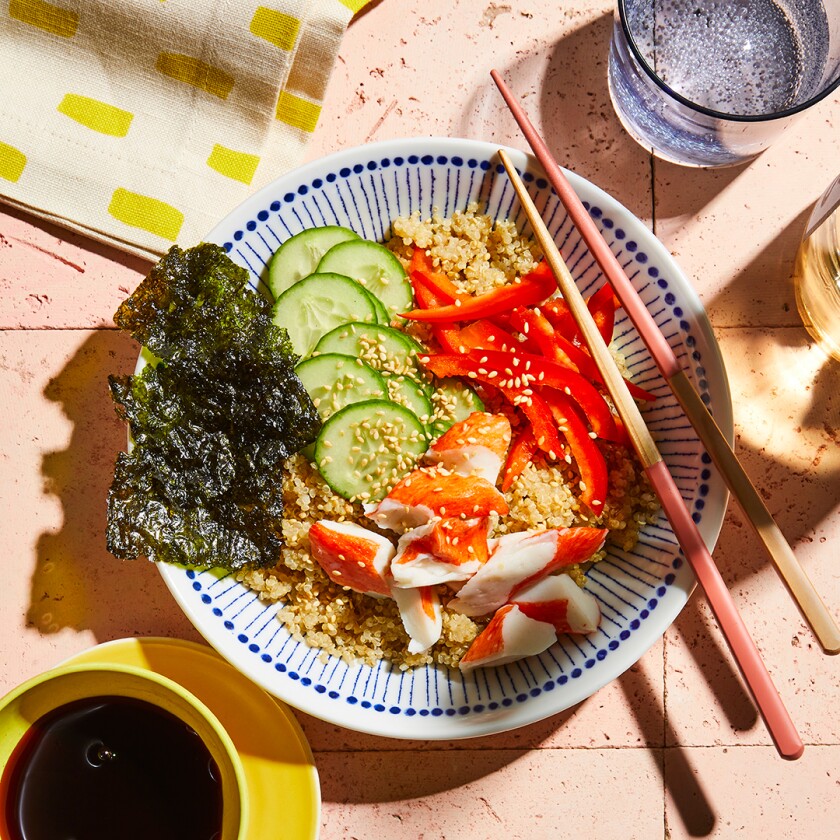 Quinoa Sushi Salad

Sushi is a great springtime meal, but it can be expensive. It's also time-consuming to make. Why not throw all your favorite sushi ingredients into a salad and save yourself a ton of time?

Ingredients

2 cups cooked quinoa

1 large cucumber, sliced

2 red peppers, sliced

1 (2½-pound) package of imitation crab meat, chopped into bite-size pieces

3 tablespoons sesame seeds, toasted

Soy sauce to taste

Wasabi to taste

2 (3½-ounce each) packages of gimMe seaweed snacks

Directions

Cook 2 cups of quinoa according to instructions and let cool in a large bowl. Chop vegetables and add to quinoa. Add chopped crab. Top with sesame seeds and crumbled seaweed snacks. Add soy sauce or wasabi to individual plates, if desired.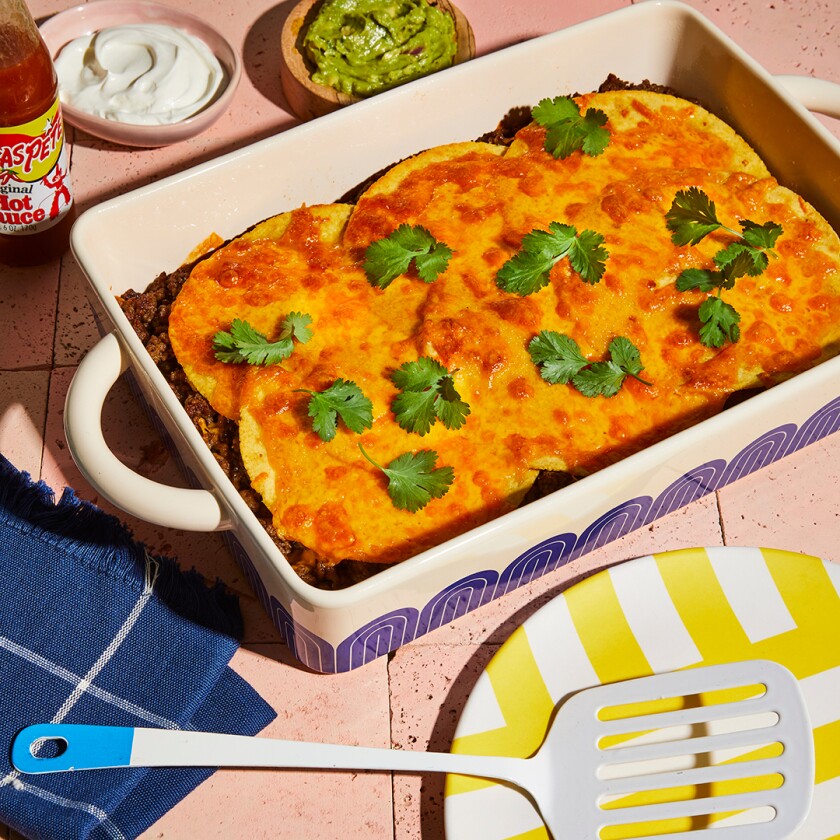 Enchilada Casserole

Mexican food is always a good idea. Instead of making individual tacos or enchiladas, why not make an easy casserole?

Ingredients

1 pound ground beef, browned in skillet and drained

1 package corn tortillas

1 (8-ounce) block of cheddar cheese, grated (you can use preshredded, but when you grate it yourself it's so much better)

1 (28-ounce) can of red enchilada sauce

Directions

Preheat the oven to 350°F. Cover the bottom of a 9-by-13-inch pan with sauce, layer on 4 tortillas, cover with half of the ground beef, then half the cheese. Repeat, ending with a layer of cheese. Bake uncovered for 30 to 40 minutes until bubbly. Great served with sour cream, guacamole and tortilla chips.