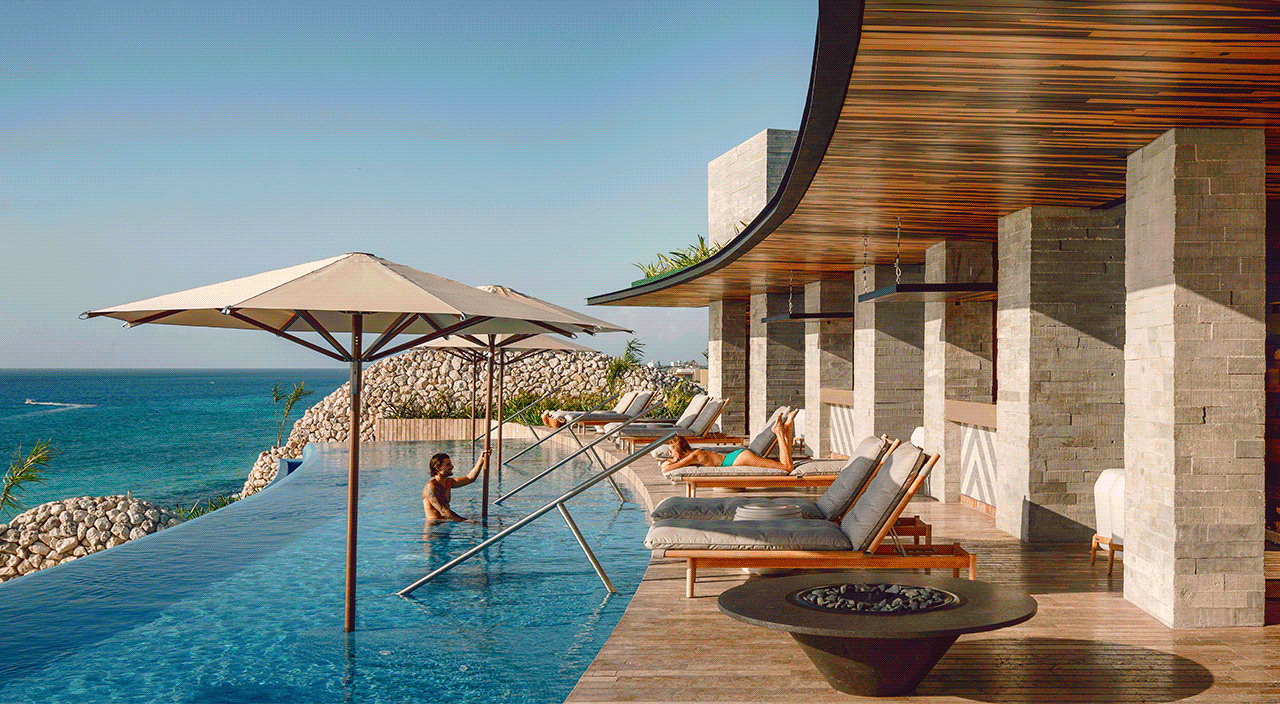 There may well come a time when you and your partner hit a wall and need to disappear for some catch-up time. Recapturing your energy as a couple can sometimes mean literally escaping the day-to-day to enter a different place where you both show up new and fresh.

Here are five adults-only boutique properties featuring astonishing desert, mountain and ocean settings that are worth flagging for a couple's getaway when you need a quick escape.

Jamaica Sunset at the Palms

Have you dreamed about disappearing as a couple into deliciously hushed unspoiled nature, maybe even into a treehouse cottage surrounded by lush jungle? Located in the laid-back quiet town of Negril, dubbed the "Capital of Casual," the all-inclusive Sunset at the Palms takes care of you from the minute you land in Montego Bay. A personal escort will greet you, whisking you through customs to get you as quickly as possible to the resort and your private treehouse cottage. Every treehouse is positioned and landscaped, so you'll rarely see others on the adult-only property. So whether inside or on your balcony wiling away the day in your hammock with a book, it'll feel intimate. Nature will be ever-present, especially as the resort is a haven for hummingbirds — not to mention that the property has an endearing family of goats who love to socialize with guests. The spacious beachfront gives the sense that you're on your own private beach — which, according to frequent guests, is truly magical at sunset.

Virginia Indigo House

Virginia is for lovers — making it a slam-dunk fit for a couples getaway — but if you love dogs, wineries, breweries, and the great outdoors, like owners Stephanie and Kyle do, you're going to feel irresistibly attracted to the adults-only, dog-friendly Indigo House, a stylish bed & breakfast in Virginia's Shenandoah Valley, newly opened February 14. Guest rooms are named after national parks, so your home-away-from-home could be Zion, Glacier and Shenandoah. Couples looking for a wedding that defies same-o-same-o categories will enjoy the ever-evolving package options from "elopement" to "adventure" that circle an exquisite woodland outdoor wedding space. Dogs stay for free — woof-woof — and are treated as guests of honor, with a full-throated slate of offerings. To celebrate their love for area's small businesses, the Indigo House honor bar is stocked with local craft cheeses, wines and snacks aimed at reducing their carbon footprint and supporting the local economy. Surrounded by the stunning Blue Ridge Mountains, hiking is central to the area, featuring paths that include the Appalachian Trail) and paths throughout the Shenandoah National Park. Shopping enthusiasts will enjoy strolling the buzzy town of Charlottesville. If you're into craft beer, pop into Blue Mountain Brewery. If wine is your thing, check out Veritas Winery.

Mexico La Casa de la Playa

Come to this barefoot luxury romantic property in Riviera Maya, Mexico where every suite has ocean views, a private pool­ — and private butler service. The latest project of Mexican hospitality developer Grupo Xcaret, the oceanfront hotel has modern design elements throughout its three structures, Natural, Fiesta and Wellness, and seamlessly blends with the rich, natural surroundings. The stunning 130-foot infinity pool positioned over the ocean will entice you to simply get lost in the view. When you've had enough sun, retreat to the hushed ocean-facing library or to the award-winning spa. Ask about the hotel's special experiences for couples — such as a night swim in underground rivers or an intimate dinner curated to your tastes. Those who came for the food will appreciate the fresh regional-inspired cuisine crafted by some of Mexico's most talented chefs. Refine your understanding of tequila and mezcal at the bar Bodega. Or, if you'd rather, head to Cava, the property's expansive wine bar. Chocolate lovers will want to get to know master chocolatier Mao Montiel of Chocolatería, a space that celebrates Mexico's rich chocolate tradition.

Arizona Ambiente Sedona

Offering stunning views of Sedona's mystical red rocks, Ambiente, a Landscape Hotel in Red Rock Country just threw open its doors with much aplomb. The much-anticipated, exclusive adults-only property harmoniously blends with its iconic surroundings, providing 40 unique, glass-encased, cube-shaped Atriums for guests. The independent, Sedona-based family development company offers unforgettable views of the iconic landscape. Views are 360 degrees, allowing perpetual views of the area's legendary natural formations. Views vary depending on your Atrium, allowing visitors to take in the Coconino National Forest or renowned rocks such as Snoopy, Chimney or Coffee Pot. Each lavish, 576-square foot Atrium has private rooftop decks for epic sunbathing or stargazing, with amenities including firepits and daybeds for sleeping al fresco, if desired. Food and drink are always on hand, as Atriums have small kitchens that come stocked with snacks and are automatically replenished daily. Velvet Spa offers Sedona-style transformative healing treatments in their five rooms, and upscale property restaurant Forty1 reflects the bounty of the Verde Valley through crafted seasonal cuisine.

St Lucia Calabash Cove Resort and Spa

Featuring 26 villas brimming with Old World Caribbean character, this adults-only, all-inclusive property is oceanside, enabling you to experience the scientific health benefits of living by the ocean. Stroll hand-in-hand through the resort's verdant and aromatic Cove Gardens, rich with a variety of flowering plants the islands is known for. At the infinity pool, take advantage of the swim-up bar as you spend the day immersed in the enchanting turquoise blues of the Caribbean. Before dinner, find a seat at the buzzy C-Bar and watch the sun set. Select the secluded hilltop gazebo area for your treatments at Ti Spa, which combines a traditional European approach with St. Lucia's storied plant and food-based natural ingredients known for their healing powers. The menu caters to every whim — one package includes champagne — but the popular Spa Sampler is a satisfying mashup, offering a hot stone massage, Swedish massage with counter stretching, an aromatherapy facial and finishing with a foot scrub.

Gif photo credits; pool: Cesar Bejar; food: Jenelle Bonifeld; Mountain range bedroom: Jeff Zaruba; Gazebo: courtesy of Calabash Cover Resort and Spa.

Want to check out even MORE new adults-only resorts? Go here!

Do you and your partner have a favorite getaway? Let us know in the comments below.