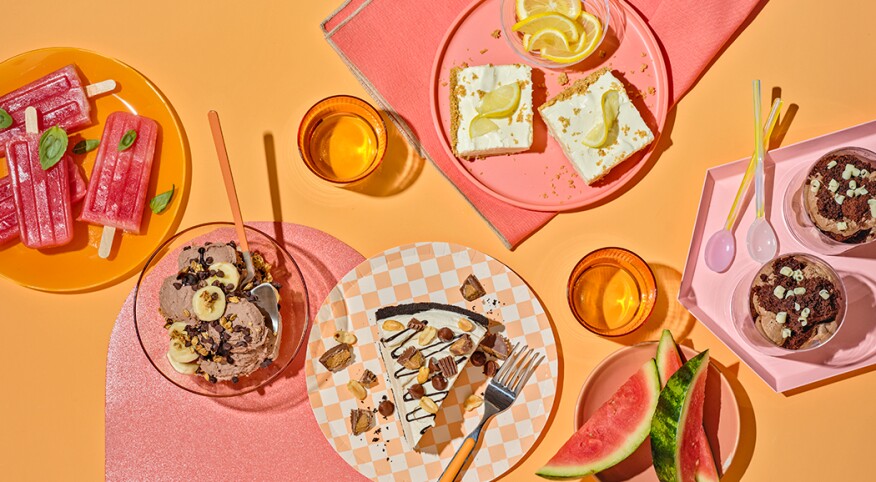 Summer is the ideal time to indulge in make-ahead frozen desserts, which need zero oven time. If you've been looking for a great treat to serve after your next barbecue or dinner on the patio, you're sure to find something here that will inspire you. We've got options that are chocolaty, healthy, citrusy, layered — there's even something for your inner child.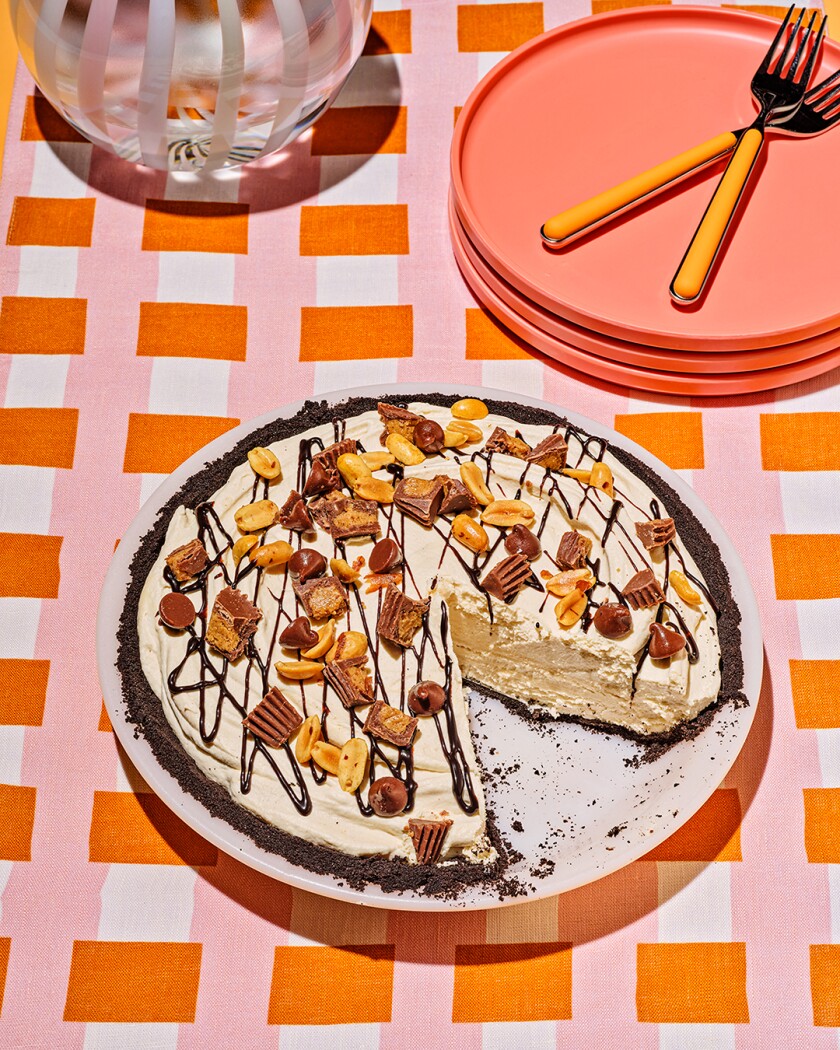 Frozen Peanut Butter Pie

This dessert is so delicious it will be a hit at any summer party.

Serves 6

Ingredients

⅓ cup smooth peanut butter

1 8-ounce package cream cheese, softened

2 tablespoons butter

1 cup powdered sugar

¼ cup milk

1 8-ounce carton whipped topping, thawed

1 premade chocolate graham cracker or Oreo crust

Toppings: crushed peanuts, chocolate sauce, chocolate chips or crushed peanut butter cups

In a mixing bowl, beat the peanut butter, cream cheese and butter until smooth. Add in the sugar and milk, then fold in the whipped topping. Pour the peanut butter mixture on top of the prepared crust; cover, then freeze for at least 4 hours. Remove the pie from the freezer just before serving. Top with crushed peanuts, chocolate sauce, chocolate chips or crushed peanut butter cups.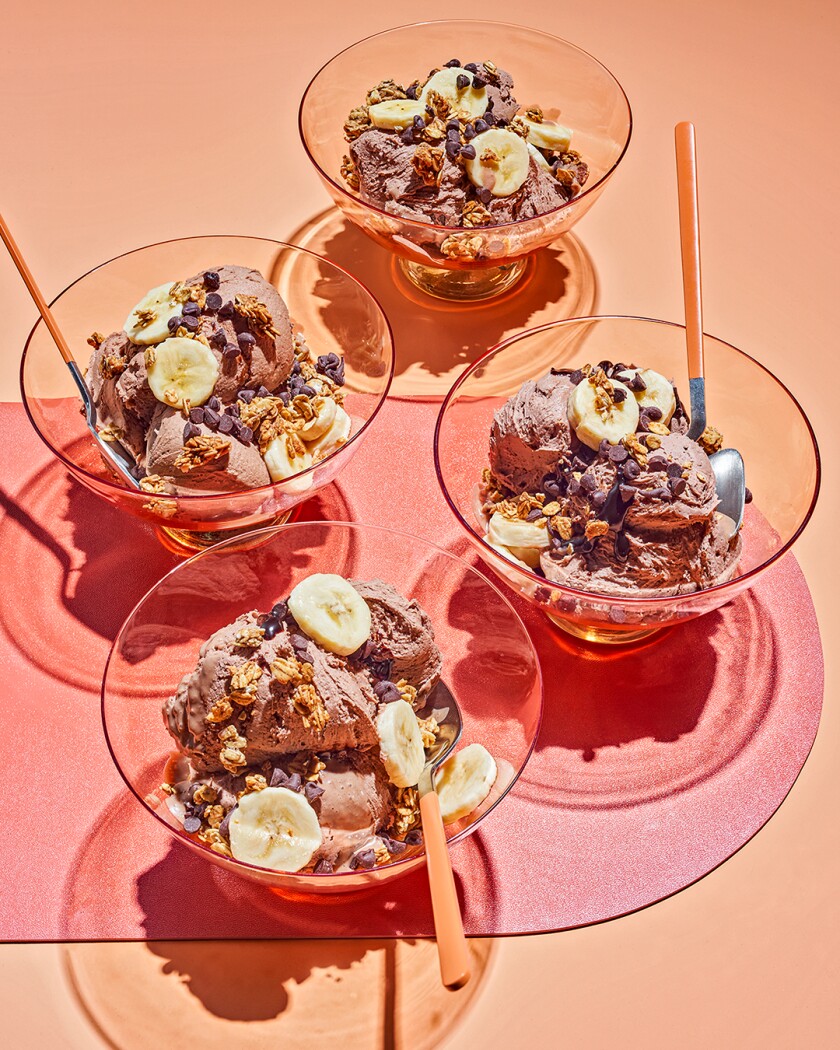 Healthy Banana Ice Cream

Peeling and freezing bananas ahead of time means you can have delectable, healthy ice cream later. Frozen bananas have the same consistency as soft serve when you add a bit of liquid and run the mixture through a blender.

Serves 1

Ingredients

2 bananas, peeled and chopped, then frozen for at least 5 hours

¼ cup almond milk or regular milk

1 tablespoon cocoa powder

2 tablespoons peanut butter

Toppings: additional peanut butter, chocolate chips, sliced banana or granola

Put all ingredients into a blender and blend on high for about 1 minute. Transfer to a plate or bowl. Top with more peanut butter, chocolate chips, sliced banana or granola.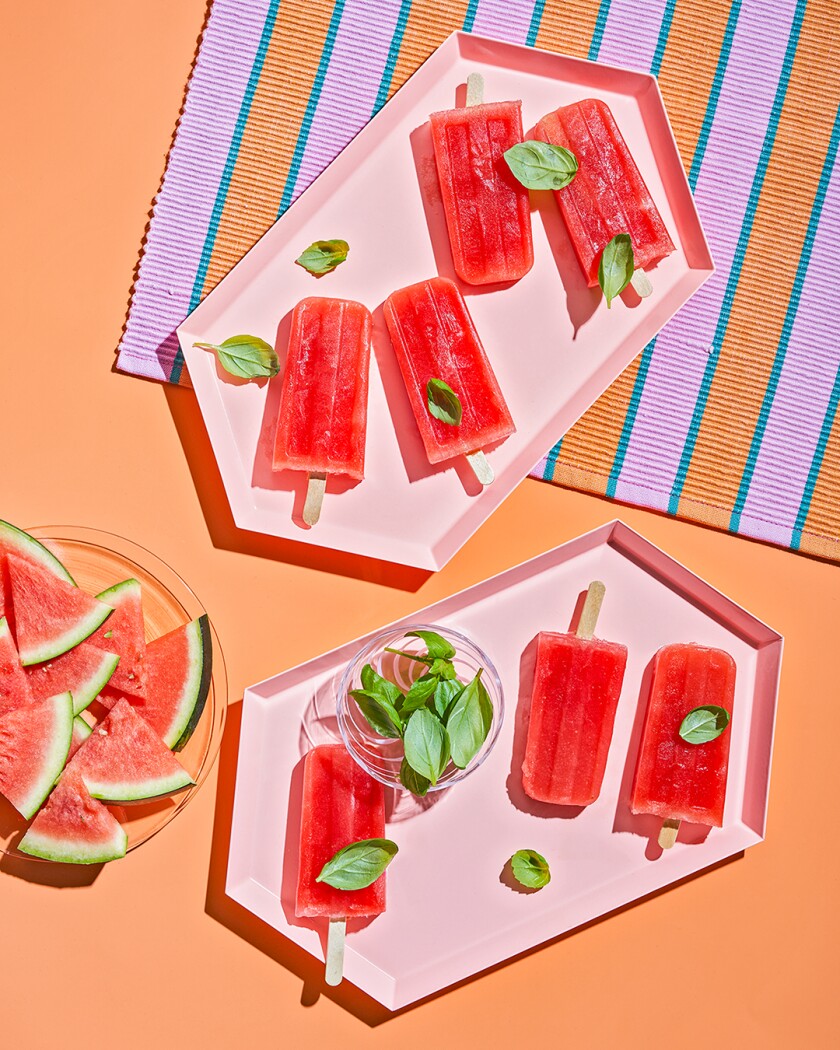 Watermelon-Basil Ice Pops

This is a light, refreshing dessert to make. You can keep these ice pops on hand all summer long.

Serves 4

Ingredients

⅓ cup sugar

¼ cup water

1 large bunch basil, stems and leaves chopped

3 cups 1-inch cubes watermelon

2 tablespoons fresh lime juice

4 4-ounce ice-pop molds and 4 ice-pop sticks

In a saucepan, bring the sugar and water to a simmer. Cover over medium heat, stirring occasionally, until the sugar has dissolved. Turn off the heat and add the basil, stirring until it's completely wilted. Let the basil syrup cool completely, until it reaches room temperature (about 30 minutes). Put the watermelon and lime juice into a blender. Strain the basil syrup into the blender, pressing the basil with the back of a spoon to extract as much flavor as possible. Throw away the excess basil. Puree the watermelon mixture until it's completely smooth, scraping down the sides of the blender if necessary. Transfer the mixture into a large liquid measuring cup with a pouring spout. Pour the mixture into the molds, leaving a fourth of space at the top, and insert the sticks. Freeze until solid, about 5 hours.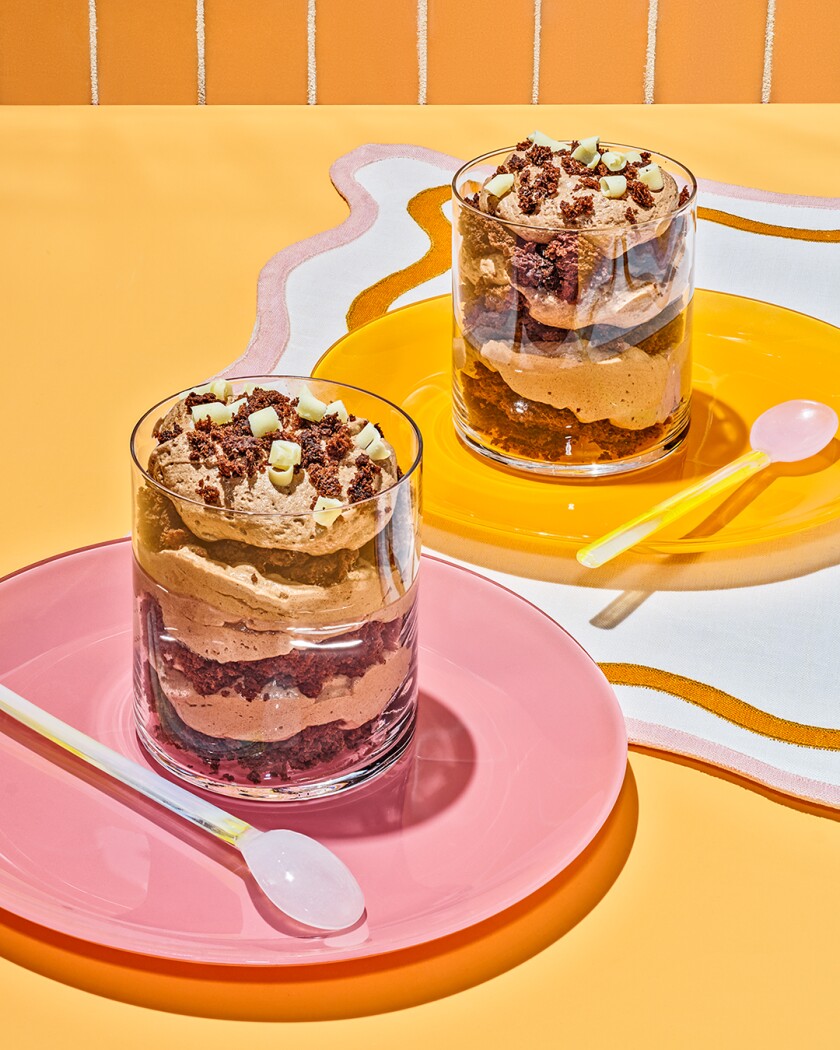 Frozen Chocolate Trifles

This recipe — for a decadent mousse — comes together easily by crumbling a store-bought angel food cake. It's a great option to serve at your next dinner party.

Serves 4

Ingredients

2 cups crumbled chocolate angel food cake

1 tablespoon brandy (optional)

4 large-egg egg whites

½ cup sugar

⅓ cup unsweetened cocoa powder, sifted

½ cup cold heavy cream

½ ounce bittersweet chocolate

In a medium bowl, toss together the cake and brandy. In another medium bowl, using an electric mixer, beat the egg whites on high until they 're foamy. With the mixer on medium, gradually add the sugar. Increase the speed to high until stiff, glossy peaks form (about 2 minutes). With a rubber spatula, gently fold the cocoa powder into the egg white mixture. In another bowl, beat the cream on high until stiff peaks form (about 3 minutes). Gently fold the whipped cream into the egg white mixture. Fill 4 small glass dishes with ¼ cup cake and top with ¼ cup mousse. Repeat the layers and freeze until firm (about 3 hours). Let sit for about 10 minutes at room temperature before serving.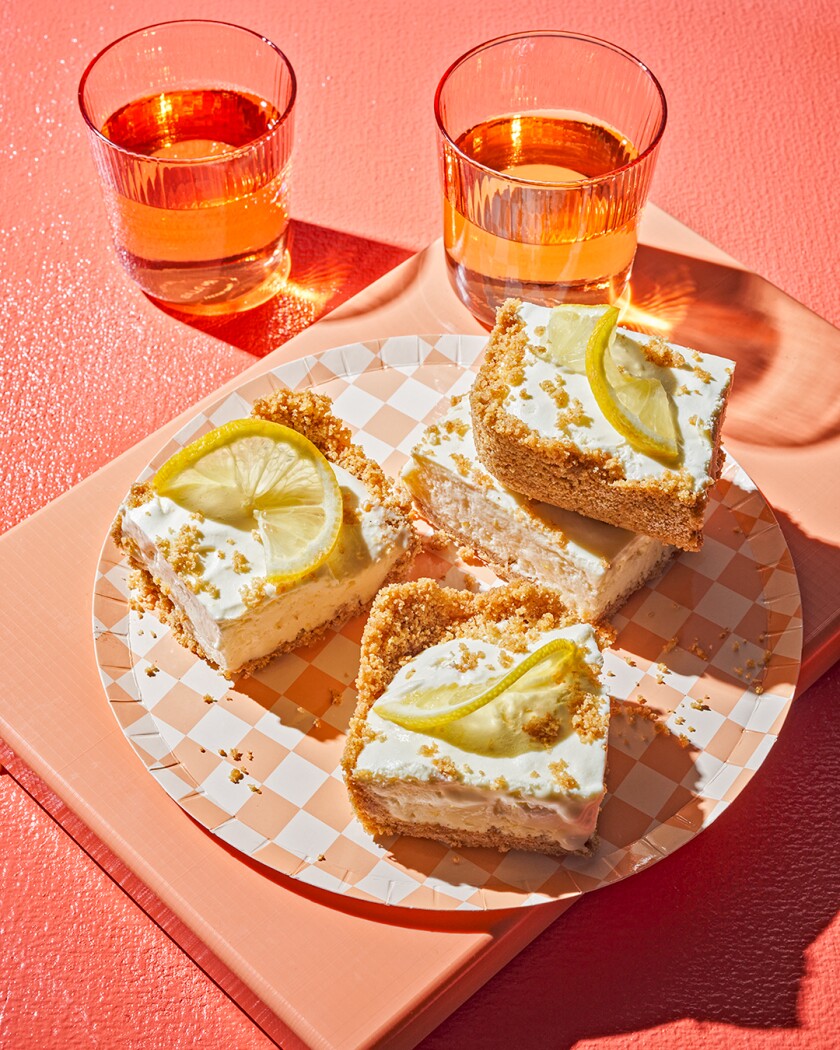 Frozen Lemon Bars

Lemon bars are a beloved treat. This frozen dessert is a yummy take on traditional lemon bars.

Makes 18 to 24 bars, depending on size

Ingredients

¼ cup butter, melted

2 cups graham crackers, smashed into crumbs

2 tablespoons sugar

1½ cups heavy cream

4 large eggs, separated

1 cup sugar

½ cup fresh lemon juice

Zest of 1 lemon

In a medium bowl, combine the melted butter, graham crackers and 2 tablespoons sugar until combined. Press the mixture into the bottom of a 9-by-11-inch baking dish, saving a handful of the mixture to sprinkle over the top of the finished dessert. In a large mixing bowl, whip the cream until stiff peaks form; set aside. With a stand or handheld mixer, beat the egg whites until soft peaks form. Add 1 cup sugar and beat until stiff peaks form, then set aside. Beat the egg yolks until they're creamy and pale yellow. Add the lemon juice and zest, then beat again until mixed. Using a spatula, gently fold the egg yolk mixture into the egg white mixture. Make sure to scrape down the sides of the bowl. Fold until well mixed. Next, fold this mixture into the large bowl of the whipped cream, until combined. Place the prepared lemon filling in the pan with the graham cracker crust, evenly covering the crust. Sprinkle with the extra crumbs. Cover and freeze for at least 2 hours before serving. Cut into bars.

What's your favorite dessert to eat in the summer? Let us know in the comments below.