As travel dreams continue to be viewed through the enduringly popular lens of food and drink, the topic of ultimate culinary bucket-list experiences seems apropos. Just in time, The Girlfriend offers you a curated cheat sheet of cool, outside-the-box foodie experiences to help stir your appetite for exceptional, food-oriented travel.
A clam 'chowdah' cook-off

Ocean Edge Resort & Golf Club (Cape Cod, Massachusetts)


Overnight guests are invited to discover their inner chef and enter a friendly clam "chowdah" cook-off at this colorful gem, an oceanfront resort in the Cape's Barnstable County within an easy drive of its 15 charming towns. If you've never made chowder or rarely show your face in the kitchen, no worries — you're promised ample assistance from start to finish. The resort chef has your back, offering step-by-step guidance through the process of creating classic clam chowder, one of New England's most famous dishes. After that, this competition turns personal, and participants are set loose to reimagine the chowder, tweaking it with favorite veggies like leeks or corn, for example. When time's up, the chef will judge the "chowdah." The lucky winner will receive a dining credit for more delish cuisine around the six unique eat and drink options at the resort. The experience is available for families and groups of up to 10 guests.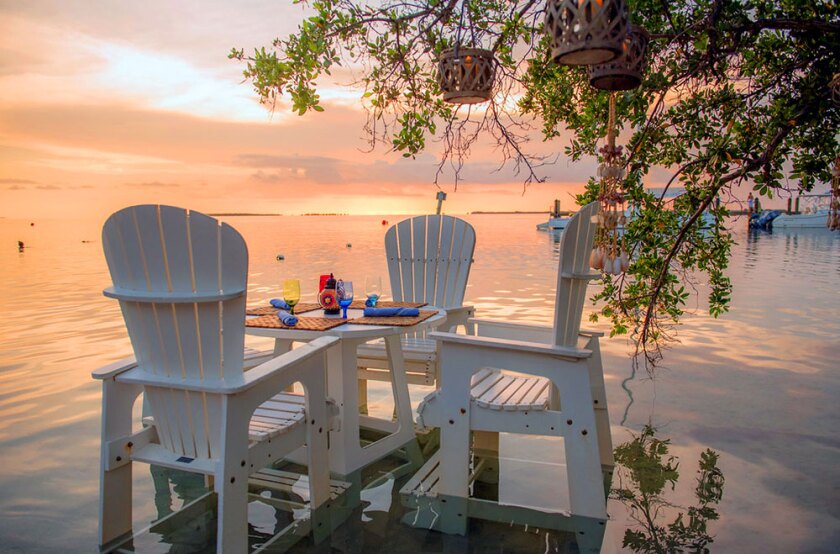 Sunset water table dining experience

Playa Largo Resort & Spa (Florida Keys)

Romantically bid the day adieu with a private dinner party for two in the still bay waters of this Autograph Collection Hotels Key Largo property. The popular resort is sittin' pretty on 14.5 acres of serene beachfront and has a year-round pool and a fire pit — keeping you happy no matter when you visit. Courtesy of the resort's oceanfront restaurant Sol by the Sea, the "water table dining experience" literally allows you to enjoy a meal at a table set in the shallow surf, where you can cool your toes while surrounded by bewitching fairy lights and soft rainbow hues of the setting sun. The successful endeavor to bring the ocean to you while you're dining amounts to a memorable evening that you'll talk about for a long time. Your only job is to tuck into fresh, locally inspired cuisine like spicy conch fritters or the grouper sandwich before strolling back to your room. Reservations a must, as seating is limited.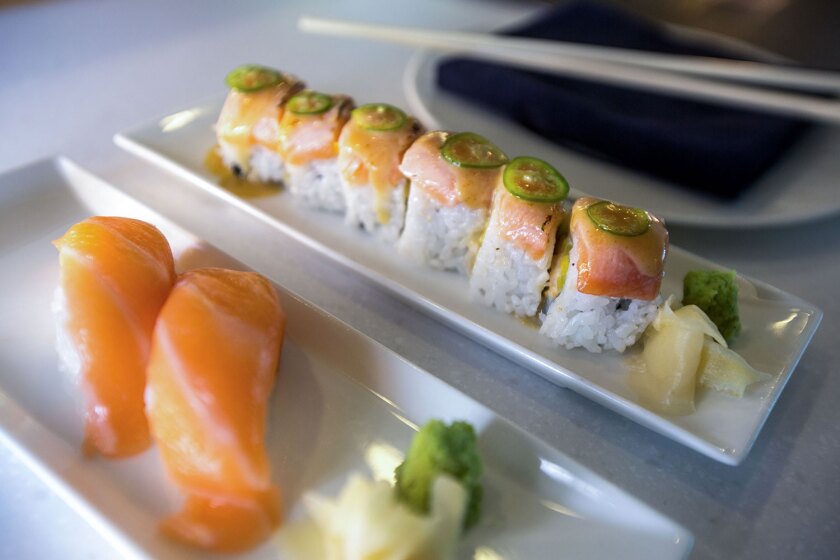 A restaurant created by a 'Top Chef' winner

Resorts World Bimini (Bahamas)

For those hankering to experience the magic of a Top Chef, head to the Resorts World Bimini, where the Season 3 winner of Bravo TV's Top Chef competition, Hung Huynh, created the intimate, 24-seat restaurant The Sushi Bar when it opened in 2016 and still serves as culinary consultant. Huynh curated the menu — featuring sushi rolls, classic pad thai and handmade dumplings — and designed the open-kitchen operations so that your food will be prepared in front of you, adding an up-close-and-personal touch. The hidden-gem paradise beloved by Ernest Hemingway lies just 50 miles from Florida, the closest Bahamian island to the mainland and accessible by boat. As a bonus, you'll also have some of the world's best fishing, diving and snorkeling opportunities at your feet.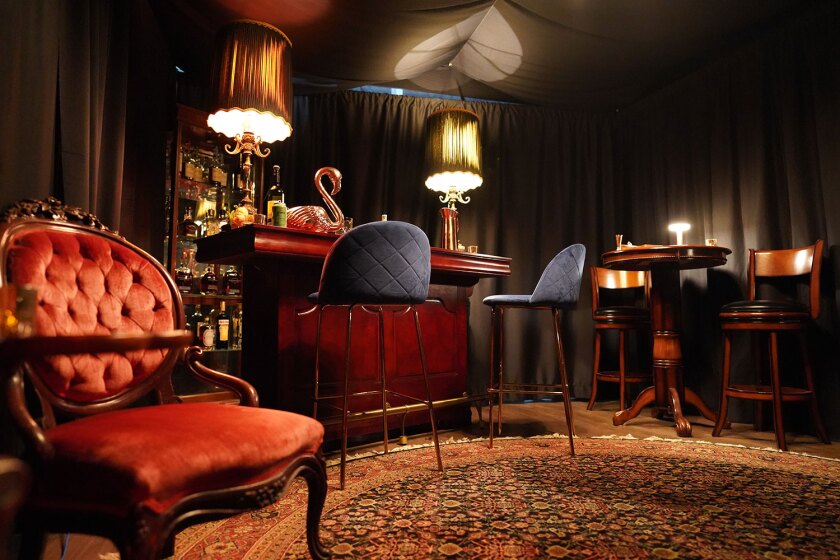 A secret speakeasy hidden inside a guest room

Hyatt Centric Las Olas (Fort Lauderdale, Florida)

Disappear into the past with the Prohibition-era liquor haven Nine01 (aka Room 901), beguilingly tucked away in a guest room, of all places. This secret (shhhh) roaring 1920s old-world speakeasy at Hyatt Centric Las Olas is decked out with vintage art, crushed velvet furnishings and retro-lighting — certain to throw you into a dizzying time machine, thrusting you back into the Jazz Age. To further the mood at this dog-friendly slice of paradise just steps from the Riverwalk, award-winning executive chef Gregory McGowan offers a "Smoke and Mirrors" cocktail and upscale bites like Wagyu Beef Katsu Sando and Pan Roasted Octopus. Psst: To enter the elusive speakeasy, you don't have to be a hotel guest but you absolutely need to secure reservations in advance.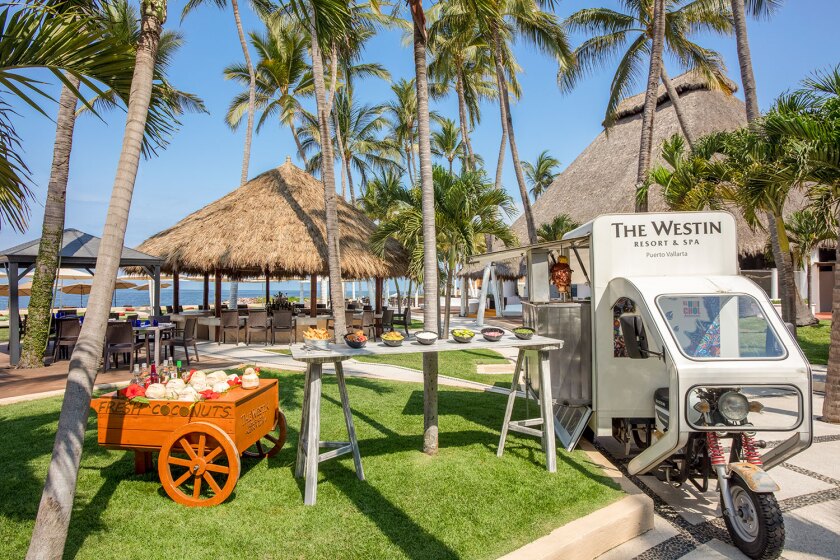 Chic bohemian seaside sunset picnics

Westin Resort & Spa (Puerto Vallarta, Mexico)

Tranquilly flanked by the Pacific Ocean and scenic mountains, the Westin Resort & Spa Puerto Vallarta correctly perceived the traveler's thirst for luxury-sans-pretension. Reflecting the mood, it concocted the boho sunset picnic experience — a picnic on the beach served from an old-school picnic basket on a simple wooden table with an abundance of cushions on hand to make lounging super comfortable — plushy, in fact. There are bubbly and wine pairings, and resort restaurant Arrecifes Seafood & Steakhouse curates the picnic menu per your request to perfectly meet dietary preferences. Live entertainment rivals none, brought to you by Mother Nature — a sunset featuring the cotton-candy pink-purple shades the area is known for set in perfect relief against the inky blue waters of Banderas Bay, the fitting accompaniment to your alfresco dinner.