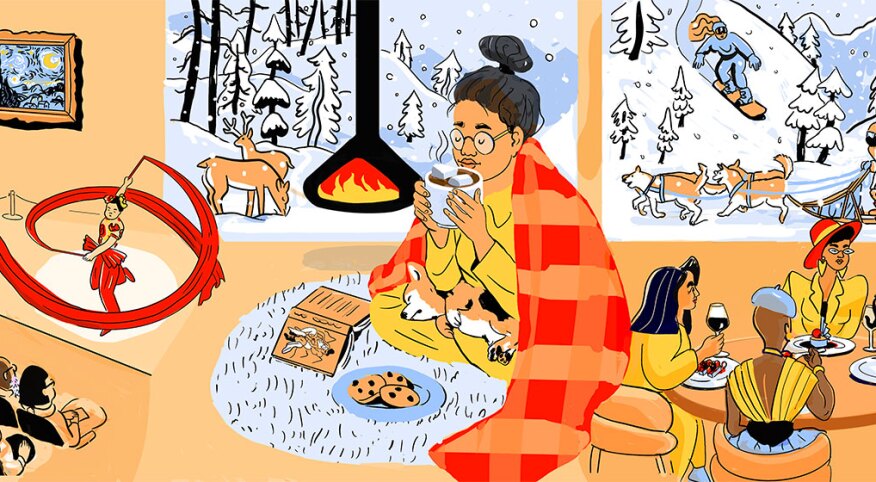 Your summer beach vacation is an Instagram memory. But when the frost arrives, you don't have to fly south to enjoy a vacation. Indoors or out, the Northeast is brimming with options for families, solo travelers and romantic getaways.

Many travelers don't realize there are advantages to winter escapes in this corner of the country. Fireplaces abound. Hot chocolate can be found in every coffee shop. The Mayo Clinic, whose main campus is in chilly Rochester, Minnesota, says "fresh air gives you more energy, strengthens your immune system, helps digest food, sharpens your brain, and makes you feel happy."

Pack those sweaters and become exhilarated with a winter break in the Northeast. Here are five reasons to go.

Find fewer tourists and cheaper prices

Throughout the Northeast, summer tourist crowds can decline by 25 percent or more. That means cheaper rates in many hotels and bed-and-breakfasts. In New York and other big cities, locals reclaim the streets in puffy coats and fashion-forward hats. Stores entice with highly discounted sales.

It's also much easier to snag a restaurant reservation. The best deal is the NYC Winter Restaurant Week, spanning a month from mid-January to mid-February; a prix-fix dinner at a top restaurant is typically about $45 per person.

Outdoor winter sports improve your health and mood

The Northeast is a paradise of snowboarding, cross-country skiing and snowmobiling. Popular destinations include Vermont's Stowe and Sugarbush; Hunter Mountain in the Catskills, New York; Blue Mountain Resort in the Poconos, Pennsylvania; and the Berkshires' Jiminy Peak in western Massachusetts.

Physical activity and fresh air can boost you out of those winter doldrums. Choices are endless: ice fishing, dog sledding, enjoying nature on Nordic skis in Pennsylvania state parks. Beaches are deserted, but you can still see lobster boats bringing in their catch.

And if you're a Sound of Music fan, check out the Trapp Family Lodge Cross-Country Ski Center in Vermont.

Days are short, but festivities shine after dark. First Night Boston is our country's biggest New Year's Eve festival. It's all free: ice-skating, theater, dance, music, art shows. Fireworks explode as the countdown approaches 2023. Glide on ice at Philadelphia's Dilworth Park or Rockefeller Center and Wollman Rink in New York City. Boston's 6,000-square-foot Rink at 401 Park is a skate key's throw from the city's beloved Fenway Park, home of the Red Sox. Top off the skating with steamy hot chocolate afterward.

Extend the holiday lights

Snow-covered New England towns are even more charming when the thermometer plunges, picture postcards come to life. Cheerful holiday street decorations light your path long after New Year's.

Nightwood is an outdoor sound and light experience at The Mount, Edith Wharton's home in Lenox, Massachusetts; you'll navigate three-quarters of a mile through woods and gardens (winter boots advised). Winterfest and the Tunnel of Lights is in its 44th year at the Connecticut Trolley Museum in East Windsor.

It's toasty indoors and culture abounds

Just check your coat and delight in getting much closer to your favorite Van Goghs without the crowds. New York City has 100 museums! Some can't be found anywhere else: Merchant's House, Tenement, Jewish Museum, Morgan Library, Fotografiska, even the Museum of Sex. Art gallery hopping used to center on the Upper East Side, but there is a plethora of modern and avant-garde galleries in the Soho, Chelsea, and Tribeca neighborhoods.

In Philadelphia, the Barnes Foundation hosts one of the world's most esteemed impressionist collections. Climb up the stairs of the Philadelphia Museum of Art like Rocky did in the film, then amble through warm galleries. History buffs can go back into time at the National Constitution Center. No trip to Philadelphia is complete without a stroll past the Liberty Bell.

The New York Botanical Garden in the Bronx hosts an annual train show through the end of January in the Enid A. Haupt Conservatory. Children and adults find joy in following model trains chugging through 175 New York landmarks. Advance tickets advised.

The Boston Ballet features The Nutcracker every December. Remember to grab half-price Broadway discounts at the TKTS booth in Times Square. Newport, Rhode Island, is bumping in summer with its jazz and folk festivals, but in the calmer winter season local musicians, actors and comedians perform in pubs and bars. The 2023 Hudson4Jazz Festival in Hudson, New York, runs Feb. 16–26, when many schools have winter breaks.

Eager to leave winter behind already? The Elizabeth Park Conservancy in Hartford, Connecticut, offers a Greenhouse Show in March, where an array of colorful flowers will put a spring in your step.

Enjoy romantic getaways

What better way to celebrate an anniversary, birthday or Valentine's Day than at a romantic inn or bed-and-breakfast? Think canopy beds, quiet chats in front of fireplaces, lazy breakfasts, living room libraries and reading nooks, puzzle tables, even breakfast in bed. Choices range from splashy to cozy and quaint.

There are too many to mention, but here are a few suggestions: The Vanderbilt (Newport, Rhode Island); Twin Farms (Barnard, Vermont); Wheatleigh (Lenox, Massachusetts); Pitcher Inn (Warren, Vermont); Beach House Inn (Kennebunk, Maine); Sugar Hill Inn (Sugar Hill, New Hampshire); and Captain Stannard (Westbrook, Connecticut).

Your room may have a seaside view. You can explore the local towns until your cheeks are flushed with a robust glow. Or just crank up the heat, stay inside … and cuddle.

Anyone interested in taking a fantastic road trip? Here are 10 tips that can help.

Anyone have a favorite spot to visit in the Northeast? Let us know what it is in the comments below.