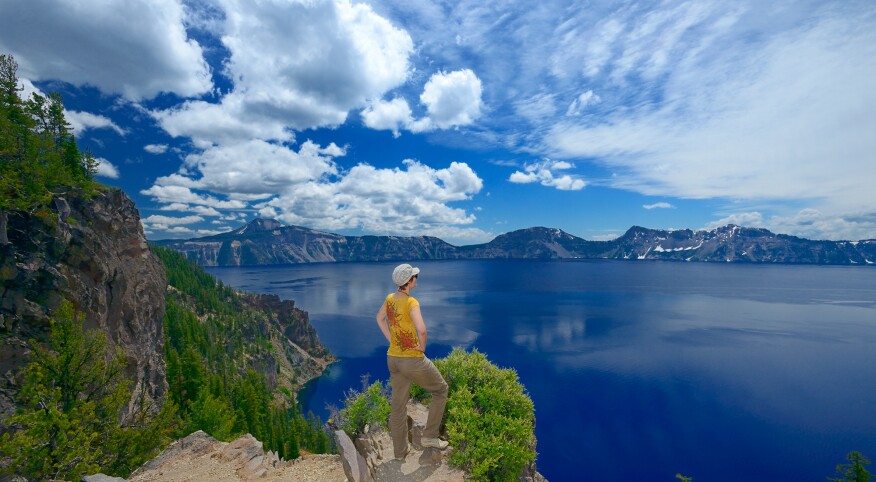 There are an astounding 423 parks in the U.S. National Park system, and 63 that have earned the official National Park designation. Some — like Yellowstone, Grand Canyon and Rocky Mountain national parks — are well known and attract millions of visitors each year. But what about the others? If you're like me, you've dreamed of escaping to one or more of these national treasures over the past few years.

Last year, I was fortunate enough to make it to Zion … along with 4.5 million other people. It was stunning, of course, but it was also teeming with tourists. In an effort to avoid the same fate this year, here are five of the lesser-known parks that piqued my interest — along with nearby lodging where you can settle in after a long day of exploration and hiking.

Crater Lake National Park, Oregon

Visitors: 670,500 in 2020

The fifth oldest national park, Crater Lake was formed more than 7,500 years ago when a violent eruption collapsed an ancient volcano and formed this magnificent lake. We recommend taking a boat cruise so you can get close up views of Wizard Island, Phantom Ship and other natural formations within the park. Those who prefer to stick to dry land can take the historic Rim Drive, which includes 30 overlooks for you to enjoy lake views, panoramic vistas, forests and meadows. The Rim Drive also provides access to five picnic areas, hikes, geologic formations and several waterfalls.

Where to stay: Within the park is historic Crater Lake Lodge, which was built in 1915 and overlooks the lake at Rim Village. Spring for a lake view room to take in the pristine blue waters and sheer cliff walls.

Katmai National Park and Preserve, Alaska

Visitors: 51,511 in 2020

Is spotting a brown bear on your bucket list? If so, there's no better place to do it than Katmai National Park and Preserve. With a brown bear population in the thousands, this remote park is difficult to reach and best for experienced outdoor adventurers. If you want to immerse yourself in a truly wild and remote setting, this is the park for you.

Where to stay: Alaska's Gold Creek Lodge sits on the Naknek River and features cozy log cabins and luxury yurts. All-inclusive adventure packages include lodging, food, park service use fees, and adventures such as a wildlife safari on the river.

North Cascades National Park, Washington

Visitors: 30,885 in 2020

Instead of Glacier National Park, consider the North Cascades National Park in Washington state. The park has 300 glaciers, 300 lakes and abundant wildlife including moose, black bears, bobcats, otters, lynx, bighorn sheep, mountain goats and more. There are 400 miles of trails to please all levels of hikers. If you go, don't miss Diablo Lake Vista Point, where you'll look out over the breathtaking aqua Diablo Lake that was formed by melting glaciers.

Where to stay: With just 15 floating cabins and a marina, Ross Lake Resort books up far in advance, so put that on your list for 2023.

Pinnacles National Park, California

Visitors: 177,224 in 2020

Located 125 miles south of San Francisco, Pinnacles National Park came to life after an ancient volcanic eruption about 23 million years ago. Sheer wall canyons, wildflowers and uniquely shaped rock formations make this a truly magnificent destination. Best to visit in the winter since summer temperatures can soar to 100 degrees.

Where to stay: Inn at the Pinnacles is a Mediterranean-style bed-and-breakfast that sits on a 160-acre vineyard estate just five minutes from the park. A pool and a cheese-and-wine-tasting hour (Saturdays) make it the ideal respite after an active day.

Voyageurs National Park, Minnesota

Visitors: 232,975 in 2020

Described as a watery wonderland by the founders of the organization and film project More Than Just Parks, Voyageurs National Park spans 218,054 acres, including 84,000 acres of water. It is located about 275 miles north of Minneapolis along the Canadian border. The park is primarily accessible by boat, so you'll want to hire a local outfitter. The National Park Service offers this list of commercial services.

Where to stay: The stylish Cantilever Distillery and Hotel is located about 10 minutes from the gateway of the park. It combines elegant modern design with elements of a bygone era and features a rooftop sauna with spectacular views of Rainy Lake, Canada, and the Cantilever Bridge.