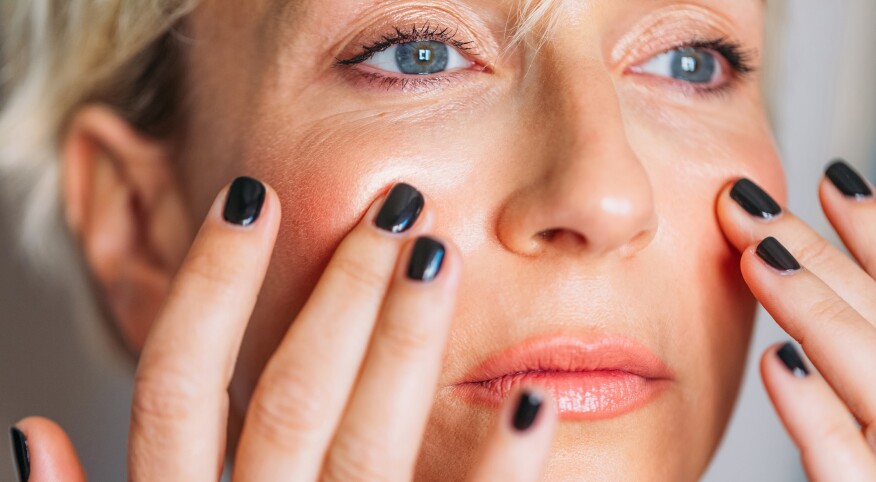 Under-eye bags can be the gateway to everything from poor concealer application to an influx of "you look tired" comments. And while sometimes they form as a result of things like lack of sleep or excess sodium in our diet, other times they can be a natural side effect of aging and weakened tissues. That being said, there are ways to manage under-eye bags and reduce their appearance. To help guide us on this mission, we tapped NYC-based, board-certified dermatologist Hadley King, M.D., for some answers.

Keep reading to learn how to kick your under-eye bags to the curb.

Get adequate sleep

King says that when we sleep, our body rebalances its hydration. Not getting adequate sleep, though, can result in poor water balance, leading to puffiness under the eyes as well as dryness and more visible wrinkles. Translation? Get at least eight hours of shut-eye to avoid waking up to bags.

Use an eye cream with caffeine

According to King, puffy under-eye bags can either be from fluid or a fat pad. "If you notice that the puffiness is worse in the morning and better by evening (or worse some days than others), then your puffiness is probably from fluid," she says. In this case, an eye cream containing caffeine can help, as caffeine constricts blood vessels and can therefore reduce the amount of accumulated fluid. King recommends the First Aid Beauty Eye Duty Triple Remedy because it contains caffeine and licorice root extract to ward off puffiness and bags, and has a cool-tip applicator that can help alleviate bags.

Pop your eye cream in the refrigerator

"Cold constricts blood vessels and can therefore reduce the amount of fluid accumulating," says King. The result? Less apparent bags. And, it's the perfect morning pick-me-up if you're not a morning person. Chill your eye cream (or the aforementioned Eye Duty from First Aid Beauty) in the fridge for an hour to encourage under-eye bags and puffiness to be on their way out.

Consume less sodium

Sometimes under-eye bags form as a result of anatomy (aka a fat pad that has become lower over time, which you'll know is the case if your eye bags are pretty much always the same). Other times, it can be from fluid retention as a result of sodium consumption. In this case, King suggests decreasing dietary sodium, as "it can lead to retention of fluids, and this will show up as increased fluid around the eyes."

Consider seasonal allergies

Seasonal allergies can be to blame for many things beauty-wise (think: eczema and hives). They can also lead to severe under-eye bags since they increase inflammation and cause congestion. Not to mention, it can also cause the under-eye area to have a dark tint, since it expands the blood vessels surrounding the eye area. In this case, King says that an oral antihistamine may be helpful.