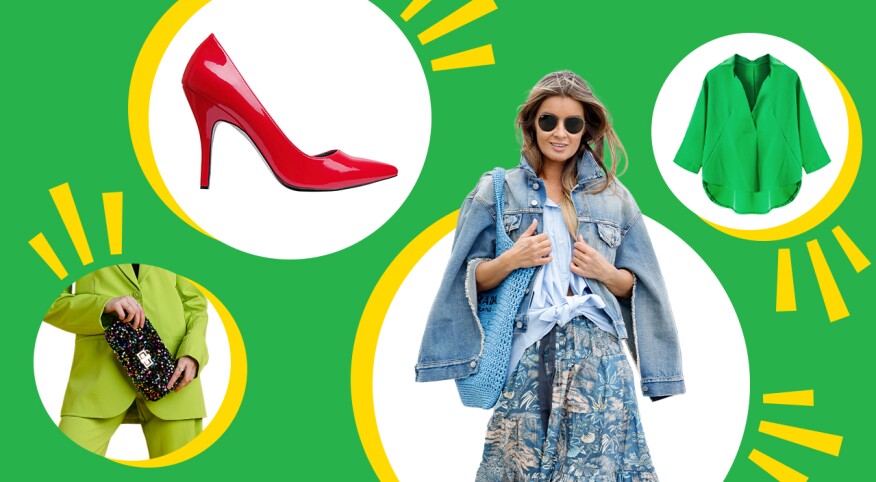 Like many, I am not a big fan of winter weather. By the first sign of warmer weather, I am more than ready to ditch my heavy coat, knit sweater and fuzzy boots for some lighter attire.

For those of you tired of a wardrobe that is primarily basic black, you are in luck. The Pantone Spring/Summer NYFW top 10 fashion colors are bold and bright. Color professionals at Pantone say, "We strive forward with a color palette that celebrates a newfound freedom and the excitement of trying something new. Colors and color combinations that lend themselves to experimentation and quirky contrasts highlight our desire for individualism, encouraging us to express ourselves in unexpected ways."

If you are ready to put a little spring in your step, here are six fashion trends to look out for when you are in the store or looking through your closet.

Go Green

Since she was little, my daughter has always loved green. So I wasn't surprised when she not so subtly hinted that she wanted me to wear a green gown at her wedding. What did surprise me was the plethora of options I have to choose from in this color scheme. While Kermit the Frog used to lament, "It's not easy being green," this season, it is very easy! Evening dresses, daywear, shoes and handbags are all offered in shades from light celadon to bold, vibrant spring green, which Pantone calls "Classic Green."

Red, Red Shoes

When I think about red shoes, I see Judy Garland following the Yellow Brick Road searching for her way home. While a pair of sparkly ruby slippers are not practical for most of us, red shoes (in shades from crimson to magenta to bold red) are on trend this season. Liz Teich, The New York Stylist, advises, "To avoid looking like Dorothy, make the shoes the only pop of color in your neutral outfit or wear them in a monochromatic way. I've been especially loving my red sneakers with a simple dress for an unexpected twist."

Maximum Love for the Maxi Skirt

According to Vogue, a big trend will be the maxi skirt. Teich says, "The beauty of this trend is that even petite women can wear it. I have always loved the look of a maxi skirt, but worried that I was too short for it to be flattering at my height. Teich reassures that anyone can wear a maxi skirt. Maxi skirts can be worn with sandals or sneakers, but opting for a little height is best to elongate. I love them with a mule sandal, which feels very 90's/Y2K and current."

Tote-tally Awesome

"Functional is back!" Teich declares. "Thank goodness miniature bags that barely fit a lipstick are on their way out and oversized bags are going strong." To avoid your unstructured tote becoming an unorganized dumping ground, Teich suggests storing all of your essentials (wallet, phone, keys, lip gloss) in a small clutch or pouch so you can easily find your belongings and switch bags without forgetting something." If you prefer something smaller, consider a crescent-shaped bag. Teich explains, "This retro-style is making a big comeback. It's my personal favorite because it feels the most refreshing for every day."

Sequins and Silver

Sparkle and shine may seem more appropriate for disco than daywear, but not this spring. Teich says, "Evening bags for daytime are the new bag to break out; think sequins, metallic and fun shapes. Or consider choosing a dress for your next brunch or bridal shower with some fun details.

"Fringe, sequins and floral appliques are all going to be everywhere this season and a refreshing take on the day dress," Teich says.

Top it off with an Oversize Blazer

"My cropped/fitted denim jackets will be going to the back of my closet this season," Teich says. "We're seeing more oversized styles right now. If you want to splurge on just one new pricey item you will use a lot, buy a relaxed blazer. I'd invest more in this piece because tailoring and fabric quality matter in a jacket."

Look for one that is less like an interview/corporate blazer and something more casual. "You can wear it with jeans and a tee or utilize it like a spring jacket," Teich explains. "My clients are finding they'll get a lot of wear out of it, so it's worth buying and is very on-trend right now. "

What's YOUR go-to store for buying clothes and shoes? Let us know in the comments below.