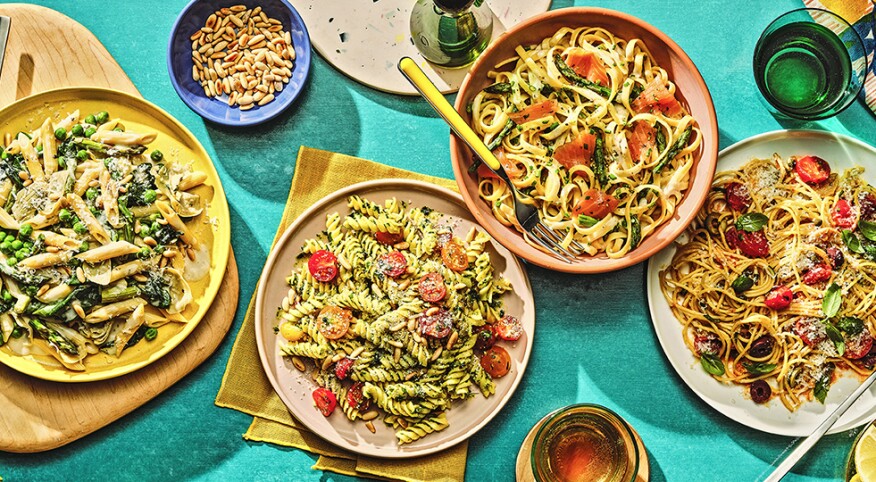 Perfect for patios, picnics or dining room tables, these dishes utilize spring vegetables and light proteins to create the perfect light pastas.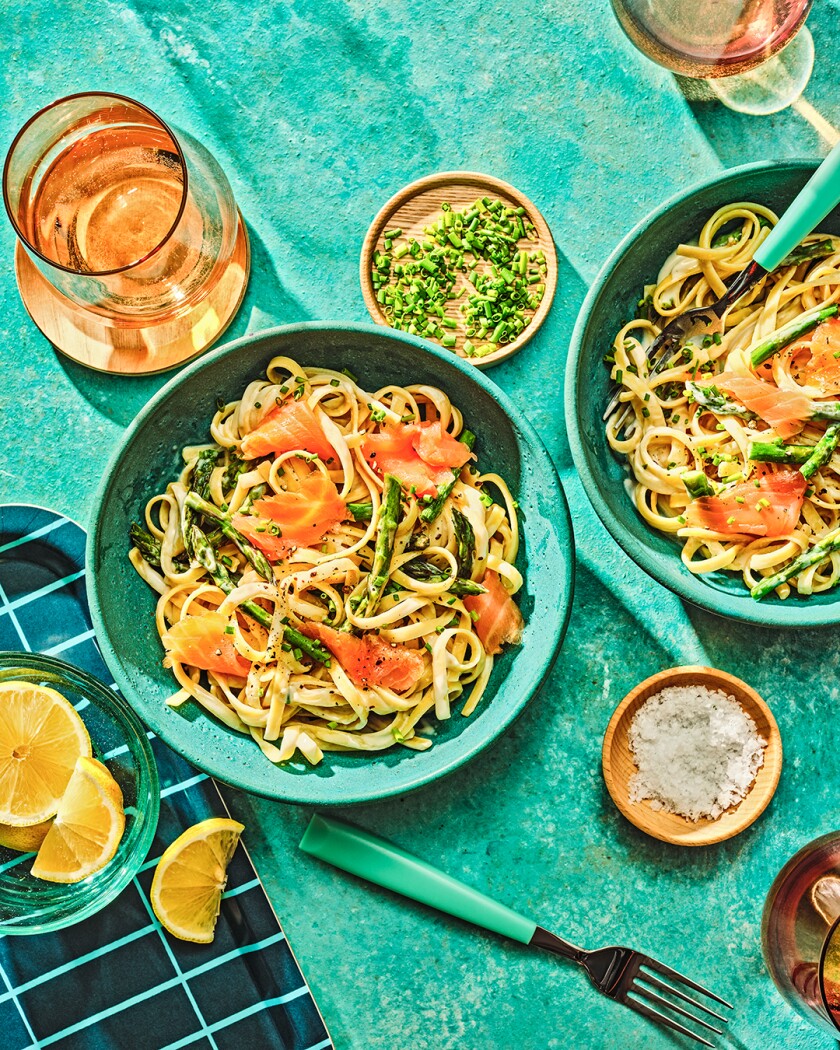 Smoked Salmon and Asparagus Pasta

Serves 4

Created by Molly Madigan Pisula, a food blogger and food photographer at Vanilla Bean Cuisine in Maryland

"This dish is perfect for spring, as it highlights fresh asparagus and tastes light and bright with the combination of crème fraîche, lemon juice and smoked salmon," Pisula says.

1 pound asparagus

1 clove garlic

4 ounces cold smoked salmon

1 tablespoon olive oil

9 ounces dried pasta

2½ ounces crème fraîche

2 tablespoons lemon juice

1/2 teaspoon lemon zest

1/2 teaspoon kosher salt

1/4 teaspoon freshly ground black pepper

1 tablespoon chopped chives, for garnish

Lemon wedges, for serving

Rinse asparagus and pat dry. Snap off or cut off the bottom inch of the stems. If you are working with thick asparagus stalks, peel the outside layer of skin with a vegetable peeler. Then slice stalks into 2-inch chunks. Cut in half horizontally any stalk pieces that are thicker than a finger's width. Mince garlic. Chop smoked salmon into bite-sized pieces. Heat olive oil in large nonstick skillet or wok over medium-high heat. Add minced garlic and stir for 1 minute. Add asparagus and cook for 5 to 15 minutes, stirring frequently. When done, asparagus will be crisp-tender and starting to brown. Cooking time will vary based on the thickness of the asparagus stalks. Meanwhile, bring a large saucepan of salted water to a boil. Add pasta and cook until al dente, following instructions on pasta package. Before draining, reserve 1/2 cup of cooking water. Drain pasta and return to pan. Stir in crème fraîche, lemon juice and lemon zest. Gradually add 1/4 cup of cooking water, stirring gently. If pasta is not saucy enough, add more cooking water. Stir in asparagus, then gently stir in smoked salmon. If your pasta (or pan) is still quite hot, you may want to serve the pasta with just the asparagus stirred in. Then add the smoked salmon on top, so that the texture of the salmon isn't altered by stirring it into the hot pasta. Garnish with chives and serve with lemon wedges.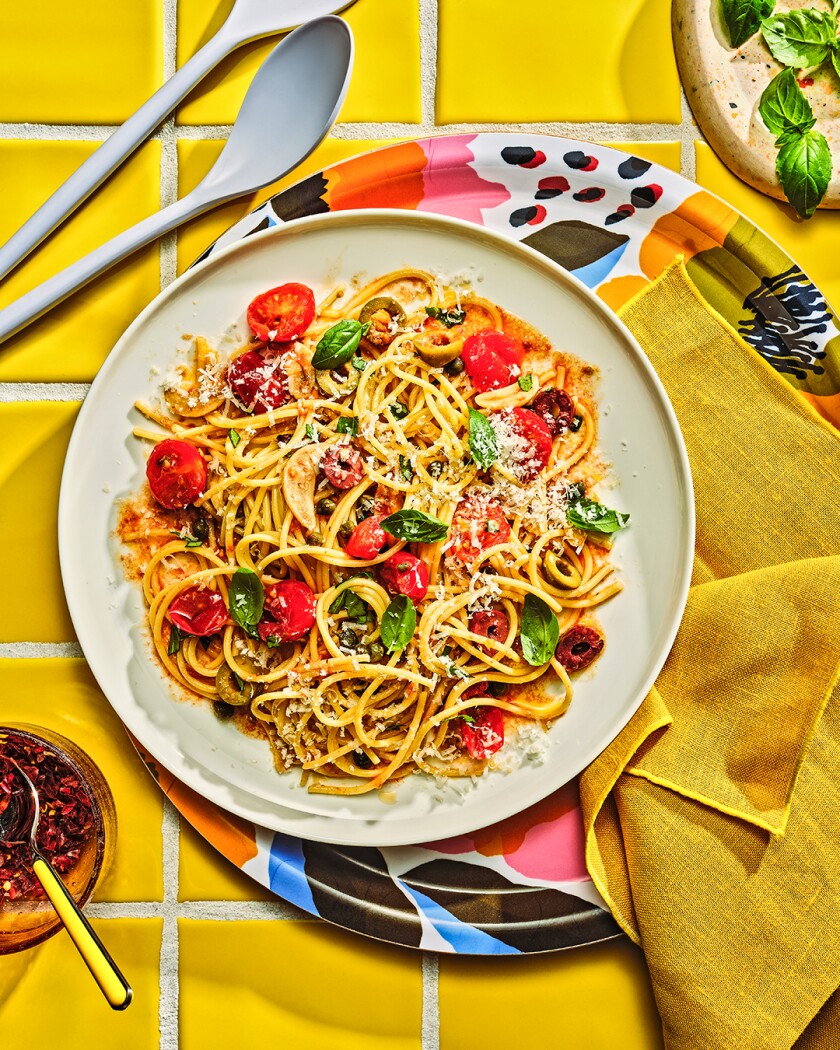 Easy Puttanesca

Serves 2

Created by Milo Cruz, a chef and food blogger and chief marketing officer of Legend Cookware

"Here's a recipe I used to serve at my restaurant before it closed down due to the pandemic. It was a crowd favorite," Cruz says. "It's great for spring, when all the ingredients are fresh and at their peak, but you can enjoy it all year round if you're looking for something quick and healthy."

2 cloves garlic

4 black olives

4 green olives

1½ tablespoons of capers

8 cherry tomatoes

2 sprigs fresh basil

2-3 anchovy filets

3 tablespoons extra virgin olive oil

Salt and pepper to taste

Pasta of your choice, enough for two

Slice the garlic into fine slivers. Remove pits from olives and thinly slice. Finely chop the capers. Slice tomatoes in half. Finely chop the basil. Put 3 tablespoons of olive oil in a large pan over low-medium heat. Add the anchovies, garlic, olives, capers and tomatoes, then cook until the tomatoes are tender. Add cooked pasta directly into the pan and toss everything together. Add the chopped basil and give everything one final mix. Season with salt and pepper to taste, top with freshly grated parmesan, and serve immediately.

Spring Forage Tagliolini Pasta

Serves 1

Created by William Schultz, chef at Fairmont Chicago

"The use of seasonal spring vegetables such as asparagus, knob onions and ramps makes this pasta the ideal dish to celebrate the spring season," Schultz says.

6 ounces egg tagliolini pasta

2 each. asparagus stalks

2 each. spring knob onions

10-15 each. pickled ramps

2 large kale leaves

20 grams panko

30 grams pepato cheese

4 tablespoons green oil

4 ounces vegetable stock

2 tablespoons butter

1 small bunch parsley

1 garlic clove

½ shallot

Salt and black pepper

Pickled ramps:

1 cup red wine vinegar

1/4 cup water

1/2 cup sugar (or to taste)

1/2 teaspoon kosher salt

¼ teaspoon black pepper

Chop asparagus into 1 cm-thick (a little less than a half inch) pieces, trim the tops of the spring onions and cut the onion knobs in half. Finely chop 1 small bunch of parsley; clean kale by removing stems, and roughly chop the leaves. For the pickled ramps, clean off leaves and make a quick pickle liquid, bringing red wine vinegar, water, sugar, salt and black pepper to a boil. Pour onto ramps and pickle for 20 minutes. In a food processor, blend panko and parsley, toast in pan for 3 minutes and set aside.

For the pasta, start by heating the pan to medium-high heat. Add 2 tablespoons of green oil and cook down shallots until translucent, then add minced garlic until fragrant. Meanwhile, blanch pasta for 3 to 5 minutes or until al dente. Add onion knobs and asparagus and sauté until light char is achieved on vegetables. Add butter to same pan and reduce until emulsified. Add pasta and a tablespoon of the pasta water as needed to thin the sauce. Add pickled ramps, serve in bowl, and garnish with green panko, fresh herbs and freshly grated pepato cheese.

Spinach pesto pasta topped with seared diver scallops

Serves 6

Created by Lisa Lotts, owner and publisher of Garlic and Zest, a food and cooking website.

"The beauty of this dish is its simplicity," Lotts says. "This is a great spring pasta dish because the basil and spinach are young and vibrant, and diver scallops are more readily available through April."

Spinach basil pesto:

2 cups fresh basil leaves

1 cup fresh baby spinach leaves

6 cloves garlic

⅔ teaspoon sea salt

½ cup olive oil

¼ cup toasted sliced almonds

¾ Parmigiano Reggiano, grated

Place the basil, spinach, garlic, sea salt, olive oil and almonds in a food processor and pulse until well blended. Add the parmesan cheese and pulse again quickly to combine. Use immediately or place in a sealed jar and refrigerate for up to one week.

Pasta:

1 pound linguini or other long, thin pasta

1½ pounds large dry sea scallops (also known as diver scallops)

2 tablespoons butter

2 tablespoons olive oil

Flaky sea salt

½ cup basil spinach pesto

Bring a large pot of water to a boil and add 2 teaspoons of salt. When the water is boiling, add the linguini and cook to al dente, according to the package instructions. While the pasta is cooking, dry the scallops completely with a paper towel and set aside. Heat a large skillet over medium-high heat. When the pan is hot, add the butter and olive oil, swirling it around in the pan until the butter melts. Working in batches, place the scallops in the pan (don't crowd them). Sear the scallops for 2 to 3 minutes per side. Use a pair of tongs to flip the scallops and continue cooking for an additional 1 to 2 minutes, until caramelized on the other side. Remove the scallops to another dish to keep warm while you cook the remaining scallops. Drain the linguine, reserving about ¼ cup of pasta water. Transfer the linguine to a bowl and add ½ to ¾ cup of pesto. Toss the pasta with a pair of tongs until the pesto is well combined, adding more pasta water to loosen the sauce. Plate the pesto pasta and top with seared sea scallops. Sprinkle with sea salt. Add fresh basil or parsley for garnish, if desired.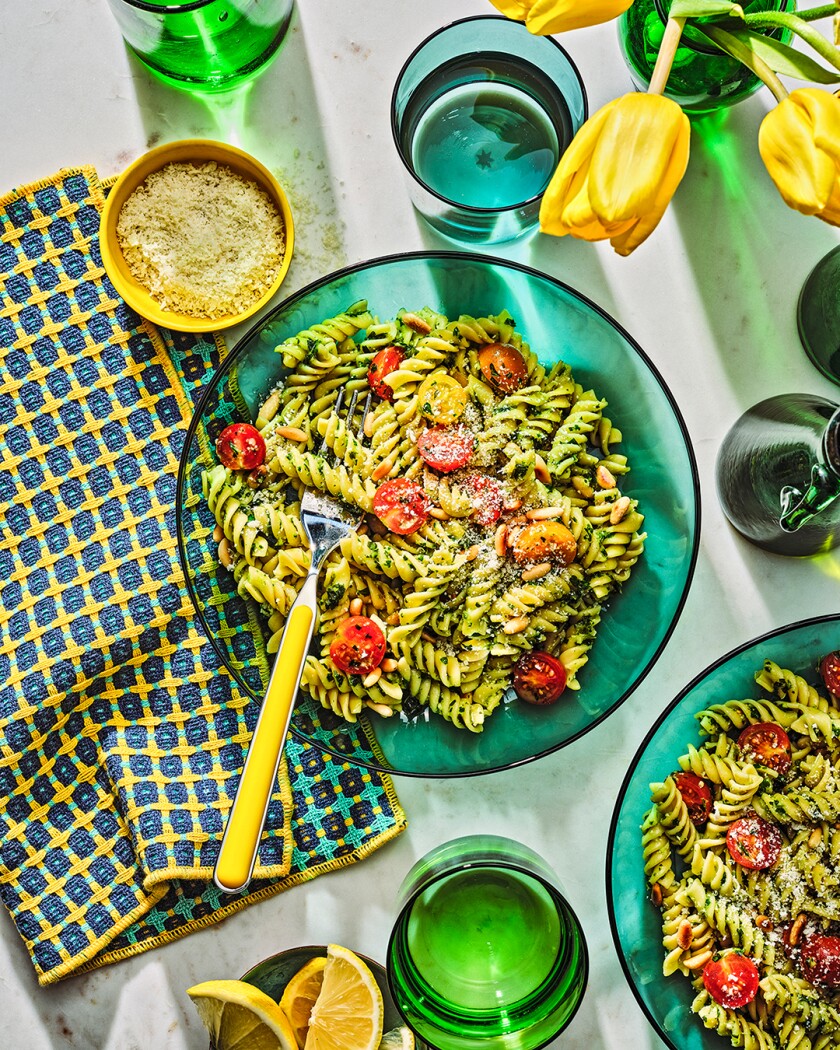 Herbed Pasta Salad

Serves 6 to 8

Created by George Duran, author of Take This Dish and Twist It and host of the Food Network's Ham on the Street

"This pasta salad is great for the spring and summer months because it can handle outside entertaining as the weather warms up," Duran says.

Dorot Gardens frozen garlic, basil, parsley and cilantro

2 tablespoons olive oil

¼ cup pine nuts, toasted

1 lemon juiced

¼ cup grated Parmesan cheese

½ cup cherry tomatoes

Salt and pepper to taste

8 ounces bite-sized pasta (ziti, rotini or other)

Cook pasta as indicated on packaging. As pasta cooks, put 2 cubes of Dorot Gardens frozen garlic into a small microwave-safe bowl with olive oil. Microwave for 1 minute. Remove and add 3 cubes each of the frozen basil, parsley and cilantro. Allow residual heat to thaw herbs and mix together. Mix the pasta with the herbs, pine nuts, lemon juice, parmesan cheese and tomatoes. Season with salt and pepper to taste and serve.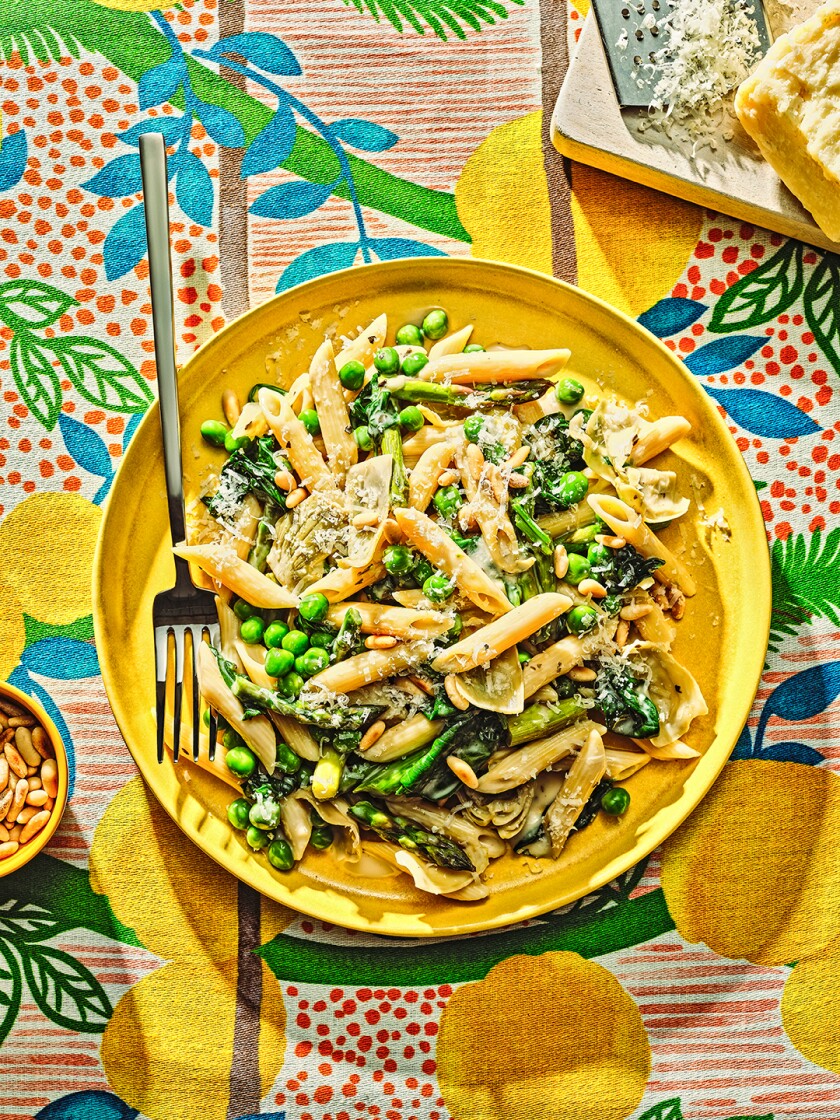 Penne Rigate

Serves 2

Created by Kai Chase, a personal chef for A-list celebs including President Barack Obama, Michael Jackson, Kevin Hart, Jamie Foxx, Mary J. Blige and more

"This pasta recipe is my favorite to make as we ease into springtime cooking," Chase says. "It's light, creamy and satisfyingly delicious, with the bonus of fresh seasonal greens that are brightened with the lemon cream base."

4 tablespoons extra virgin olive oil

2 tablespoons fresh garlic, chopped

4 tablespoons lemon juice

2 cups heavy cream

Pinch sea salt and pepper

1 teaspoon dried basil flakes

3 cups cooked penne

2 cups fresh baby spinach

1 cup asparagus tips and stalks

1 cup peas

½ cup artichoke hearts, coarsely chopped

Grated Parmesan cheese

Toasted pine nuts

Fill a medium saucepan with 3 to 4 cups of water and bring to a boil. Pour pasta into saucepan and boil until tender (5 to 10 minutes). Save ⅓ cup of pasta water for later. While the pasta cooks, coarsely chop artichoke hearts, cut asparagus into quarters and chop garlic cloves. In a large nonstick skillet, heat olive oil on medium-high setting until hot but not smoking. Add butter and garlic, and sauté until fragrant. Stir in lemon juice and heavy cream, and let simmer until thickened, stirring occasionally, for 1 to 2 minutes. Add salt and pepper to taste and stir in dried basil flakes. Slowly add cooked penne and baby spinach and cook until spinach begins to wilt. Add asparagus and peas, stirring as you go until tender. Stir in pasta water and stir in artichoke hearts. Cook until tender. Add salt and pepper to taste, and as much grated cheese and toasted pine nuts as you'd like. Stir and let cook for 1 to 2 minutes before removing from heat. Garnish with more grated Parmesan cheese and toasted pine nuts and serve hot.

What's your favorite pasta dish to make? Let us know in the comments below.