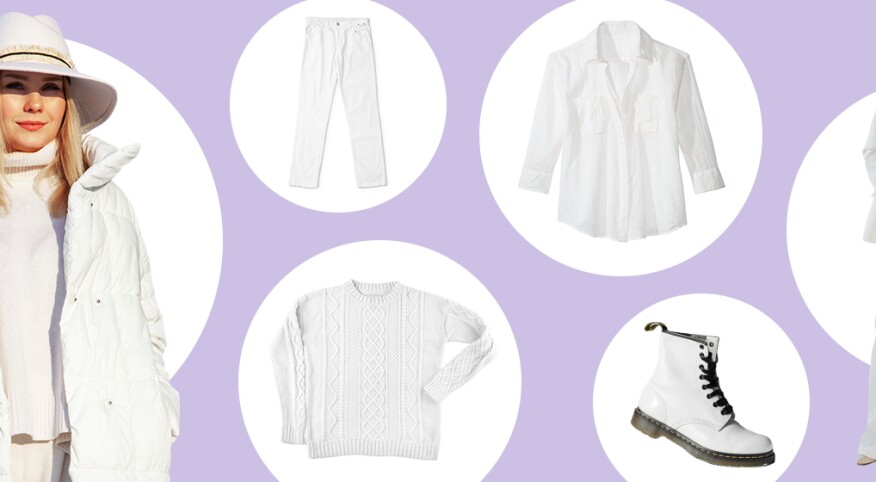 Remember when we were younger and there seemed to be a hard-and-fast rule about wearing white from Memorial Day to Labor Day? I'd read it in the magazines and would hear my mom's friends talk about it when they came over for strawberry daiquiris. "It's June, so I can finally wear these white pants I got!" they'd say as they stood to model them.

One year I received a pair of white jeans shorts for my birthday, which is in August. The first thing I did was run to the calendar to see if school started before Labor Day that year — because if it did that meant I could wear the shorts at least once.

Today it seems so silly to live by any kind of fashion rule. I mean, what's going to happen if we do wear shorts after 35, or a crop top if we don't have a flat stomach, or white after Labor Day? Is someone going to come to take us away and pin us down until we change our clothes — and then confiscate the item?

As a micro-influencer who loves fashion, I still get asked by women if it's OK to wear white all year round. It is! And guess what? It's OK to wear brown and black and gold and silver together. It's fine to do whatever you want — because really, there are no fashion rules any longer.

However, if you are worried white will look too summery in the middle of December but it's your favorite color to wear, here are some ways to incorporate the fresh color into your wardrobe year round.

White suits

A white suit is always a statement. You can get a short sleeve suit in linen for the summer, and you can get a pantsuit, a skirt suit or a dress with a blazer. They can be worn together or separately, and aren't always for dressy occasions. A white suit with wide-leg pants looks wonderful in the summer with your favorite concert T-shirt and sandals. However, it can be warmed up in the chillier months by layering a sweater underneath the blazer and pairing it with your favorite pair of boots. This is also the time to add a pop of color by throwing on a red sweater, or you can go super sleek with a black sweater and black leather boots.

White sweaters

If you are craving white in the fall and winter, all you need are a few divine white sweaters. Fuzzy, cashmere sweaters are extra warm and cozy this time of year. A white, oversized cardigan will be your staple, since it's so easy to throw on and will go with anything. Chunky cabled knit sweaters will always be a classic wardrobe staple — and maybe just what you need to pair with your favorite white jeans for a dinner out when it's cold.

White boots and shoes

White loafers, sneakers and boots are all the rage right now. You can get everything from white combat boots to white, fuzzy winter boots to tall, white cowboy boots. White is neutral and can be worn with any outfit or look. Even if you aren't wearing anything else white, a pair of white shoes or boots will look fabulous with your favorite jeans and sweater, and will set off an all-black outfit.

White button-downs

Everyone must own a white button-down. They are perfect to wear alone but also make great layering pieces when it gets cold outside. A crisp white blouse will look sharp under a white sweater vest or jean jacket, and will go well with any blazer you own.

In the fall, a white button-down looks terrific thrown over a T-shirt, cami or tank top. I love the look of an oversized linen button-down with black leggings and a pretty black bralette underneath. This pairing is not only comfortable, but also easy to wear with sandals when it's warmer or boots and a long sherpa jacket when it's chilly.

White jeans

Yes, we want to bust out our white jeans in the summer, but winter white outfits are a thing too. Pair your white jeans with your favorite white sweater. Tuck a long-sleeved white shirt into white jeans and throw on your favorite sneakers and puffer vest in the fall. White jeans also will dress up your blazers and cardigan.

White denim is a splendid way to spice up your wardrobe if you want to be a bit dressier but don't want to wear dress pants or a skirt.

White coats

I have a thing for long, nubby, white winter coats. I love a long, wool tailored coat and have a white puffer jacket that I wear every winter. I enjoy how you can own a black coat and a white coat in the same style, and the white one will always appear slightly more elegant. A white or ivory sherpa coat is super cool with jeans or leggings, while a longer coat or vest will make any outfit look more luxe.

White accessories

White nails are lovely year round. There's nothing that says snow like a white matching beanie and scarf. Warm white gloves are perfect when you have to dress up and leather gloves won't be warm enough. White belts are like black belts — they go with everything and can be worn with jeans and your favorite dress. White watches complement silver and gold jewelry, and a beautiful white pearl necklace and earrings are classic pieces that will never go out of style and feel luscious during any season.

Don't save your favorite white pieces for certain times of the year. Feel free to throw them on — along with anything else you feel like wearing — during any season. And don't let anyone tell you white is only to be worn in the summer!