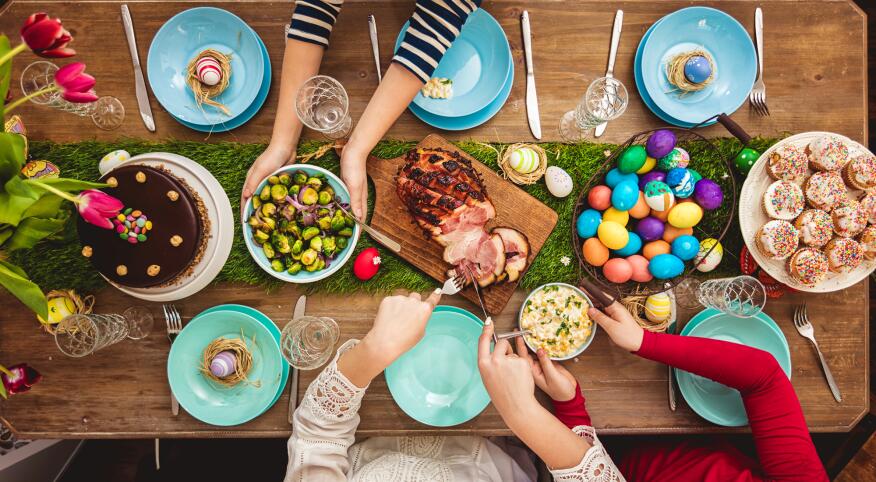 Easter is quickly approaching, evoking visions of pleasant gatherings around the dinner table and of course pastels — whether in the form of colorful eggs, baskets and bunnies, or that pale lavender slip dress you've been saving. Entertaining family and friends comes with largely self-imposed expectations — to be the hostess-with-the-mostess, presiding over a home with tasteful unique Easter décor as well as pitch-perfect food and drink.

Take advantage of these unusual products from Target, Trader Joe's and Whole Foods to ensure your holiday is memorable and stress-free.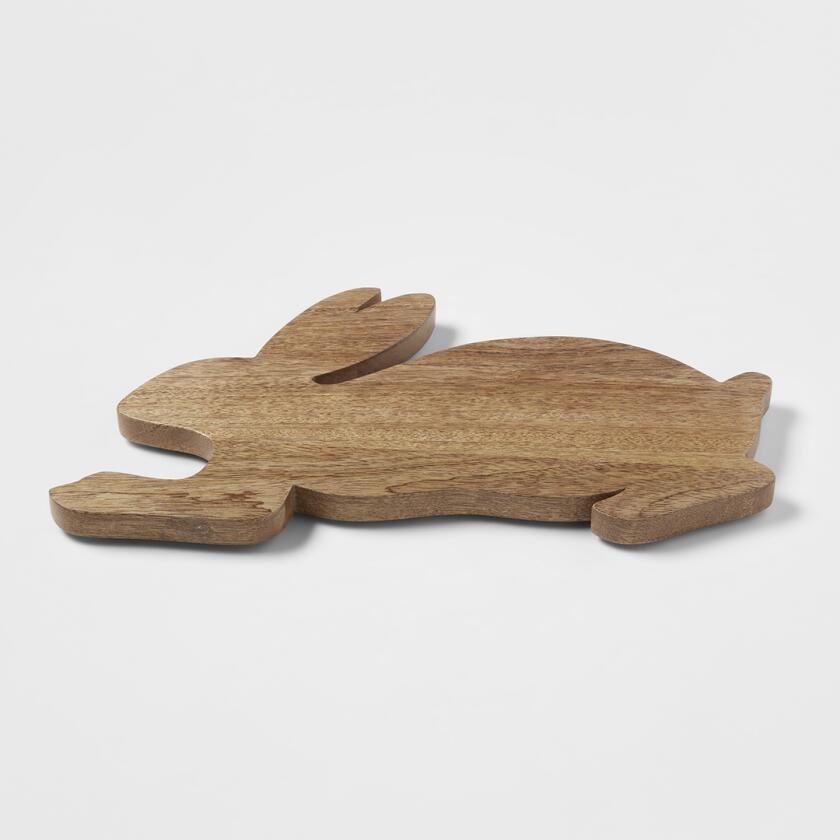 83794360-2_1080px.jpg
Courtesy Target
Pinks and Whites Dark Chocolate Bar by Trader Joe's
Photo Courtesy of Trader Joe's 2022
83794372_1080px.jpg
Courtesy Target
Bunny Shaped Serving Board — Threshold from Target

First impressions matter, right? Target comes to the rescue with their Wood Bunny Shaped Serving Board — Threshold. Your friends and family will enjoy mingling as they graze on appetizers displayed on this fun Easter accent piece. Perfect for serving a decadent charcuterie spread, a simple-but-elegant cheese and crackers pairing, or a dessert spread, this wooden serving board in the shape of a rabbit lends an unmistakable Easter air to the party.

Price $15. Find at Target.com.

Pinks and Whites Dark Chocolate Bar from Trader Joe's

Available exclusively in the spring, this 54 percent dark chocolate bar is more than delicious — though, of course, it is. Rather, what makes it special is its beautiful design, bedecked with "Pinks and Whites Shortbread Cookies" — white flower-shaped cookies — and sprinkles in happy spring colors. In their podcast episode "Spring has Sprung" the hosts describe this dainty-but-decadent morsel and suggest including this eye-catching chocolate bar in a dessert charcuterie board, referencing the brand's YouTube video, "How to Make A "Choc-uterie" Board."

Price: $2.99. Find at TraderJoes.com.

Spritz Melamine Dinner Plate from Target

For the young diners in your midst, serve meals on these playful non-breakable 10" plates. It's a win-win: You'll enjoy the release from worrying about dinnerware being chipped — or shattered. Kids will be jazzed by the whimsical designs, whether they get the Pink Bunny, Blue Bunny or Egg option.

Price: $3. Find at Target.com.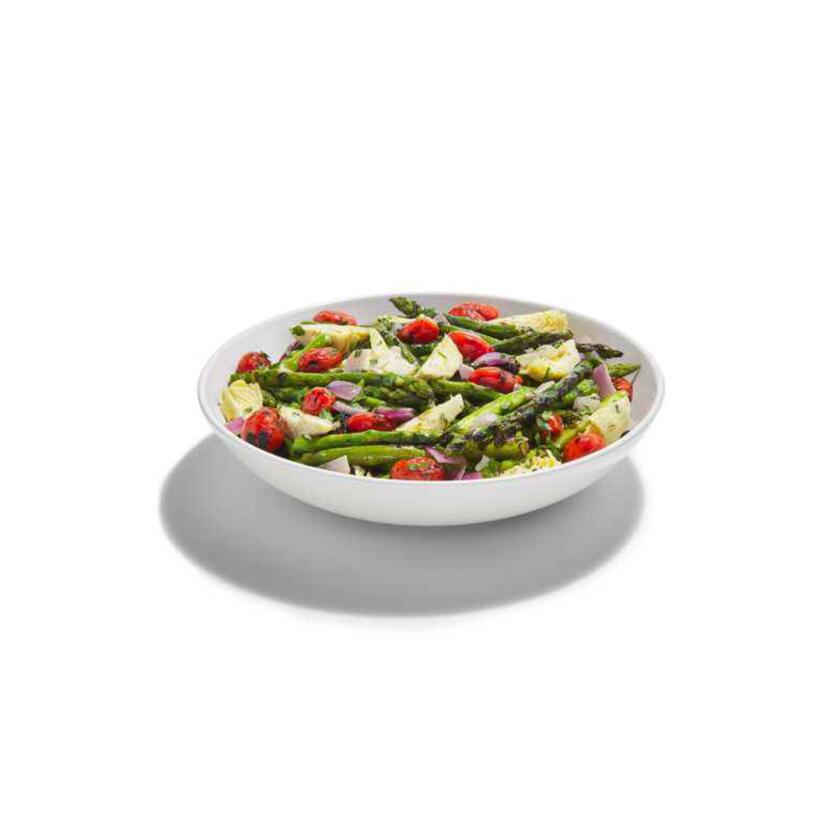 Grilled Asparagus and Artichoke Salad_1080px.jpg
Courtesy Whole Foods
83756350_01_1080px.jpg
Courtesy Target
Berry Chantilly Cake_1080px.jpg
Courtesy Whole Foods
Grilled Asparagus and Artichoke Salad from Whole Foods

Do yourself a favor and order this popular salad, which stands ready to whip out from the refrigerator. Scoop into your favorite decorative bowl and — voila, impress your guests. After all, no one has to find out that you didn't make it yourself.

Price: $15.99 (4 servings). Find at WholeFoodsMarket.com.

Mondo Llama Wood Easter Shapes with Paints from Target

This humble craft allows you to inject personality into your holiday décor. Release your inner Van Gogh, and paint these wooden Easter shapes: Carrot, bunny and chick. Or, let the kids freely paint these accent pieces, weaving their one-of-a-kind creations into the dining table centerpiece.

Price: $5. Find at Target.com.

Berry Chantilly Cake from Whole Foods Market

Light fluffy white layered cake combines fresh berries and Chantilly icing, made with sweetened whipped cream. The moist cake first appeared over a dozen years ago at a Whole Foods in New Orleans, and quickly became a cult classic, referenced on social media using the hashtag #berrychantilly. It's a magical way to impress guests when dessert rolls around.

Price: $35.99. Find at WholeFoodsMarket.com.

83651120_1080px.jpg
Courtesy Target
57285-les-petites-carrots-many-colors_1080px.jpg
Photo Courtesy of Trader Joe's 2022
83900967_1080px.jpg
Courtesy Target
Spritz Flower Shred Gift Filler from Target

To add a dose of spring flair, put this gift filler of colorful paper flowers and short green paper strips (think: grass) to work. Use it to line Easter baskets. Or to assemble little holiday-themed decorative centerpieces for coffee tables or the dinner table. However you use it, this li'l inexpensive bag of fun supplies you with inexpensive decorative material to stimulate your creativity juices.

Price: $6. Find at Target.com.

Les Petites Carrots of Many Colors from Trader Joe's

With images of bunnies munching carrots filling the Easter landscape, it's natural that carrots find a place on your Easter menu. This carrot assortment from Trader Joe's takes things to the next level by offering an array of colors, rather than the same-ole orange — perfect for roasting or using in a salad.

Price: $4.49/16 oz. Find at TraderJoes.com.

Threshold Embroidered Bunny Shape Pillow from Target

Why not swap out your decorative living room pillows to suit the season? Display a few of these delicate bunny-shaped pillows on your couch to add some Easter flair. Embroidered with a colorful floral design, the seasonal-themed pillows add a tasteful touch to mark the holiday.


Price: $20. Find at Target.com.