It's true. With some rare exceptions, getting up early has been linked to health benefits such as improved overall sleep, resulting in more energy, a quiet unrushed start to the day and a boost to mental health. I'd also read here and there that waking up early during vacay would be life-giving — but reader, you can understand why I scoffed at the notion, since vacay = sleeping in (duh!). But after experiencing three consecutive sunrise activities on a recent vacation, I realized I was deliciously mistaken. It all started with an invitation to attend a 7:30 a.m. sunrise yoga class — and of course I waffled, since setting an alarm on vacation is against everything I believe in.

But starting the day with a mind-body-soul-cleansing session on the beach with an instructor named Venus sounded pretty cool. And it came with views of the ocean, something I can't get back home. So I dragged myself out of bed in time to join Venus and the others in the classic Sukhasana pose.

The following morning, I hit the beach for an early-morning walk with a staff escort who chatted about the area, pointing out popular landmarks. Getting up was a struggle but I felt rejuvenated and loved learning about the area. The third morning, before heading to the airport, I took a sunrise dip in the infinity pool for one last look at the ocean and rosy sky. In retrospect, the varied sunrise experiences with ocean views really left an impression on me, offering memories I'll hold forever.

Whether early rising has been your lifelong MO or you're new to the rise-and-shine philosophy like me, the following destinations are speaking your language, up at the crack of dawn to provide magical sunrise memories through yoga, guided beach walks and swimming.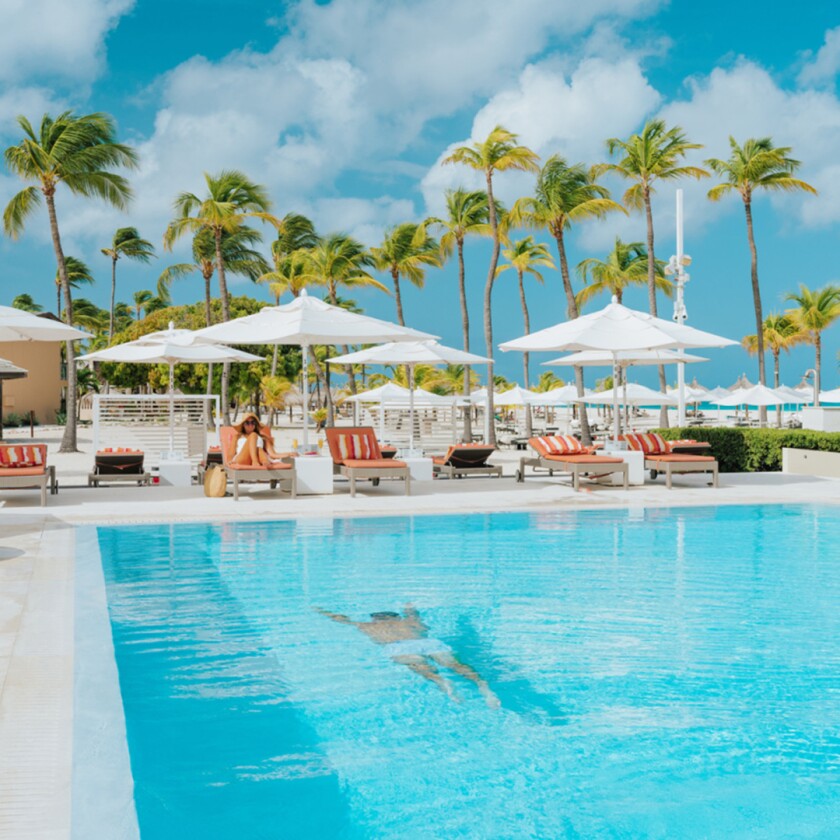 Aruba

Sitting serenely on Aruba's iconic sugary beach, the adult-only boutique Bucuti & Tara Resort promises a curated, intimate experience. The 104-room property (seen through the resort's live cam) wants to get to know you — perhaps as a faithful attendee of the peaceful yoga sessions from 7 to 8 a.m. on the beach, limited to 8 yogis. Maybe swimming is your favorite exercise? At sunrise, you'll be welcomed at the resort pool, open for guests 24/7. Between 6:30 and 7:30 a.m. the resort hosts a mindfulness walk on Eagle Beach, affectionately dubbed one of the "dream beaches of the world."


California

Waldorf Astoria Monarch Beach Resort & Club throws a lovefest for the health-loving energetic types, providing more than 40 complimentary scheduled fitness activities led by certified fitness instructors. Early-morning Flow Yoga is on Thursday, and Yin Yoga class is 8 a.m. Sunday. The Southern California resort also offers early risers a guided 2.5 mile Beach Trail Hike every Friday. For those happiest in the water, the main pool opens daily at 7 a.m. If you're really motivated, the adult-only lap pool is ready for you at 6 a.m.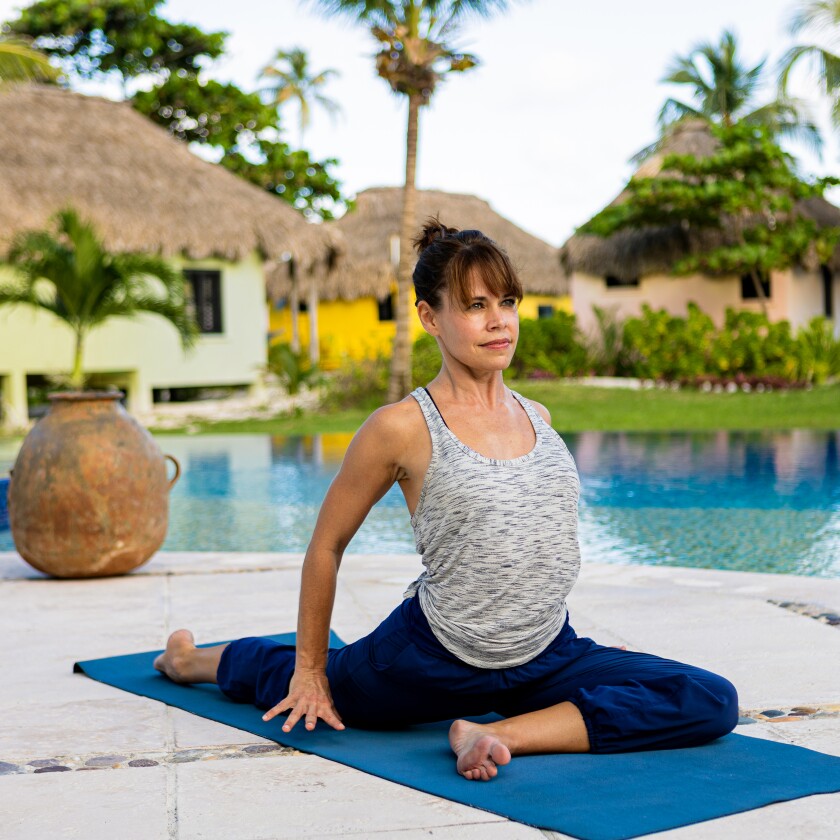 Belize

Matachica Resort & Spa is a punchy adult-only paradise removed from the hustle-bustle on the island Ambergris Caye, near the world's second-largest barrier reef. Sunrise yoga is available however you like it — on the pier, at the beach or by the pool. If strolling the beach is your jam, count on resort dog Taco to keep you company while reliable staff escort Lucas chats about the area. Early-morning swimmers are invited to do laps in the pool — or ask Lucas to take you via kayak to explore the nearby reef.


Montauk, The Hamptons, New York

Nestled on the Atlantic Ocean just a three-hour drive from Manhattan, the boutique hotel Marram Montauk will impress with its endearing barefoot luxury. Though the area is known for its surfing culture, the property — open March to November — courses strongly with holistic wellness energy. Marram provides guests an oceanfront vinyasa flow experience at 8 a.m. Thursday, Saturday and Sunday. The sunrise Guided Nature Walk through Shadmoor State Park follows the coast and is available by request. Swimmers can access the hotel pool at 7 a.m., perfect for those hoping to quietly watch the day come to life from the water.


Hawaii

Rolling out the red carpet, The Ritz-Carlton Maui, Kapalua offers early risers wellness experiences that rejuvenate mind, body and soul — for example, through the 8 a.m., 45-minute Sunrise Yoga class. Or, get your steps in by taking the early morning 2.5-mile guided Kapalua Fitness Hike or the breathtaking Labyrinth Meditation Walk — a complete kinesthetic-introspective integrative activity rooted in traditional ancient maze patterns inspiring meditation. The property's massive three-tier heated pool is open 24/7, allowing early birds to get their laps in or just admire the beauty of the sunrise.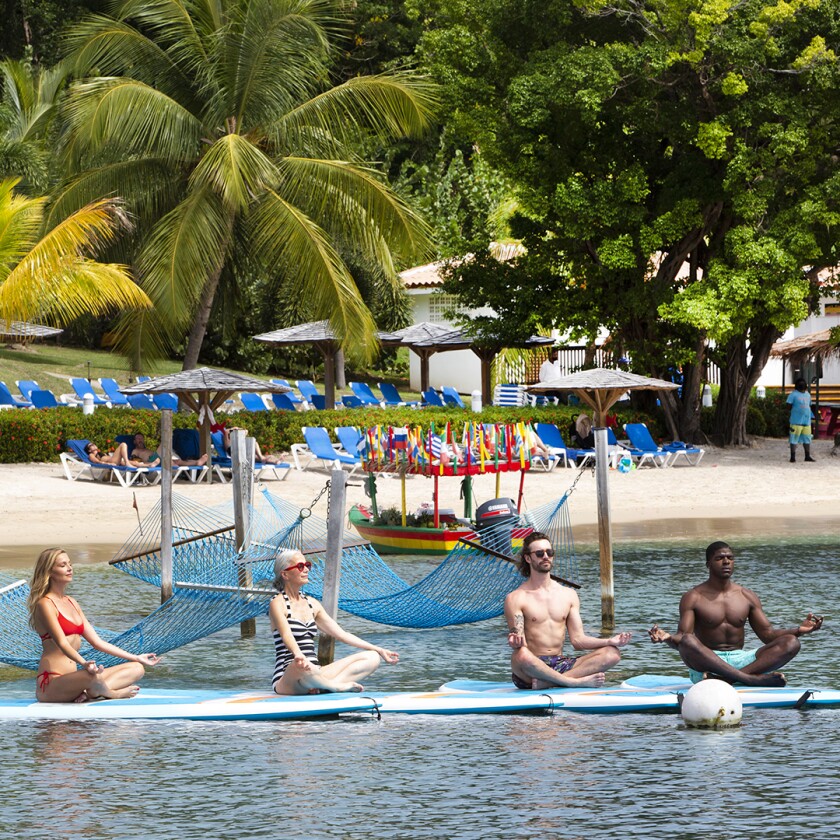 St. Lucia

One of the many cool things about the Windjammer Landing Villa Beach Resort St. Lucia is its commitment to accommodate guests' wishes, so whether you desire a sunrise yoga class on the beach or up at the hillside garden with ocean views, the staff will make it happen. All you have to do is show up. Plan to pair your coffee or seasonal fruit smoothie with a beach walk alongside a Windjammer local guide, who can talk about surrounding landmarks and the country's history. Sunrise swimmers have access to all four pools, although psst! personal plunge pools overlooking the ocean are a game-changer for those preferring to stay close to sleeping family members (and their coffee).


Canouan

The experience at the Mandarin Oriental Canouan is apt to feel like you've been whisked away to a private island sanctuary, chock-full of features that evoke paradise. Experience the complimentary one-hour sunrise yoga session on the water at the yoga pavilion. On another morning, join the property's Nature & Conservation Specialist Kezroy Charles who leads guests on the island's Mount Royal Trail or the Stony Beach Trail, a walk he created. Confident swimmers will thrill at the "Island Swim Olympics" a guided challenging course experienced at sunrise, if desired, which winds through miles of connected waterways including pools, lagoons and reefs.

Do YOU get up early when you're on vacation? Let us know in the comments below.