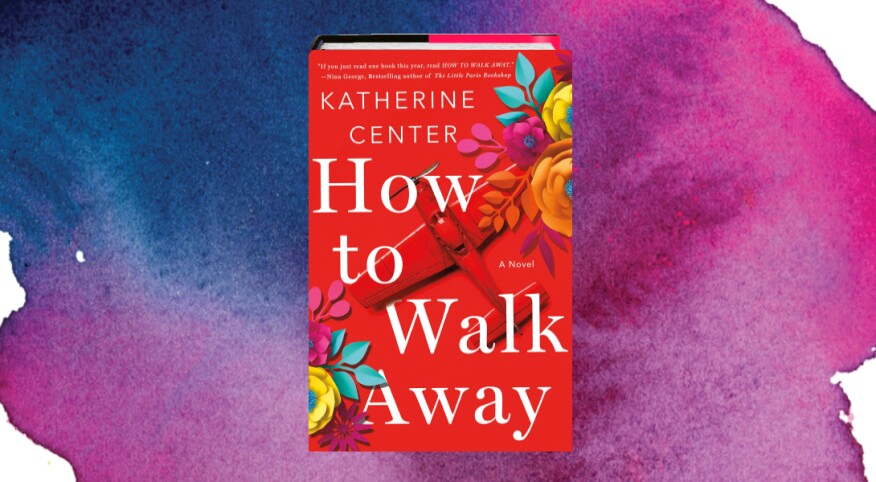 Katherine Center, 46, is the author of several books, including her most recent novel, How to Walk Away. The Girlfriend recently gave away 2,500 copies of this great new book. Here's a bit more about the book and the author.


We read that you started writing very young. Did you always know you wanted to be a writer, and when did you write your first book?

YES! I wrote my first novel when I was in the 6th grade, and it was fan fiction about Duran Duran! I was drawn to writing before that, but that was the year I got hooked on writing. Once I had a taste of the magic and power of stories — how they can be something to believe in and look forward to like nothing else — I was hooked. After that, I knew I wanted to be a writer. I wasn't always sure it was going to work out (deciding to become a novelist is a little bit like deciding to win the lottery …), but I knew that's what I wanted.

What is the life of an author like? Do you have a daily routine you follow? Do you always write in a certain spot? Is it ever a bit lonely?

It is definitely lonely at times! I keep seeing this statistic about how the No. 1 factor that influences how long you'll live is the number and quality of the people in your life — and I think, "Do imaginary people count?" I am always happy and absorbed and in a lovely state of flow when I'm writing or editing, so I don't feel lonely when I'm writing, but it's also true that I'm less likely to make plans with real people if I have a story to write (and I almost always have a story to write)! I'm very lucky that my husband and kids are so much fun to hang around with, and that my mom and sisters call all the time!

I don't really follow a daily routine. Because I have kids at home, the routine changes a lot around the mom-stuff I need to get done. I do follow a broad pattern though: When I need to meet a deadline or get a chunk of writing done, I spend a few days down on Galveston Island, at a sunny little beach shack that our family shares. When I can get in a writing groove and build momentum without having to stop, I can get vast amounts of writing done. I can wake up in the morning, have a cup of coffee, start writing, and then suddenly it's dark out and I've got a hundred new pages.

What gave you the idea to write How to Walk Away? Is it based on anyone from your own life?

Well, I, myself, am terrified to fly — so that was a good starting place! You always know a topic will be a rich one if you, yourself, have a visceral reaction to it. I'm always scanning around looking for bits and pieces to put into stories, and I remember hearing about a couple that was in an accident where the guy walked away without a scratch and the girl was severely injured. I remember wondering what something like that would do to a relationship. That's another sign that a topic is a good one: If it sparks curiosity for you. I found myself thinking about that couple long after I heard the story, and finally, I decided to write a version of how that event in their lives might have played out.

What advice would you give a young person who wants to become an author?

Write the stories that you love to read. Whatever stories you're drawn to as a reader, that's what you should be writing as an author.

What's the mantra you live by that keeps you going?

I have a bunch! But one of the big ones, especially right now, is one I put into How to Walk Away. Ian tells Maggie, "It's the trying that heals you. That's all you have to do. Just try." And that's me: I'm all about the trying. It's something that has surprised me so much about life as I've grown up and gotten older. Trying is so much more important than succeeding. Trying —being brave, working hard, believing in something — makes your life richer and better and more purposeful, no matter what the result of it is.

When you aren't writing, what do you enjoy doing?

I love to joke around with my husband and kids, and have dance parties in our kitchen, and read novels in the bubble bath, and listen to audiobooks, and mess around in our little butterfly garden. I like to sew, and I'm very crafty — always making paper flowers, and painting things, and doing art projects with the kids. I sing all the time, too — just to myself. I also love shopping online for real estate that I'll never wind up buying and mentally planning parties that I'll never wind up throwing (way too much work!). My very favorite thing on earth is having good conversations with fun people.