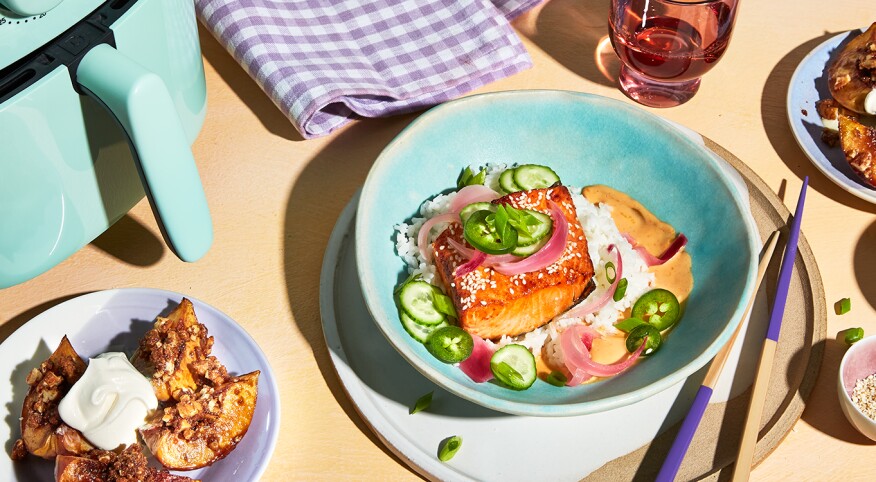 "I can't believe you don't own an air fryer!" my friend said in disbelief. "I use mine all the time."

Honestly, I couldn't believe I didn't own an air fryer, either! It had taken all my willpower not to lean into the craze.

But the unused appliances that lined my kitchen cabinets had taunted me. The rice cooker, the ice cream maker, the pressure cooker, the tabletop pizza oven — all bought with good intentions — were sitting on the shelves in basically pristine condition.

I quelled my desire to lean into the air fryer trend, believing that the fad would fade away (like sourdough starter, Tiger King and jigsaw puzzles) once lockdowns subsided.

But my friend's rave and all the recipes on social media have me wondering: Do I NEED an air fryer?

Daphne Oz, a chef, food writer and judge on MasterChef Junior, understands not wanting to buy another kitchen appliance and clutter your countertop. "I was a late adopter, resisting the urge to buy one," she says. "But the air fryer is great, and I find myself using it way more often than I thought I would."

What exactly is an air fryer?

An air fryer is a countertop convection oven. It uses circulating hot air to cook the food. Air fryers do not fry food, but it renders it crispy, mimicking the texture of fried food. Oz says, "Food texture is everything. Our mouth craves that crunchy texture. The air fryer locks in food moisture, so it's crisp on the outside but still tender and juicy on the inside."

Even if you have a convection oven, you may find yourself choosing to use the air fryer instead, especially if you are cooking for a small group. Oz explains, "Since I have four children, I wind up cooking in batches. But the air fryer is an ideal size for cooking smaller meals. It heats up much quicker than a conventional convection oven, so you don't have to wait for it to preheat." It also won't heat your whole kitchen on a hot summer day!

Air fryers come in a range of sizes, and some are toasters, too. The most popular versions are the basic models, which are simple to use. "It's foolproof," Oz says. "You put the food in the basket and set the timer and temperature. Aside from maybe having to toss it once or twice, there isn't much you need to do for the food to turn out delicious."

Is an air fryer a healthier way to prepare food?

Air fryers cook food with hot air and use little to no oil. But if you use an air fryer to reheat foods like processed chicken nuggets or frozen mozzarella sticks, the results will be only slightly healthier than if the food had been deep-fried. Although, Oz says, "the air fryer will make soggy cold sweet potato fries majestically come back to life!"

If you are looking for healthier options, the appliance is ideal for creating homemade versions of typical fried foods such as crispy potatoes or chicken cutlets. Air fryers are also great for roasting vegetables. "I like cooking stone fruit or pineapple in the air fryer," says Oz. "It comes out perfectly caramelized. I also like making apple chips for a sweet snack."

Cooking for you

So is it worth buying yet another appliance? It depends on your views on cooking, especially if you have gone from cooking for a crowd to preparing meals for one or two people. The size of the air fryer makes it ideal for smaller groups, but you have to want to cook — over going out or ordering in — for it to be worth it. "To me, being in the kitchen is an adventure, a chance to travel without a passport and get creative," Oz says. "Cooking allows me to nourish myself physically and emotionally. I hear people say, 'Is it worth it to cook for just me?' The answer is yes! You are a priority!"

If you want to jump on the air fryer bandwagon, here are two recipes from Oz to get you started.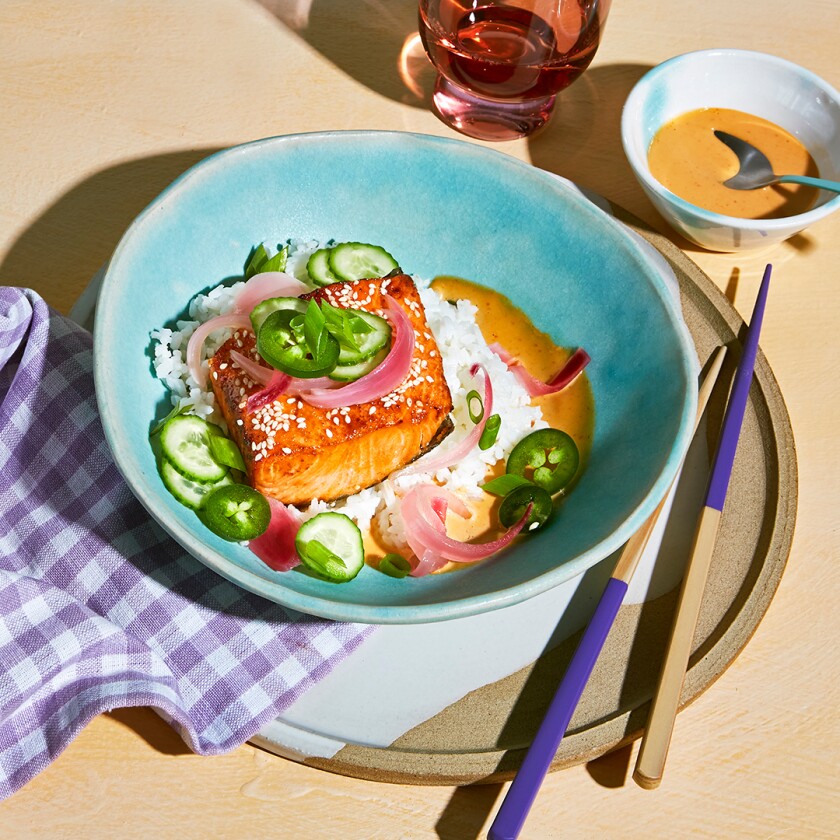 Air Fryer Chili-Glazed Salmon Poke

Serves 2

Ingredients

1 pound salmon filet, cut in 4 pieces

1 cup sushi rice

1 tablespoon sweet cooking rice wine

2 tablespoons honey

2 tablespoons sesame seeds

2 Persian cucumbers, thinly sliced

3 scallions, thinly sliced

1 jalapeño, thinly sliced

Marinade

¼ cup of soy sauce

2 tablespoons sesame oil

2 tablespoons Sriracha sauce (optional for heat!)

1 teaspoon onion powder

½ teaspoon salt

Quick Pickled Red Onions

½ cup apple juice

½ cup rice wine vinegar

½ thinly sliced red onion

Sea salt

Spicy Mayo Sauce

2 tablespoons mayo or vegan alternative

2 tablespoons Sriracha sauce

1 tablespoon soy sauce

1 teaspoon sesame oil

1 teaspoon honey

Pinch of salt

Instructions

In a large bowl, whisk together the marinade. Submerge salmon skin side up/flesh side down in the bowl and let it sit for 15 minutes, or covered in the refrigerator up to 4 hours. When ready to cook, preheat air fryer to 400°F.

Make sushi rice according to package instructions. Once cooked, use a fork to lightly fluff the grains. Turn off heat, cover and let it sit for an additional 10 minutes. Add a splash of sweet cooking rice wine and toss to combine.

Spray air fryer basket with olive oil. Remove salmon from marinade and place 2 salmon filets skin side down into the hot sizzling air fryer basket for 8 minutes.

Meanwhile, in a small pot or pan, add apple juice, rice wine vinegar, onion and salt and bring to a boil, then turn off heat, cover and let stand until ready to use.

After initial 8 minutes, brush each salmon filet with ½ tablespoon of honey and sprinkle with sesame seeds. Put salmon back in the air fryer for 1 minute. Repeat this cooking process with remaining 2 salmon filets.

In a small bowl, whisk together spicy mayo ingredients and set aside.

On a plate, arrange rice and salmon with a slick of spicy mayo alongside. Then scatter pickled red onions, cucumbers, scallions and jalapeño over the top and serve.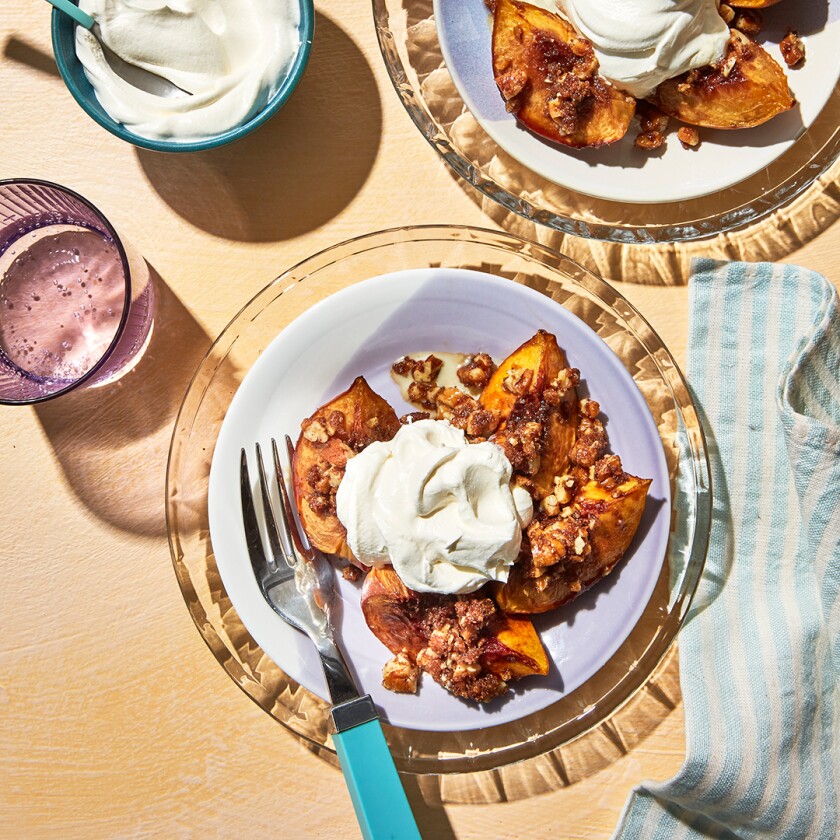 Air Fryer Peaches with Candied Pecans

Serves 2

Ingredients

2 yellow peaches, pit removed and quartered

¼ cup coconut oil or butter, softened

½ cup pecans or walnuts, finely chopped

¼ cup coconut sugar or brown sugar

Whipped cream to garnish, optional

Instructions

Line the tray of your air fryer with parchment paper.

Melt 2 tablespoons of the coconut oil in the microwave in 15-second intervals, then use to lightly brush each peach. Arrange wedges on parchment paper skin side up, and air fry at 350°F for 5 minutes.

Meanwhile, use your fingers to mix together the pecans, coconut sugar and remaining softened coconut oil.

Flip peaches skin side down and spoon a little of the pecan mixture over the top of each peach wedge and return to air fryer for another 5 minutes until slightly soft and melting.

Use a spoon to scoop peach wedges on a plate and top with whipped cream if desired, being sure to scoop up any topping that may have fallen onto the parchment paper during the cooking process — don't waste the good stuff!

If you can't find peaches, try this with cored apples! You may just need to cook a little longer to soften, but the result will be equally delicious.