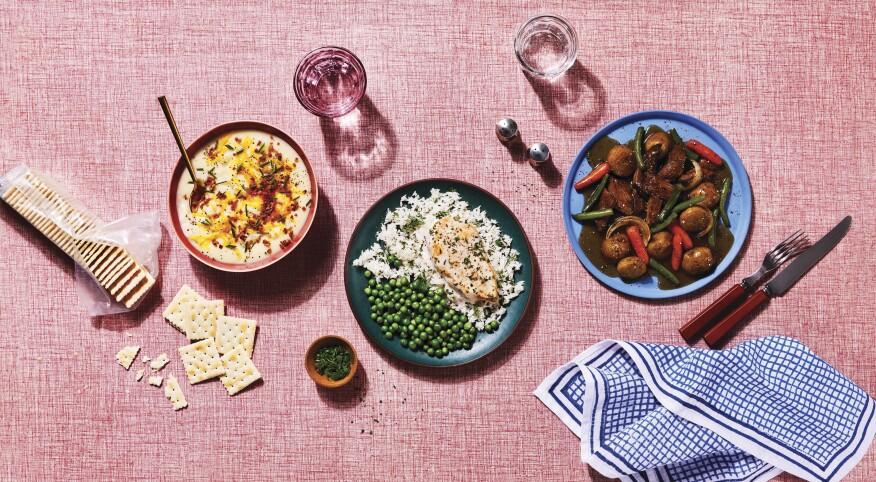 I hate to cook — and I'm not good at it, either. This is a problem when you need to feed your family every single day. My life would be so much easier if we didn't have to eat to stay alive, but alas, we do. Every day, I face the grueling chore of figuring out what to make. Sometimes I try more complicated recipes, which I find exhausting. It's usually hit or miss if they turn out well. My husband doesn't cook much, either, but he can pull off some fantastic meals he has refined through the years. I'm grateful for that. I have many friends who love to cook — and they are really good at it, too. They drop off leftovers or invite me to dinner, lavishing me with their gifts.

My friends will often tell me it's fairly easy to make this dish or that meal, as they begin describing the ingredients and steps to cook them, showing me recipe cards with way too many words. I get blurry-eyed and tell them I've checked out. I. Just. Can't. Deal. With. All. Of. That.

I need simple. I need easy. And by simple and easy, I mean SO very simple and easy. I'll throw a pork roast in the Crock-Pot slathered with BBQ sauce and let it cook all day for shredded pork sandwiches. I'll do the same with chicken using broth, and then put it in some noodle casserole or make wraps or throw it on premade salad and call it a day. I'll make homemade mac and cheese, which my kids love, melting butter and milk and gobs of shredded cheddar to pour over the noodles. (It goes well with hot dogs.)

I can pull off meatloaf with real mashed potatoes and roasted green beans or homemade beef and veggie soup when I have the energy and time to do the hard work of laboring in the kitchen for hours. When I do this, I'd like to be done for the week. This is when Costco's frozen lasagna comes in handy with frozen garlic toast and peas. Just sayin'.

So, if you're like me and hate to cook — and you're just not good at it, either, I'd like to share a few dinner recipes that require very little effort. They all go over well with my picky people, who make things very difficult with their picky tastes. These dinners are good enough to eat, but you will soon see that they are anything but fancy. The cooking bar is so low over here, I often trip over it.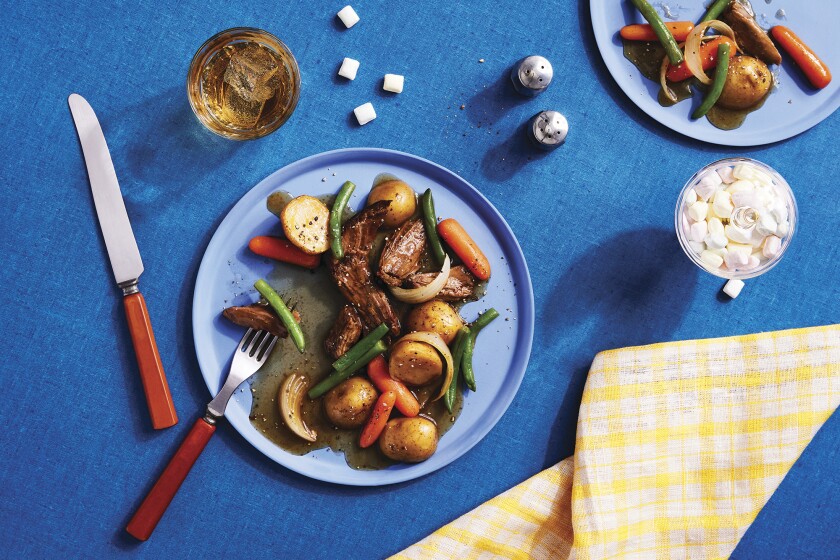 EASY POT ROAST

Ingredients

Pot roast

Bagged mini carrots

2 yellow onions

5 potatoes

2 cans green beans

1 can beef broth

Directions

Spray your slow cooker and throw in the roast. Add cut up onions and potatoes, along with the carrots and green beans. Shake a little salt, pepper, garlic powder and minced onion over everything. Cook on low for 8 hours.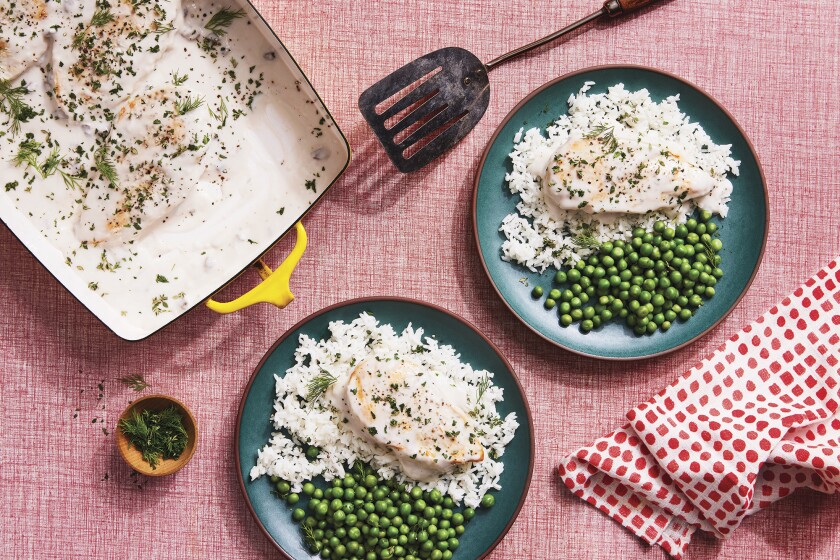 CREAMY MUSHROOM CHICKEN

Ingredients

4 skinless/boneless chicken breasts

2 cans cream of mushroom soup

1 8 ounce container of sour cream

Directions

Place chicken breasts in a 9-by-13-inch greased baking dish. Mix the soup and sour cream. Pour it on the chicken. Bake at 350°F for 30 minutes (or until chicken is thoroughly cooked). Serve with rice and peas.

SLOW-COOKER POTATO SOUP

Ingredients

1 30 ounce bag frozen diced hash browns

1 32 ounce chicken stock

1 can cream of chicken soup

1 8 ounce block cream cheese

1 to 2 cups shredded cheddar cheese

Bacon bits (optional)

Directions

Mix hash browns, chicken stock and soup in the slow cooker. Cook on low for 7 hours. Add the cream cheese (cut in little blocks). Cook for another hour, mixing cream cheese into the soup. Serve topped with cheddar cheese (and bacon bits).


And two bonus recipes!!

SIMPLE GOULASH

Ingredients

Idaho or red potatoes

4 small bags cubed ham

2 cans green beans

1 quart chicken stock

Directions

Cut up the potatoes and throw them in the slow cooker. Add the drained ham and green beans. Mix everything in with the chicken stock. Cook on low for 6–8 hours.

GREEN BEAN CASSEROLE WITH HAM

Ingredients

4 cans French-style green beans

2 cans cream of mushroom soup

3 small bags cubed ham

1 can French-fried onions

Directions

Drain the green beans. Mix them with the cream of mushroom soup. Mix in the rinsed cubed ham. Bake in a 9-by-13-inch greased casserole dish at 350°F for about 30 minutes. Throw fried onions on top and cook on high broil for just a few minutes to brown. (Keep an eye on them!)