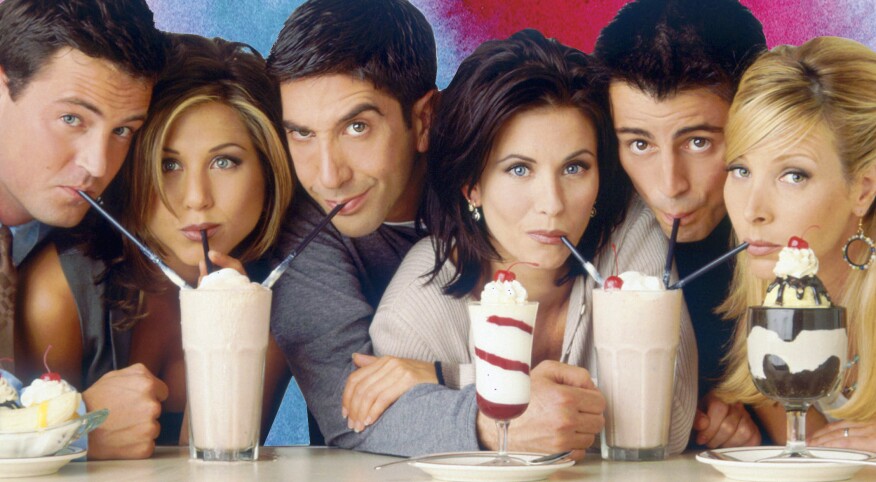 It feels like just yesterday that "I'll be there for you" became an earworm. But 2019 marks the (gulp!) 25th anniversary of Friends' debut on NBC.

Could a '90s TV sitcom about a group of 20-something friends BE more relatable, enduring and endearing?

Back in 1994, when Friends burst onto the screen, I became an instant convert. Over the next 10 years and 200+ episodes, I followed the lives of six pals — Rachel, Monica, Phoebe, Ross, Chandler and Joey — living in New York. Twenty-five years later, their lessons on friendship still hold true. Who knew that Friends would wiggle their way into TV history — and into our hearts forever?

In fact, there was a petition on Change.org (with nearly 90,000 signatures!) to keep Friends streaming on Netflix after reported rumors the series would be removed on Jan. 1, 2019. (Relax, Friends fanatics! Netflix responded to say the beloved sitcom will continue to run throughout 2019.)

To commemorate this quarter-century anniversary of my all-time favorite show, I tapped into IMDb and other sources for some trivia and uncovered these fun nuggets.

1. Series creators Marta Kauffman and David Crane gave this superb one-line pitch to sell the show to Warner Bros. execs: "It's that special time in your life when your friends are your family." Sold!

2. Before officially being named Friends, top contenders for the sitcom's title included "Six of One," "Across the Hall," "Friends Like Us," and "Insomnia Cafe."

3. Auditions brought a stream of top-name talent competing for Friends roles. Eric McCormack (of Will & Grace fame) auditioned for the part of neurotic Ross. Facts of Life star Nancy McKeon tried out for the role of control-freak Monica. Hank Azaria auditioned (twice!) to play ladies'-man Joey. Jane Lynch and Kathy Griffin were up for the part of Bohemian Phoebe. Jon Favreau auditioned for quick-witted Chandler, and so did Jon Cryer. Unfortunately, Cryer (who was in London at the time of casting) sent an audition tape but it got stuck in customs so the producers never saw it.

4. Thanks to some initial casting and plot shuffles, the right actors got the roles they were destined to play. Originally the show was written for only four friends, with Chandler and Phoebe playing supporting roles. Before the show was cast, the main love interest was intended to be Monica and Joey. The writers initially toyed with Chandler's sexuality, but once they cast Matthew Perry, they never considered making his character gay. Courtney Cox was offered the role of Rachel but asked to instead play Monica. Lisa Kudrow was already playing Ursula in NBC's Mad About You at the time, but the show's execs let her move to Friends to play Ursula's kooky, twin sister Phoebe.

5. Joey's (Matt LeBlanc) pickup line, "How YOU doin'?" was ranked No. 4 in TV Guide's list of "TV's 60 Top Catchphrases." Although not on that list, other memorable phrases from Friends found their way into pop culture, including:
• "We were on a break!" — Ross (David Schwimmer)
• "Smelly cat, smel-ly cat, what are they feeding you?"— Phoebe
• "If he doesn't like you, this is all a moo point. ...Yeah, it's like a cow's opinion. It just doesn't matter. It's moo." — Joey
• "Just so you know, it's not that common, it doesn't happen to every guy, and it is a big deal!" — Rachel (Jennifer Aniston)
• "Fine! Judge all you want, but [as she points to each friend]: married a lesbian, left a man at the altar, fell in love with a gay ice dancer, threw a girl's wooden leg in a fire, livin' in a box!"— Monica
• "I'm not so good with the advice. ... Can I interest you in a sarcastic comment?" — Chandler
• "Pivot! P-I-V-O-T!"— Ross
• "Here come the meat sweats." — Joey

6. In 1996, all s ix Friends cast members appeared together in a Diet Coke commercial, which evoked a major backlash among media, fans and critics, claiming the cast "sold out."

7. Except for the cast of The Big Bang Theory, the cast of Friends was the only other ensemble to successfully use collective bargaining to negotiate an historic $1 million per half-hour TV episode for each of them. This happened back in 2002, earning them a sweet $22 million per season for the last two seasons. (In comparison, cast members earned roughly $22,500 each in Season 1.)

8. Famous Friends guest stars over the years included Brad Pitt, Julia Roberts, Bruce Willis, Reese Witherspoon, Gary Oldman, Ben Stiller, George Clooney, Sean Penn, Jeff Goldblum, Anna Faris, Danny DeVito, Christina Applegate, Billy Crystal, Robin Williams, Tom Selleck, Winona Ryder, Paul Rudd, John Stamos and Alec Baldwin.

With perpetual reruns, Friends might very well "be there for you" for another 25 years, reminding you of that special time in your life when your friends are your family.



Lisa Beach is a freelance journalist and copywriter with work appearing in publications including the New York Times and Good Housekeeping.