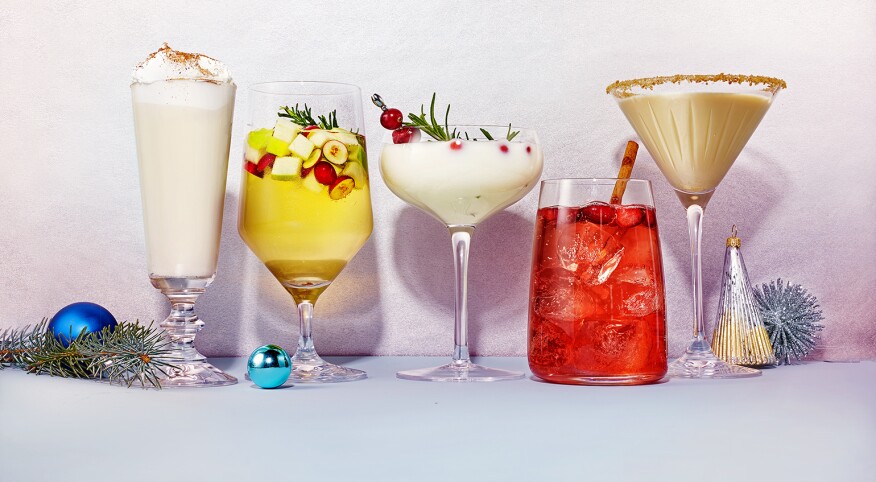 Attention all holiday party hostesses, and other festively inclined seasonal celebrants! This season, while you're humming along to Christmas carols, watching your umpteenth Christmas movie on the Hallmark Channel — spoiler alert … she ends up with the nice guy and they live happily ever after in a snow-covered wonderland — and decking the heck out of your halls, it's important to remember one thing: Your Christmas tree shouldn't be the only thing getting LIT this season. And if you're thinking your Uncle Jerry's spiked eggnog recipe will again be sufficient, think again. Time to step out of your cocktail comfort box and try some of these booze-filled holiday wonder drinks, because isn't getting tipsy always on a Christmas to-do list?



White Christmas Margarita ( howsweeteats.com/2015/12/white-christmas-margarita-punch/ )

If you're lucky enough to have snow on Christmas, consider yourself lucky enough. But if you're sweating it out in the South, or you just want to bring a little of the hot tropics to your holiday bar, this beautiful drink is a must. This may be the perfect holiday margarita (remember, tequila isn't only meant for frozen, salty summer concoctions). Go ahead and use the good, high-end tequila, because we're not in college anymore — and you're more than worth it.



Gingerbread Martini ( hungerthirstplay.com/gingerbread-martini )

Even though this ultra-luxurious cocktail is shaken and not stirred, this is definitely not James Bond's martini. Don't let the indulgent ingredient list intimidate you, and keep in mind the batch of gingerbread syrup that you make for the martini also can be used to spike your holiday coffees. The depth and layers of this spicy, sweet and warm martini will have guests asking for seconds. Don't forget to rim the glass with nutmeg and cinnamon.



Nutcracker Cocktail ( sweetphi.com/nutcracker-cocktail/ )

If you've been looking for the perfect use for cake vodka (yes, this exists and it's fabulous), then this nutty, creamy and very frappélike drink is a must-try. Create a mixture of almond milk, whipping cream and nutmeg with an added swirl of a little Frangelico, and you've got the perfect treat to settle down with in front of your fire. The short ingredient list makes this a very doable yet impressive drink.



Cranberry Mule ( thespeckledpalate.com/cranberry-mule/ )

It's not the holidays unless you've made something with cranberries, don't you agree? Well, if your Great-Aunt Irma's recipe for cranberry relish mold has you less than excited, try this spirited mule recipe instead. The hardest part of this cocktail is making the sugared cranberries, but then you have SUGARED CRANBERRIES — and oh, the possibilities with these beauties goes well beyond the cocktail. You won't be sorry you have them on hand! Besides, you've been wanting to use those copper mule mugs for months, right?



Christmas Sangria ( cakenknife.com/christmas-sangria/ )

One word: WINE. Have a few too many bottles around the house that need drinking? This recipe can solve your problem, and will serve six (or three, depending on everyone's holiday stress level). Among the ingredients, you're gonna need fresh rosemary, a few tart apples, cranberries and some sparkling apple cider — all easy to find during the holidays. This is a simple dump of all ingredients in a pitcher, and you serve it up à la sangria. It will taste even better if the flavors are allowed to meld for a few hours (and you're able to hold off on slamming it back when your in-laws arrive).