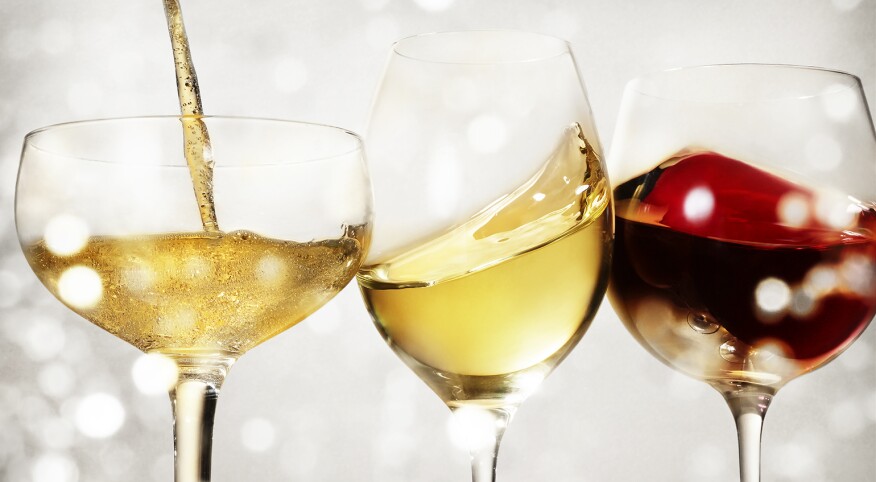 Whether you're looking for a party pick or a hostess gift, these impress-for-less global wines are a few of our favorites.

Whites
2016 Bonterra Viognier, Mendocino County, California: $15
Made from organically grown grapes, this floral-scented white (pronounced vee-OHN-yay) is a top choice to take on turkey-table flavors from spicy sausage stuffing to sweet potato casserole.


2016 Bread & Butter Chardonnay, California: $15
If you like chardonnay that's smooth, creamy and full-bodied, this lush and lovely sipper is for you. Try it alongside toasted crostini slathered in buttery Brie cheese with a drizzle of honey.



2016 Mezzacorona 'Cliffhanger' Pinot Grigio, Dolomiti, Italy: $12
Bursting with citrus fruit flavors and zesty freshness, this wine's beautiful packaging reflects the mountain vineyards where it's grown and makes it an ideal gift choice.










Reds
2016 J. Lohr 'Wildflower' Valdiguié, Monterey, California: $10

This is one of my favorite holiday wines because it pleases both white and red wine lovers. Cherry-scented Valdiguié (pronounced VAL-di-gay) is light and refreshing, and can be served chilled.


2014 Ramón Bilbao Crianza, Rioja, Spain: $13
Spanish wine offers some of the best value — especially those from the Rioja region. Ramón Bilbao reds are known for earthy elegance, and this Tempranillo-based pick delivers a spicy kick.


2015 Prazo de Roriz, Douro, Portugal: $15
Drinking this sumptuous yet vibrant red feels like wrapping yourself in cashmere. Crafted with the same grapes that are used in fortified Port wines, it's dry, delicious and layered with hearty flavors.









Sparkling
Korbel Brut Rosé, California: $12
This off-dry pink sparkler overflows with red berry fruit notes, making it ideal to pair with spicy/salty dishes like nuts, chips and charcuterie platters.




Martini & Rossi, Asti, Italy: $12
Bubbling over with delicately sweet flavors, Asti is the quintessential dessert drink. Made with Moscato grapes, the low-alcohol fizz is a favorite with holiday cookies and fruit tarts.


Mionetto Brut Prosecco, Treviso, Italy: $14
A famed name in the bubbly world, Mionetto's juicy sparkler captures the easy appeal of Prosecco. Known as the "welcome wine" in Italy, Prosecco is perfect to kick off any gathering.

Leslie Sbrocco is an award-winning TV host and author of Wine for Women: A Guide to Buying, Pairing and Sharing Wine and Drinking for a Living: How One Woman Created Her Dream Job and So Can YOU.