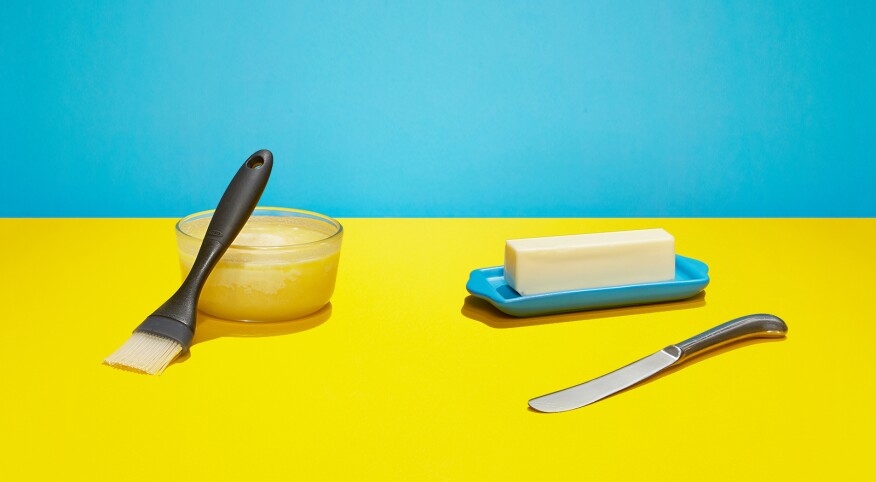 They call it "liquid gold." It's the superfood that celebrities — including Kelly Ripa and Kourtney Kardashian — consume in the morning. And you better believe it's not butter. Ghee, in fact, is considered a "clarified" version of the yellow cooking product, because all its milk solids and water have been removed in the heating process. The result is a purely fatty product with a clean, sweet flavor and higher nutrient level. Here's the breakdown.

Nutrition:

Comparing 100 grams of each product, ghee has 900 calories, 100 grams of fat and 0 grams of protein; butter has 717 calories, 81.1 grams of fat and 0.9 grams of protein. The calorie amount in butter is lower due to its 17 percent water content, which is not present in ghee. Neither product will greatly impact your cholesterol in small amounts.

Vitamins:

Ghee has higher amounts of essential fat-soluble vitamins such as A, D and E — which play essential roles in immunity, hormone balance, liver health and stamina — because the ingredient is so concentrated. Grassfed-animal-based ghee also contains the highly elusive nutrient vitamin K2, which transports calcium into your bones. You can eat as much calcium as you want, but it won't strengthen your bones unless it is accompanied by vitamin K2. As a fat-soluble vitamin, it requires the fatty acids in ghee for absorption.

Taste:

Both fats are delicious! Although ghee has a "buttery" taste, it tastes less creamy than butter and it's easy to detect its lack of milk proteins. Ghee has a mildly nutty taste, and it's deeper and richer than its counterpart.

Storage:

Advantage: ghee. Because the product no longer contains water or milk solids, it is much more shelf-stable and can be stored in a kitchen cabinet for several months. Butter, of course, should be kept cold, has an expiration date and needs to be tossed exactly when you need it the most.

Price:

Advantage: butter. Search on Amazon and you'll find that about 1 pound of ghee costs $20. Your corner grocery store, of course, sells butter for less than $5. However, you can make ghee at home with butter, a glass jar, saucepan, sieve and a large bowl.

Dairy:

We all know by now that lactose is a dairy sugar that exists in foods like milk, cheese, ice cream and, yes, butter. Indeed, about 65 percent of the world's population is lactose-intolerant. But the ghee production process fully removes the lactose — and it does not contain dairy proteins or sugar. Plus, ghee is high in omega-3s and butyric acid, a short-chain fatty acid said to be good for your gastrointestinal tract. Bellyachers, rejoice.

Usage:

Leave the butter for the corn on the cob and the popcorn. Ghee simmers without much splatter or burning, making it ideal for high-heat cooking. Rub down veggies before roasting or steaming, use a dollop to sauté garlic and ginger, or drop a spoonful into drinks for an energy boost. (You can even use it in coffee.) And while ghee can be used like any other cooking fat or oil, using it as a finisher allows that rich flavor to come through. Golden!